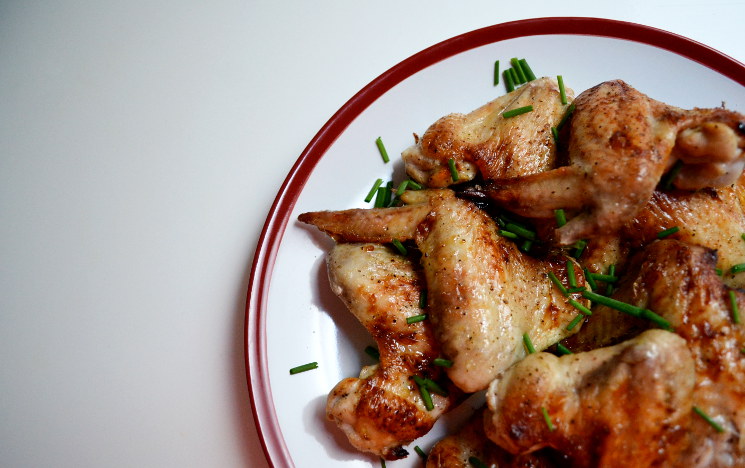 We may not be based in the US of A but that doesn't mean we can't get a little over excited about things like the Super Bowl, especially when it's an excuse to indulge in all American junk food. We have put together our favourite US inspired recipes to accompany the big game, they are just like the American classics but with a Coggles twist. Plus, each recipe takes almost no time at all to whip up so you won't miss a touchdown.
First up we have plumped for chicken wings, a classic American dish that is synonymous with American football. There are a huge amount of recipes out there but we have opted for simple salt & pepper chicken wings packed with seasoning and smothered in a sweet, but low sugar agave nectar glaze, they are incredibly easy to make and will keep your guests content throughout the game.
Ingredients
1 and ½ kg of Chicken wings (or as many as you wish)
2 Tablespoons of Olive Oil
Sea Salt
Black Pepper
Agave Nectar (or clear honey)
Chives
Method
1. Grab a roasting tin and pile in the uncooked chicken wings, make sure to wash your hands after handling uncooked chicken for obvious reasons
2. In a separate bowl mix together the olive oil, salt and pepper then pour over the chicken wings
3. Pour around 3 tablespoons of agave nectar over the wings (use more if you prefer) and use your hands to rub in the oil, salt, pepper and agave nectar
4. Cover with cling film and leave to one side for about an hour to let the deliciousness of the glaze enhance, but if you're in a rush they taste great going straight in the oven too. While you're waiting, preheat your oven to 180 degrees
5. Spread the chicken wings out to make sure they aren't overlapping too much, then cook on the middle shelf of the oven for 30-40 minutes or until golden brown. Check if they are completely cooked by inserting a knife into the meatiest part of the wing, if the juices run clear, it's time to eat.
6. To serve, transfer from the tin to a serving plate or board, then finely chop the chives and sprinkle over the wings. Perfect game time food!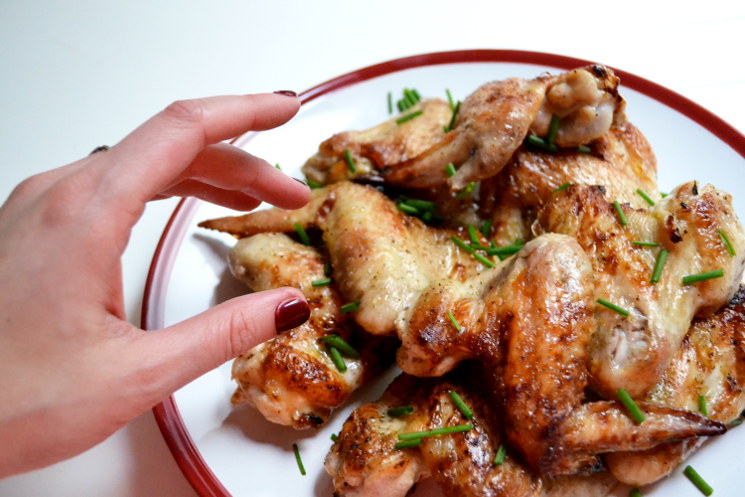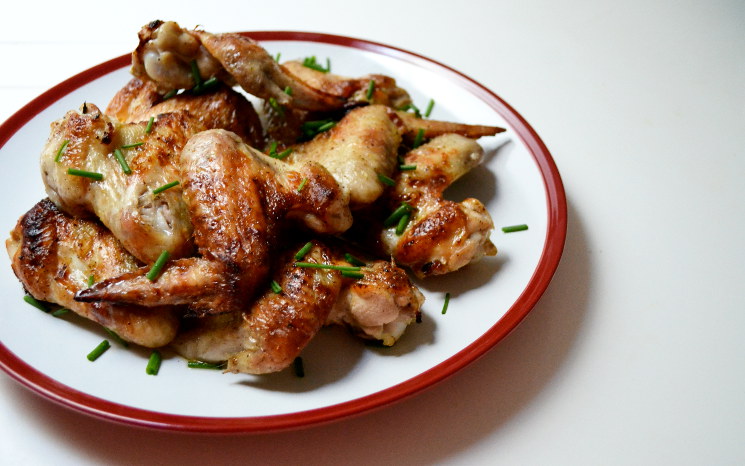 Words and images by Clare Potts.