If your screen time has doubled recently, don't be too hard on yourself, so has ours. With a sea of content out there, inspiration is always at our fingertips. So, for those we're following for style inspiration and general cool stuff here are our top Instagram accounts to follow.
#1 Ellis Gilbert
Ellis Gilbert is a community leader of Soho Yacht Club, an organization that gives back to the community and connects like-minded individuals with a charitable network. Heavily associated with the London streetwear scene you will have seen Ellis recently collaborating with some of the biggest luxury retailers. Ask our team, no one does a photo dump better.
#2 Mads Emil
For some serious sartorial inspo, Danish stylist Mads Emil should be top of your list. Copenhagen-based podcaster, DJ, stylist and creative consultant, Mads is on the latest trends just with a super laid-back approach, not to mention he makes up makes up half the power couple with girlfriend Emili Sindlev. When he isn't interviewing musicians, actors or fashion finest for his latest episode of PodPassion,  follow his page for all the Fashion Week updates.
#3 Callum Mullin
One of London's most active creatives, Callum Mullin you will have seen work with numerous brands and attend various parties and events. With a Gen-Z lens, his soft approach to streetwear and luxury fashion is what makes his feed so aesthetically pleasing.
#4 Loyle Carner
Ben Coyle Larner, A.K.A Loyle Carner is the South London rapper, not only creates music but also runs a cooking school for kids with ADHD called Chilli Con Carner – Clever right!? His IG stories consist of his main passions, cooking, music and his poodle Stacks, named after Andre 3000. He's even been awarded for his service to Guyana and collaborates on the regular with fashion brands including Levi's and Timberland as well as chefs including Ottolenghi.
#5 Joshua Bello 
 If you are looking for well-put-together get-ups and a refreshing take on streetwear, follow Manchester-based model Joshua Bello.  Part of Nemesis's agency, his authentic style feels fun, laid-back and achievable. 
#6 Eddie Wailes
London-based blogger Eddie Wailes is a firm favourite for his vintage-esque style. Often mixing tailored pieces with a hint of the seventies, he's the perfect inspiration for putting together silhouettes mastering a more classic feel more recently.
#7 Jordan Hames 
London-based influencer Jordan Hames previously known for an appearance in Love Island recently debuted in Milan Fashion Week. His style has developed into street style excellence with oversized shapes and fluid fashion pieces. Very much representing the London aesthetic his feed is very aspirational, catch him recently on Danny Lomas's podcast Dansplaining.
#8 Dany Dos Santos
Another go-to account for fashion and styling inspiration. Creative Director of French menswear brand Drôle de Monsieur, Danny Dos Santos' Instagram reads like a DDM mood board as well as showcasing his impeccable style.
#9 Aaron Levine
Aaron Levine is one of the menswear industry's favourite in-the-know designers. Not often centre stage, he is well recognised for his work at well-known brands such as Abercrombie and Fitch. His personal style and cult mirror selfies showcase his love for thrifting with classic tailoring and staple menswear as well as talking about more vulnerable subjects personal to him.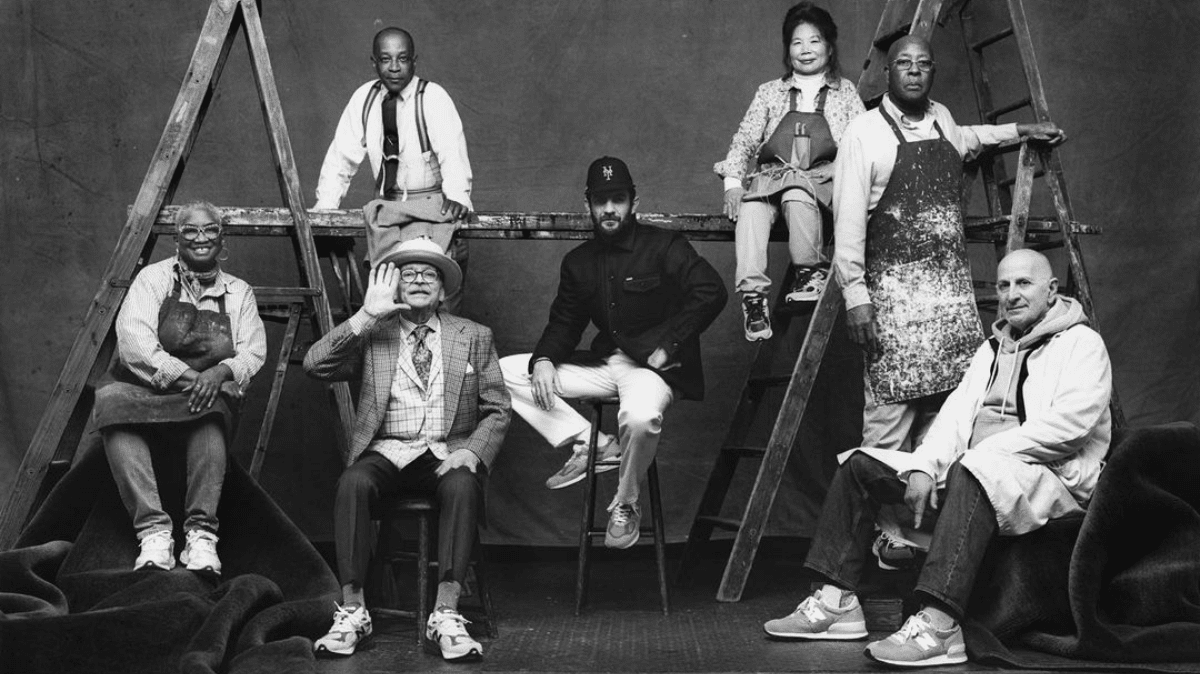 Integrity and authenticity, rather than passing hype, has remained integral to New Balance throughout its rich history. Here's why the appointment of Teddy Santis as Creative Director is the perfect next step...