Milan Fashion Week is all about the established names – Gucci, Versace, Armani, Prada – known for creating clothing that is 'molto sexy'. This was seen again this season, albeit with an underlying current of change and innovation.
Take Stella Jean, for example. Debuting in September 2012, she has become the city's rising star, with her bold and bright collections providing a real contrast to what other designers offer in Milan. For AW15 she took inspiration from the Indian Himalayas, resulting in full knitted skirts with colourful patterns, oversized blanket coats and wraps, and pom poms adorning wide leg trousers, boxy jackets and woollen socks.
Meanwhile, the big brands brought out all the stops – but in a slightly different way to how we've seen them in the past.
This season saw Alessandro Michele's first collection for Gucci, after Frida Giannini left the label. This collection was a complete transformation from the Gucci that we've come to know, but still played homage to original idea of Gucci luxury. It was soft and youthful, slightly eccentric and a touch androgynous. Sheer blouses were worn with A-line skirts and flat, two-strap sandals; floaty folky dresses were paired with (rather bizarrely) full-fur shoes reminiscent of small dogs; and trouser suits and double-breasted coats were edged in fur. This was a romantic, slightly geeky new look for Gucci; a complete turnaround for this Italian label.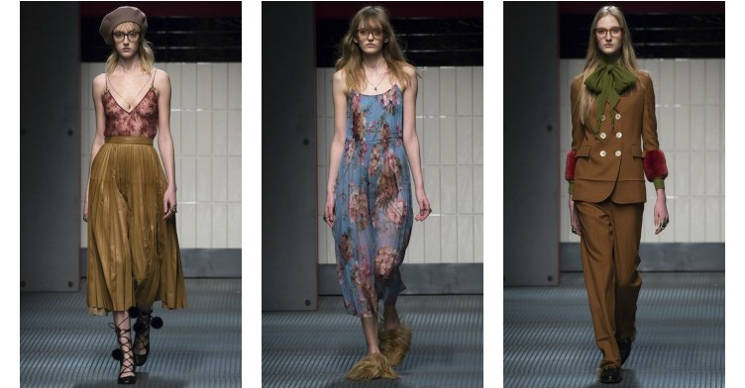 Versace stayed true to the sexiness it's known for – but for AW15, Donatella updated it for the 21st century. Skin-tight bodycon dresses were covered in glitter, hashtags, @-symbols and '#GREEK', a nod to society's increasing obsession with, and reliance upon, technology and the new 'online language.' The Seventies was also a big theme, with capes, flares, polo necks and thigh-high boots becoming the standout pieces.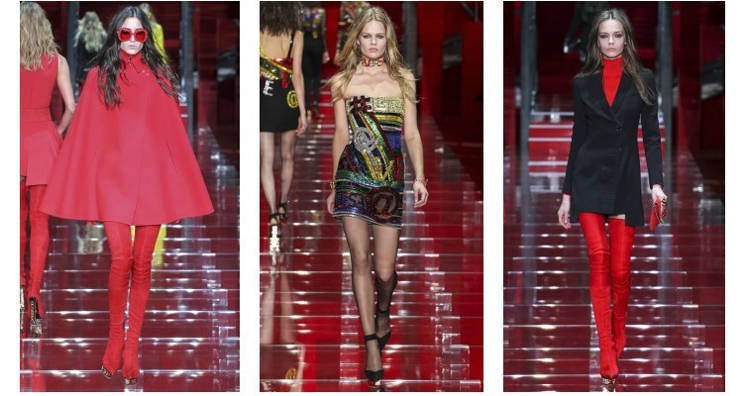 Moschino continued its over-the-top cartoon style, with Jeremy Scott taking Warner Bros' cartoon characters and placing them on jumper dresses, and baseball and basketball shirts. Huge puffer jackets in bright blue, green, yellow and orange were paired with quilted skirts and knee high boots; patchwork denim was paired with row upon row of gold chains; while eighties-style evening dresses covered in graffiti made the finale.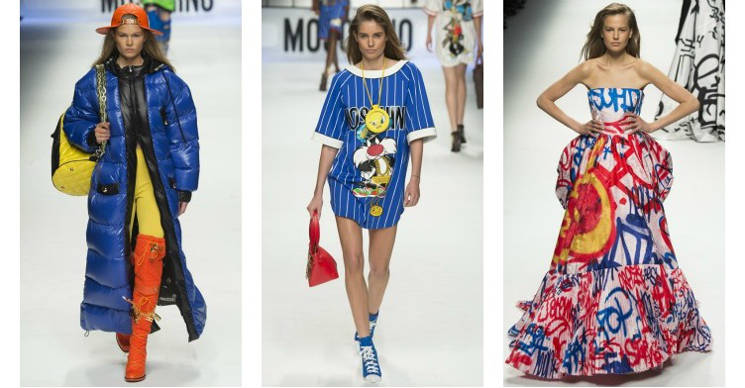 MaxMara was a standout collection, staying true to the timeless elegance the brand is known for. Inspired by images of Marilyn Monroe walking along a beach, the collection was based around feminine, sophisticated, early 1960s tailoring. Models wrapped themselves in camel, powder blue, light grey and black oversized coats just so, showing us the new way to wear our outerwear (move over, shoulder robing).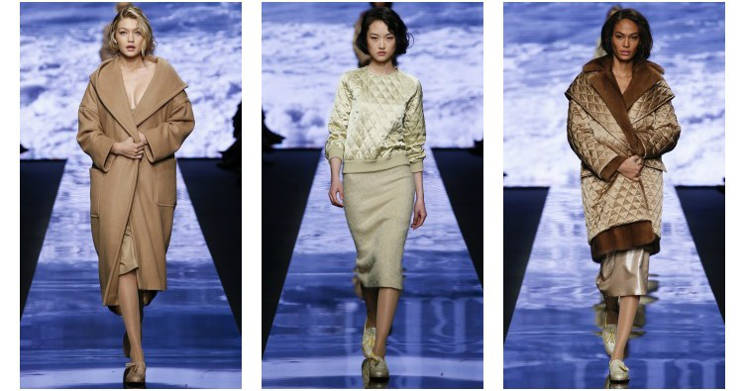 The Sixties was a theme seen at Prada, too. Sweet, saccharine pastels made their way down the runway, but all with a touch of irony. Trouser suits, pink empire line dresses, big floral brooches, and prim handbags all featured, but look closely and you'll see a high-fashion edge. Shoes were a cross between trainers and wellington boots, tweeds were either woven or printed, and suits were made with a double-faced jersey, giving a finish similar to neoprene.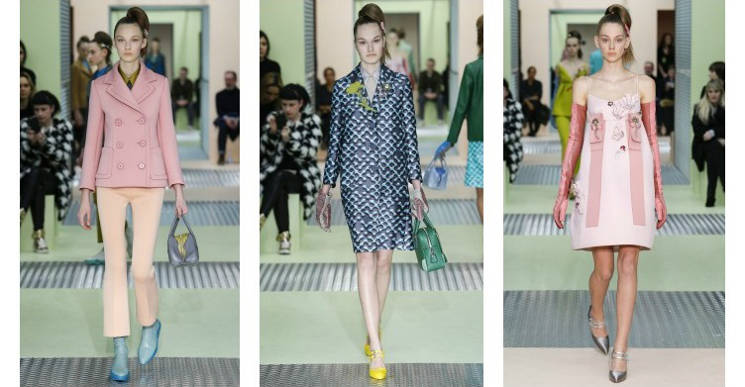 Minimalism and soft, androgynous tailoring was seen at Jil Sander, Gabriele Colangelo, Agnona and Costume National, providing a simpler, cleaner and more-laid back aesthetic to Milan Fashion Week.
Saving the best until last, though, is Dolce & Gabbana. The duo is famed for showing their love for Italy through their collections, and for AW15 they played homage to the Italian Mamma. Spice Girls' 'Mama' provided the soundtrack as mothers sat on the stage with their children. A heavily pregnant Bianca Balti opened the show, while models came down the runway holding babies and clutching children's hands – complete with matching mini-me outfits. Forties silhouettes and Sicilian lace dresses made up the collection; all classic Dolce & Gabbana. The red rose was a prominent feature, seen big and bold on dresses, head garlands and coats. The show ended with full white dresses covered in children's drawings and scribbles; the perfect finish to a beautiful, emotional collection.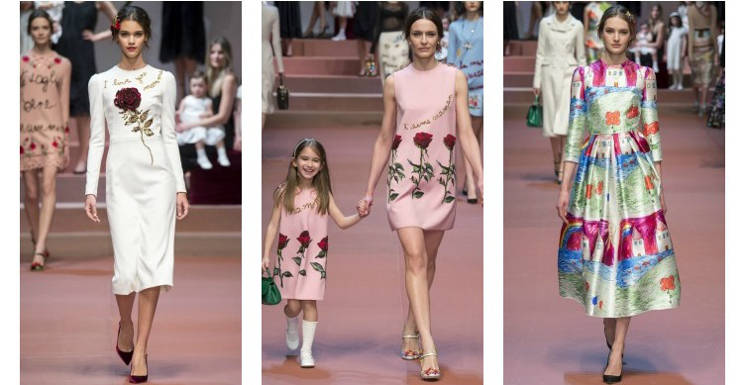 Words by Angharad Jones. Images property of Style.com