Think of Hunter and you think of one thing: Glastonbury. The Hunter Original SS16 collection celebrated this unrivalled connection to British music festivals, with a setting that came complete with a tent backdrop, guy ropes and muddy floors.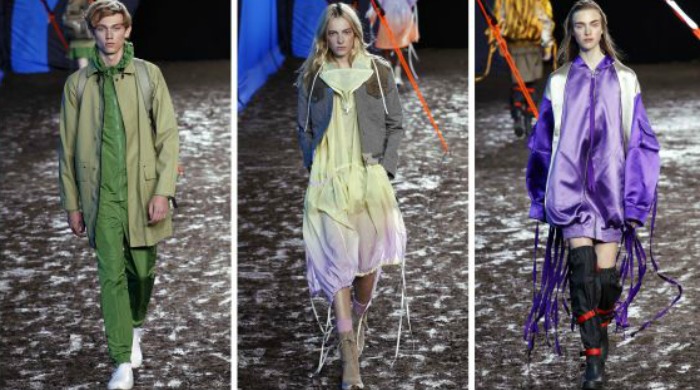 The collection definitely had the British festival-goer in mind; purple and orange raincoats with drawstring details, oversized waterproof jackets paired with khaki mini dresses, and eyelet-covered macs all making up the collection.
Oversized silk bomber jackets in green, gold and purple made up the non-waterproof component of the collection; some adorned in stitched-on badges one imagines the wearer has picked up at various festivals along the way.
No Hunter Original collection would be complete without its iconic footwear. Wellies came in soft gradient pastel colours or skin-tight yellow, red and green neoprene. White clogs were paired with rib-knit white socks, desert boots were given new life for men and women, and over-the-knee boots were made festival-friendly.
Shop the Hunter collection for women on Coggles >>
Shop the Hunter collection for men on Coggles >>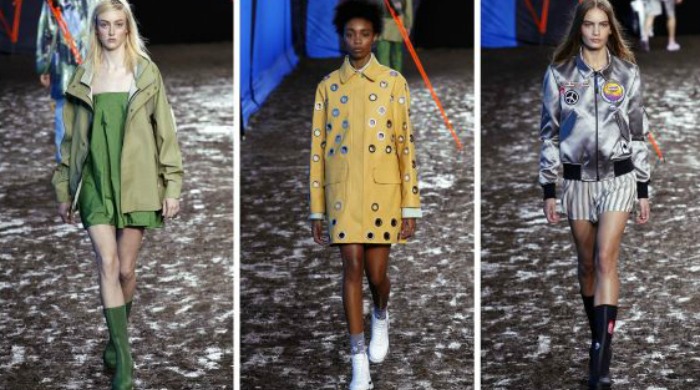 Words by Angharad Jones. Images via Vogue and Hunter