We're upping the tempo for 2018, and as we draw January to a (much needed) close we build our playlist of the best songs to kick start the year. Old and new, these are the tunes we're listening to as we step into SS18 at Coggles.
Listen to the full playlist here
Track List:
Party Here – Octavian
French-born, London raised rapper Octavian is set to be one to watch for 2018. With a tropical electronic sound layered with a jumpy switch in pace and flow births a summer tune waiting to happen.
Afrobbean – Lotto Boyzz
Fusing the most infectious elements of dancehall, afrobeats, grime, R&B and old-school hip-hop alongside the pair's harmonised melodies creates a new wave of summer sound.
Your Drums, Your Love – AlunaGeorge
Making its debut back in 2013, the maximal effect achieved through the textured tone and hard beats of 'Your Drums, Your Love' is one to revisit for waves of emotion time and time again.
Sativa – Jhene Aiko ft. Rae Sremmurd
Another sensual metaphor in sound, this time Jhene Aiko welcomes pop culture feature duo Rae Sremmurd to build her perfect R&B duet.
Slide – Calvin Harris ft. Frank Ocean, Migos
Electronic super DJ Calvin Harris pairs up with neo-soul icon Frank Ocean to create a melodic tune with a calming and enticing piano riff perfect for dreaming of spring.
YOU'RE THE ONE – KAYTRANADA ft. SYD
KAYTRANADA brings us another soul-infused remix with synth melody and percussion working in perfect harmony to create a fresh, up-tempo ambience.
Me dê Amor – Sango
Seattle-based Soulection producer Sango curates a blend of Brazilian inspired funk music with influence from the US, France and Canada.
Crazy Dream – Tom Misch ft. Loyle Carner
Misch's signature upbeat neo-soul accompanied by melodic vocals and a calming collaboration with up and coming confessional hip-hop king Loyle Carner.
Squint – Ivan Ave (prod. Fredfades & Mndsgn)
Norwegian Rapper Ivan Ave has racked up recognition for his effortless flow and charming discernible narrative with a lightweight electronic hip-hop undertone.
Outlier – Bonobo
Simon Green, AKA Bonobo, follows through in his second album Migration to produce his iconic bold electronic sounds, taking the listener on a journey of discovery that amplifies the song's sense of longing.
Reality Check – Noname ft. Eryn Allen Kane & Akenya
On an album based around the overcoming of fear, Noname's soothing take on rap introduces us to a relatable girl power message that's rarely approached in this genre. Talking of the fear and difficulties of breaking the industry, the piano backing builds a relationship with the artist that has us ready to launch into the full album.
Subscribe to our YouTube Channel for playlist updates as we step into the new season >>
Sango – Me dê Amor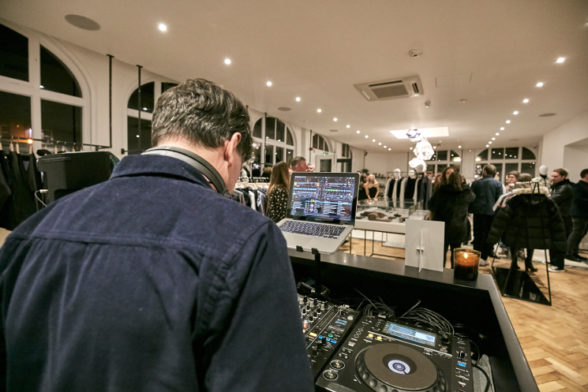 After the success of the Coggles Store playlist, we asked DJ Neil Metzner to join us to create the first Coggles playlist of 2018.
Words by Alexandra Neilson-Clark