Four piece alt-rock band hailing from London Wolf Alice have already had an amazing start to 2015. Featuring on the BBC Sound of 2015 longlist and kicking off the year with a headline tour in Australia, we expect to see big things from the quartet.
Ellie Rowsell, Joel Amey, Joff Oddie and Theo Ellis are the people behind Wolf Alice, formed in 2010 their sound has developed from folk-tinged pop, through doom folk, via grunge pop and settling (for now) on something harder with a tendency to lean on the darker side of alternative rock.
Soon to embark on their headline UK tour, we caught up with Ellie beforehand to find out what 2015 has in store for them, what touring is really like and her dream gig…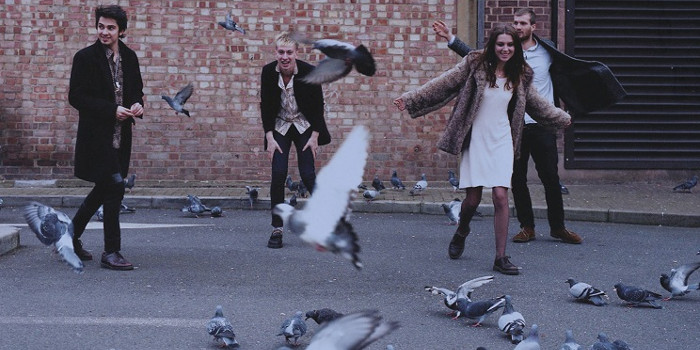 Question:

You made the longlist for the BBC's Sound of 2015, what is this year looking like for you?

Answer:

It's looking good we've just come back from our first time in Australia so we started on a high. Our debut album is finally coming out this year so it's going to be an exciting year.

Question:

How would you describe your sound?

Answer:

Emotional, distorted, confused pop.

Question:

What and where is your dream gig?

Answer:

Headlining Glastonbury pyramid stage.

Question:

Who is your favourite band you have played with?

Answer:

The 1975.

Question:

Your UK tour is coming up soon, but what is being on tour actually like?

Answer:

It's full of ups and downs, it's a lot of travelling and waiting around for just 40 minutes on stage, but if you get a good crowd and play a good show it's more than worth it. It's a huge privilege, and I'm very grateful to be able to do this.

Question:

Which bands are you watching for 2015?

Answer:

I'm excited for new albums from Swim Deep, Drenge and Fat White Family.

Question:

Can you tell us a secret?

Answer:

I'm an alien.

Question:

Where is your favourite place in the world?

Answer:

Holloway Odeon.
Favourite film? Dig!
Favourite song? Fairytale of New York
Favourite book? The House Of Spirits by Isabelle Allende
Favourite fashion brand? Doc Martens
Signature dish? Steak and chips
To find out more about Wolf Alice, check out their UK tour dates and listen to their music, visit their site here.