Founded by Thierry Boltz and Claude Soas, BSG Bikes is the home to unique, expertly crafted and technically excellent bikes. WOOD.b  comes from their combined passion for cycling,design and their daily use of bikes.
WOOD.b bikes are created using ash plywood and steel, the combination of which enables the bikes to be solid,comfortable and dynamic.
We chatted to Claude to find out a little more about the men behind the wooden bikes.
BSG Bikes WOOD.b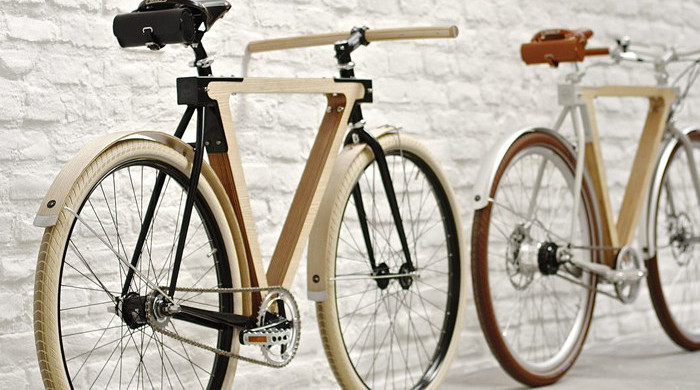 Question:

Tell us a little about BSG Bikes?

Answer:

At the beginning of BSG BIKES, we are two designers, Thierry Boltz & Claude Saos and above all WOOD.b.

For three years we worked together on different projects under the name of Boltz & Saos, but with WOOD.b, there was also another person who joined us for this project. We really wanted to create a brand especially dedicated to develop our bikes as this is our main focus for the future. Thierry and I are both dedicated bike riders, I don't own a car.

BSG means Boltz, Saos & Grand georges but we also like to play with letters to make Bikes for Smart Guys and Girls.

Question:

What inspired you and Thierry to create BSG Bikes and WOOD.b?

Answer:

We are both very curious of everything such as literature, fashion, and of course design, but we are particularly passionate about English and Italian cars from the 40's to the 60's, as well as Scandinavian design. I think that WOOD.b reflects both of these influences well.

Question:

What makes your bikes unique?

Answer:

What makes WOOD.b unique is its design. The design is justified by the concept of assembly between the steel parts and the wooden frame.

This enables a complete customization of bikes with elements taken from the bike industry. In that case, you can maintain and repair your WOOD.b bike at every bicycle shop. I believe it's the first bike with a wooden frame that integrates this principle.

Question:

Who is the WOOD.b perfect customer?

Answer:

Smart (Elegant) Guys and Girls…

Question:

What did you want to be when you grew up?

Answer:

Both: Designer

Question:

What can we expect to see from you in the future?

Answer:

We are going to develop WOOD.b in different versions, with some exclusive collaborations, limited editions and a new collection of high quality and vintage bikes.