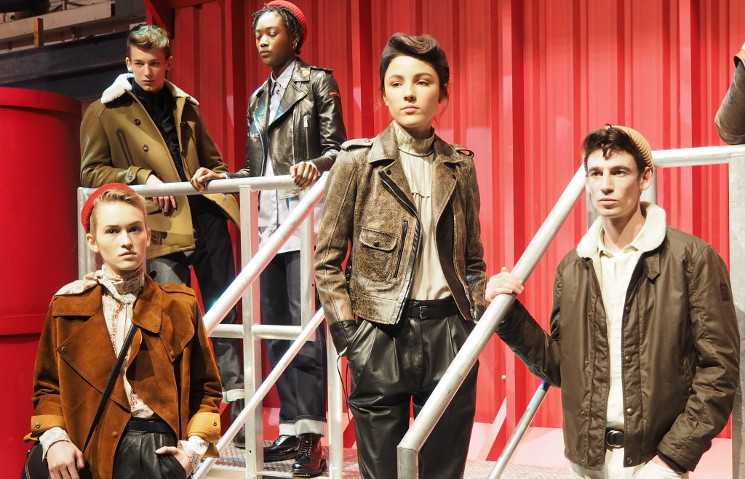 Steeped in a history of adventure and exploration, British heritage brand Belstaff returned to its roots for Autumn/Winter '17 to draw inspiration once more from its rich military heritage. For the first time at London Fashion Week Men's, the brand unified menswear and womenswear in its "Jolly Roger" themed collection, one that celebrated the robust clothing worn by the British Navy through the Second World War.
Belstaff has a proud history of creating durable outerwear for the military and navy, and the brand's AW17 collection reinterprets this tradition through colour, fabrics, and a number of new special vintage wax treatments. Timeless naval silhouettes such as the pea coat or duffle are given a contemporary update with a luxurious Melton wool construction, while other key materials such as waterproof hand-waxed cotton and treated leather reinforce the functional qualities necessary for life on the seas.
Belstaff has a history in dressing the British Navy and we wanted to tap into this inspiration, especially considering our progression in the field of innovation in materials, silhouettes, functionality and protection with this collection. We are proud to be finally presented an evenly shared presentation between men's and women's and be one of the first brands to do so in the London schedule.
Gavin Haig, Belstaff CEO
Further to the materials themselves, Belstaff AW17 is notable for an array of new and special vintage treatments developed to recreate the weather-beaten effect of outerwear worn by sailors during World War II. The battering of sea water, air and repeated coatings of wax would give the sailors' outerwear an almost matte finish which has been reproduced across a number of this season's garments. One such fabric is a waxed cotton that has been washed many times over before being re-waxed by hand with a special black-tainted wax. These fabric treatments give the collection its distinct look and feel, as well as helping create more interesting textures and colour shades in the fabrics.
The season's palette is united across both menswear and womenswear. From a base of industrial tones of red, charcoal grey, black and true navy emerge brighter shades of spruce teal, cardinal red, sanderling and burnished gold. The collection's palette is given greater depth and texture thanks to the season's use of fabric treatments which often give an aged effect and unique patina to its pieces.
Integral to this season's collection is the parka jacket which comes in a variety of styles across men's and womenswear. The collection's pièce de resistance might well be a technical foul-weather edition of the parka based on a Belstaff archive piece originally created for the military back in 1960. Constructed from down-filled ballistic nylon—first developed for flak jackets in WWII—and a down-filled hood liner, this parka is built to take a battering from the elements whether on the waves or on the street.
Belstaff presented its AW17 collection in the industrial space of London's Ambika P3. Models were positioned at varying heights in front of large red metallic cylinders around the presentation space, recreating the mood of life on the ship and around the docks. Alongside the brand's signature hardwearing pieces you will find relaxed seasonal items designed for downtime on the docks, from chunky roll-neck sweaters to Breton tees and jumpers. Maritime symbols such as naval tattoo designs and the Jolly Roger flag itself adorn several of the collection's key pieces, injecting Belstaff's well-recognised sense of rebellion and adventure into this season's offering.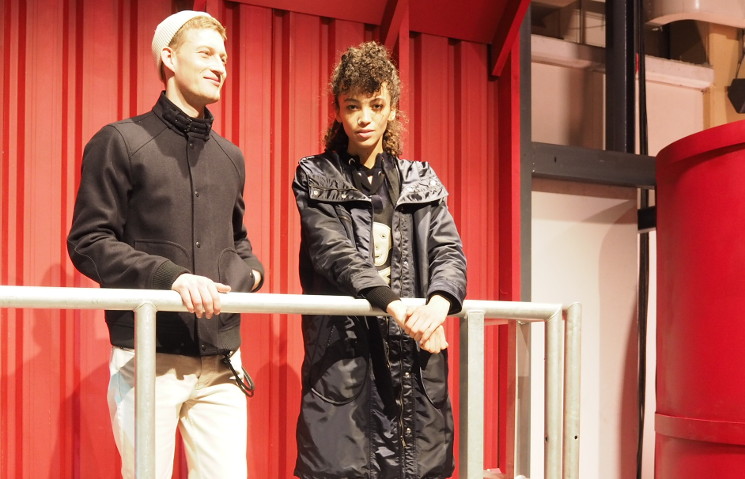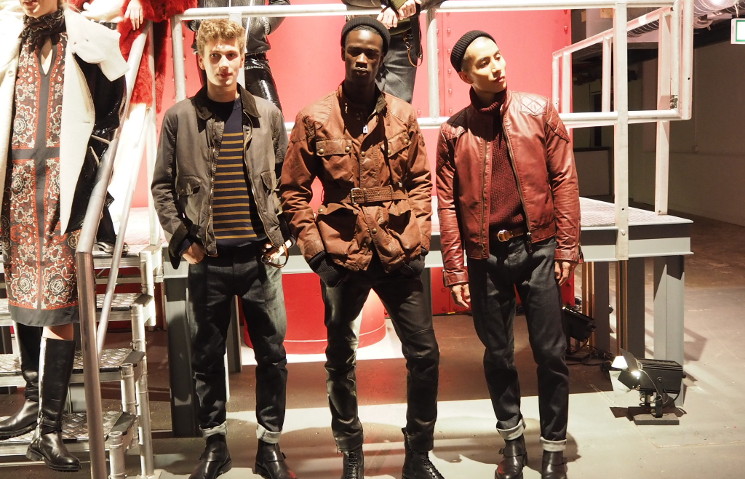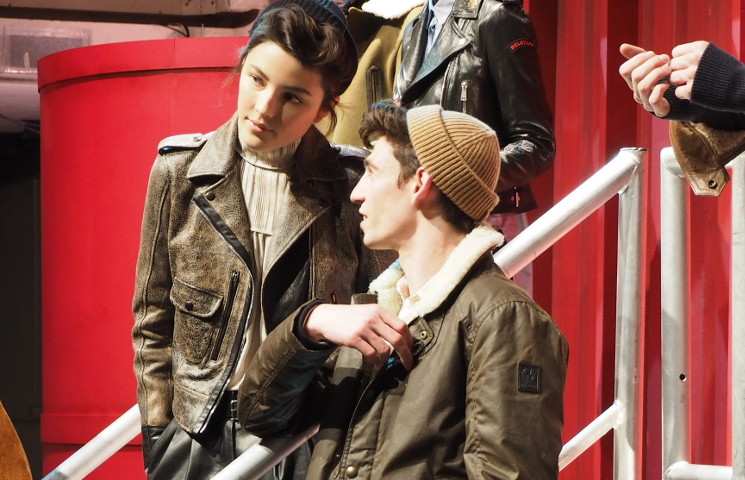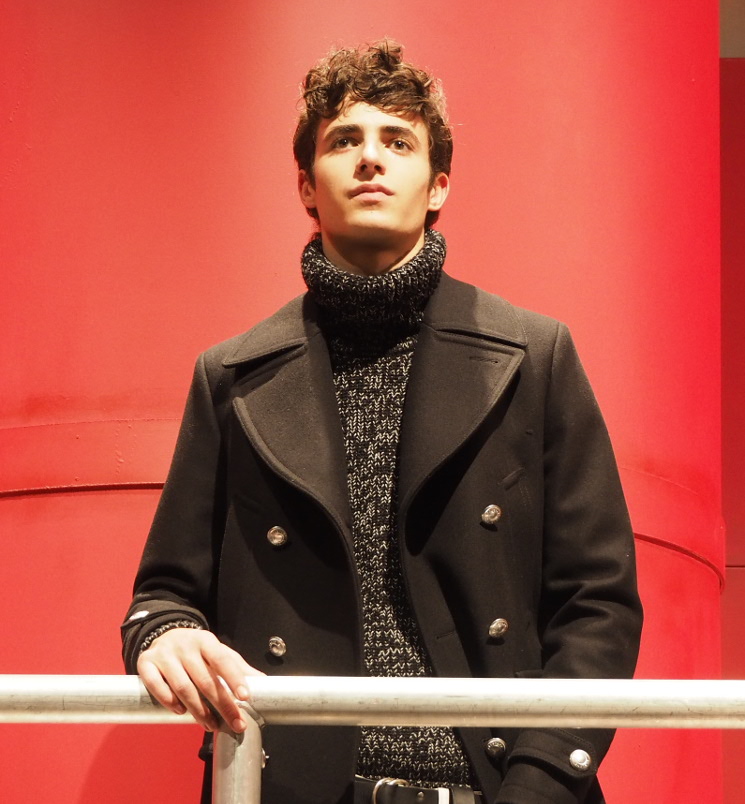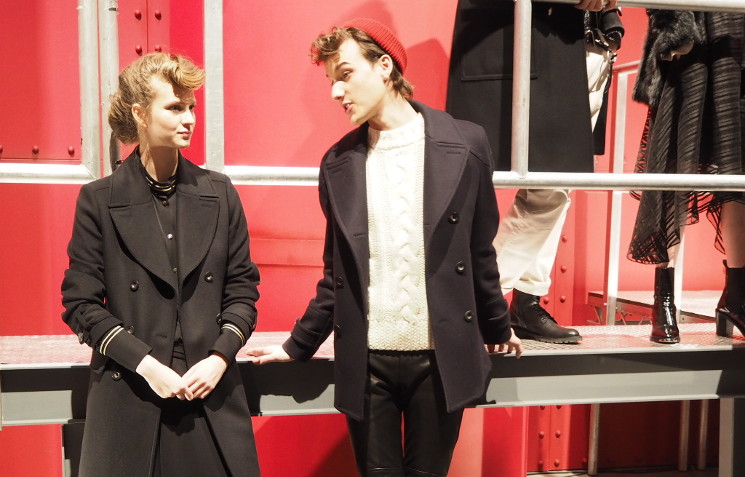 Words and images by Emily Holmes Naden