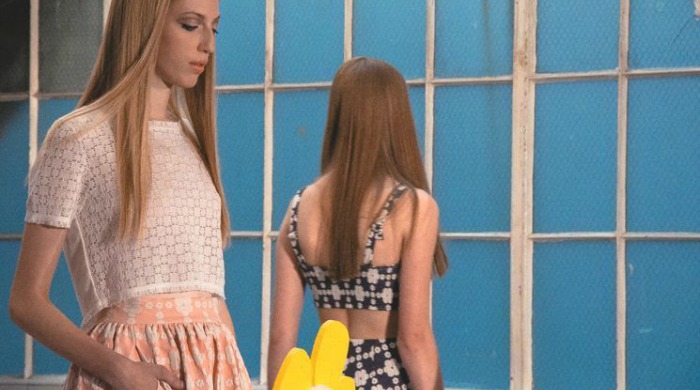 The first glimpse of the Orla Kiely Spring Summer 15 collection was in the bustling backstage area, surrounded by models, hair stylists, artists (both make up and those with paintbrushes) and photographers the collection sat patiently waiting on rails to be shown to the world.
The Orla Kiely Spring Summer 15 collection took us on a wander through a field of flowers that were planted throughout the show. Each model had their own flower to place in a plant pot to create Orla Kiely's very own garden of painterly flowers.
The surroundings beautifully complimented the Spring collection. In true Orla Kiely style, print and pattern were central to the collection. Prevalent in the majority of pieces, the whimsical and kaleidoscopic flower prints were realised in longline bra lets, voluminous midi skirts, high waisted shorts and swing coats.
Powerful pops of neon pinks, pastel blush, black, cream, yellow, mustard, navy and sky blue ran throughout the collection, not once all meeting in a specific garment but, like flowers, collected within sections of the collection. The playful pinks and yellows found their home with the graphic floral prints and younger cuts, whereas the mustard and navy shades settled on a scribbled floral print in more demure, but still equally Orla pieces.
With an inherent flower power theme running through the collection and
Orla Kiely's love of the 1960's, the design touches that represented these eras were consistent throughout. Further inspiration came from mid sixties films 'Le Bonheur' by Agnes Varda and 'Daisies' by Vera Chytilova.
Mirrored perfectly with live art being created by LA based artist Alia Penner as the show progressed, the floral theme ran throughout. The backdrop of painted, colourful flowers grew from the first petal to the last flower, timed to perfection with the end of the show.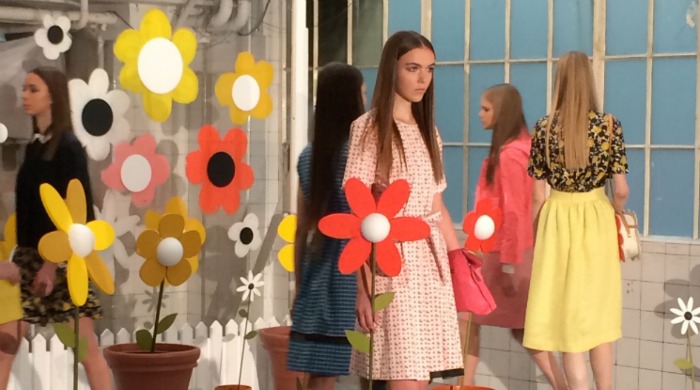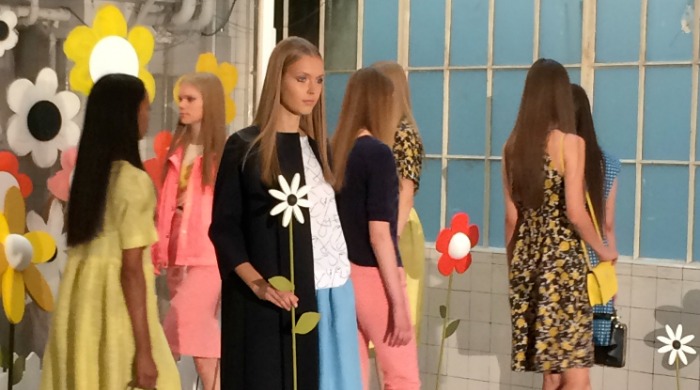 Words by Clare Potts. Images by Sophie Trott.