It's LFW this week – but not as we know it. Here at Coggles, we love showcasing the best that British fashion has to offer. This Fashion Week, we couldn't be more excited to feast our eyes on what's in store from some of our favourite British designers, despite the question mark that looms over us this year.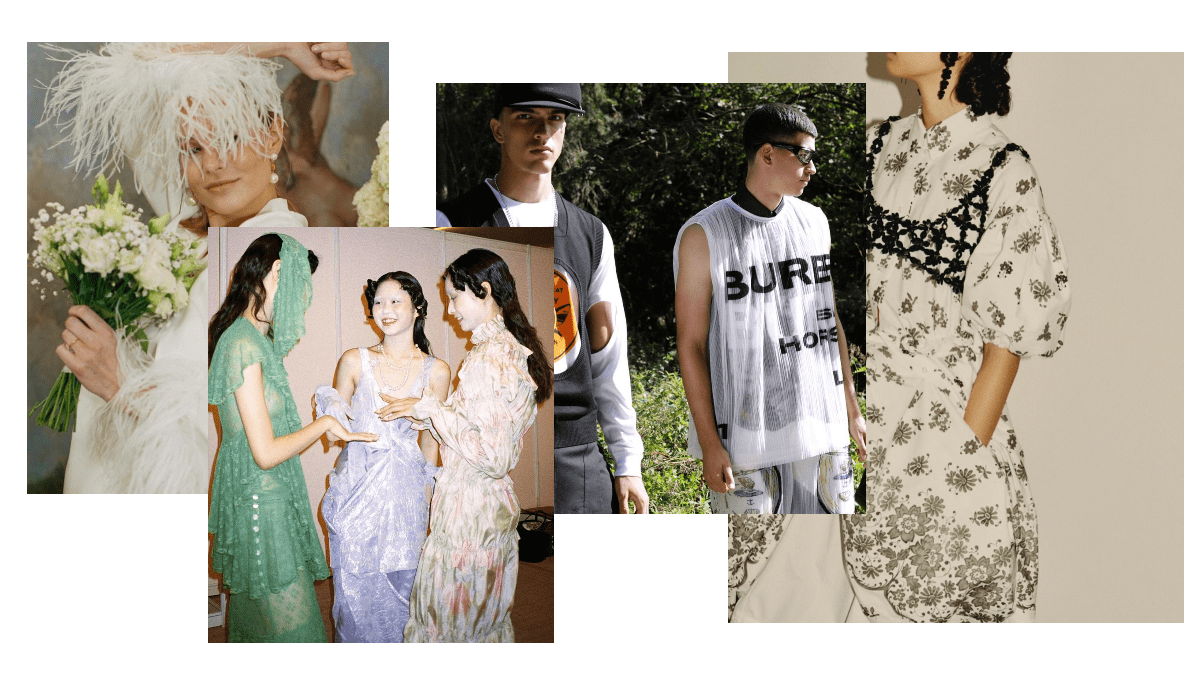 Fashion Week in the age of social distancing has been a little offbeat so far (to say the least) and this year, we'll all be on the front row.  Yep, equally as bizarre as it is exciting, London Fashion Week will run COMPLETELY digitally this week as it showcases a jam packed AW21 schedule.
The British Fashion Council also made the big decision to move the traditional menswear showcase from January to February in light of the current environment.
Available to stream live on via the LFW portal and brands' websites and social channels – we're waving goodbye to the politics and exclusivity of the front row.
With 95 designers officially participating this year spanning across both womenswear and menswear, there's more than enough going on to keep us all entertained. Audiences will be able to dip in and out of catwalk shows, fashion films, performance art, panel talks and so much more, without leaving the comfort of their own homes.
Designers such as Alice Temperley MBE, who will be showcasing her new collection via film, have welcomed the decision.I love the fact that all this makes it more inclusive, which is what fashion should be.
Ahead of this year's LFW collections, it's important to first acknowledge the context in which they were created. A year filled with restrictions, uncertainty and disaster has of course meant that designers will have faced many logistical challenges.
There is something quite beautiful about filming a show with no audience. You can push the boundaries creatively and find new ways to tell the story of the collection.
Says Erdem Moralioglu MBE, a firm LFW favourite.
But with the usual Fashion Week spectacle abolished, and as we saw with the SS21 collections, the focus for many designers this London Fashion Week will undoubtedly centre around intricate storytelling and true craftsmanship – enabling them to push their creative boundaries.
Here are Coggles' 7 must-see moments ahead of this London Fashion Week…
#1 NICHOLAS DALEY STEPPING RAZOR
Film | Friday 19th | 16:00
Nicholas Daley is a Menswear brand based in London, supported by the British Fashion Council NEWGEN designer program, Daley is a firm favourite at LFW.
Nicholas Daley explored Martial Arts and Reggae Culture for his latest collection, lending the name from Reggae musician Peter Tosh's 1977 song, "Stepping Razor". The brand speaks to the past as much as it does to the present: linking all things fashion, jazz, reggae and workwear within its collections.
This London Fashion Week, British Karate champion Jordan Thomas will presents Stepping Razor via film.
You can catch the film and new collection via the London Fashion Week portal.
#2 YUHAN WANG
Film | Saturday 20th | 12:30
There's no doubt in our minds that Yuhan Wang's AW21 fashion film will take all of our worries away. Known for her intricate portrayal of feminine strength, Yuhan's fashion collections are breathtaking, with the power to make you feel as though you've stepped into a renaissance painting.
The message of positivity has helped us gain perspective, through this time, through our creativity
Believes Yuhan Wang, designer of the eponymous London-based womenswear brand.
You can catch the film and new collection via the London Fashion Week portal.
#3 MOLLY GODDARD
Show | Saturday 20th | 17:00
To be honest, we're still swooning over Molly Goddard's iconic pink ruffled dress paired with those emerald green platform UGG's from her SS21 collection. There's just no holding her back – Molly has been popping up all over our Instagram feeds lately, and has recently been worn by the likes of Celeste, Lucy Litman and Jodie Comer.
Her fashion collections are, quite simply, stunning – and the perfect remedy to lift anyone's spirits, whether from the sofa or the front row.
Molly will be showcasing her AW21 collection this Fashion Week via the London Fashion Week portal.
#4 PREEN BY THORNTON BREGAZZI
Film | Sunday 21st | 12:00
British Fashion brand Preen By Thornton Bregazzi was created by Justin Thornton & Thea Bregazzi and places ethical responsibility at its core, resulting in timeless pieces made to proudly stand the test of time.
Many days spent in lockdown inspired the upcoming AW21 collection, which is set to include pieces that feel like wrapping yourself in a warm, safe cocoon, according to Thornton.
Even if you don't go out, you can go out in your mind, by dressing up at home
Known for their outstanding fashion presentations, we're expecting big things from their AW21 collection
You can catch the film and new collection via the London Fashion Week portal.