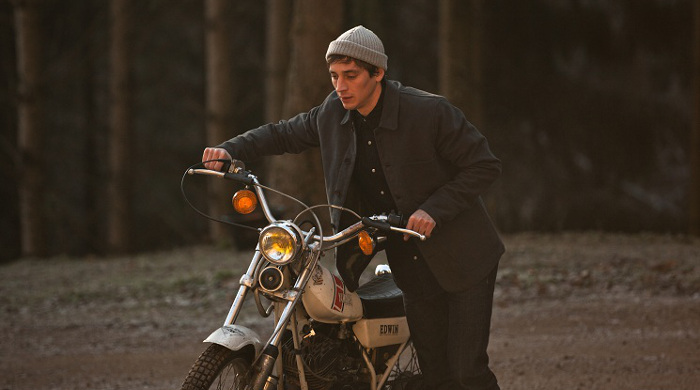 Born out of a desire for denim at a time when Japan produced none, Mr.Tsunemi established Edwin in 1947. Starting by importing used, worn-out and dirty denim from America, which was then laundered and mended by hand, Mr Tsunemi then sold this product on to customers. By 1951, denim manufacturers had started to operate within Japan, but the fabric still remained of inferior quality to its American counterparts. It was this quality difference which drove Mr.Tsunemi to create his own denims, with greater sophistication in fits, washes and quality.From this point on in Edwin denim history, quality, craftsmanship, innovation and integrity have been paramount to the ethos and aesthetic for the brand.
In 1961 Mr.Tsunemi crafted the first pair of Edwin denim jeans. Inverting the letter M to create a W, Edwin originated as an anagram of the word denim and the pair proved to be an exceptional sartorial partnership. By 1963 Edwin had produced the world's heaviest ring-spun denim jean (16oz), featuring the famous three-colour rainbow selvedge, which is still being used today. Edwin was then the first company in the world to develop 'old wash' designed to replicate denim which had been worn from its rigid, unwashed state in the seventies. In the 1980s, Edwin invented 'stone washing' which revolutionised the entire denim industry and was a pivotal moment in the evolution of denim manufacturing, a development that has influenced every denim company in existence today.
Moving into the 1990s, Edwin went on to create the 'new vintage' denim concept. Encompassing the subtle beauty of hand replicated vintage washes, Edwin used designs from archive references pre-dating 1947 in order to create new, but simultaneously 'vintage' jeans. Today, Edwin continues to pride itself on innovation and craftsmanship, utilising exclusive fabrics and fabrication, unique technology, hand wash processes, and continual progression in design and fit.
Words by Olivia Cooley. Image courtesy of Edwin.