Karen Mabon's eclectic scarves, pyjamas and cushions have become firm favourites amongst her rapidly growing fan base. Injecting some much-needed joy into our homes and wardrobes, they are full of bright colours and playful characters. We wanted to sit down and know all about the imaginative collections so, join us for a Q&A with Karen Mabon on everything from where it all started to her 2022 plans…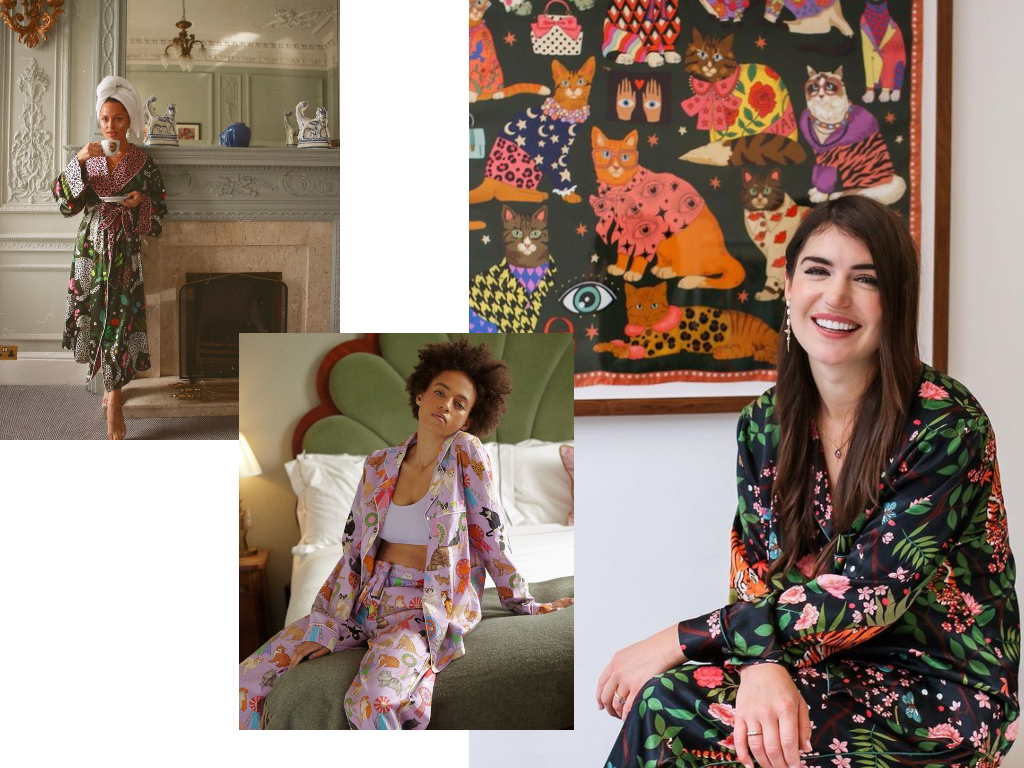 Hello! Thank you so much for taking the time to talk to Coggles today. Let's start with where does your love for art and textiles come from?
My dad, Tom Mabon is an artist so I was lucky enough to grow up surrounded by his beautiful work. Our Summer holidays as a family usually involved around my dad making a personal pilgrimage to the birthplace of an artist or a city with lots of galleries he wanted to see. Even at home, there were hundreds of books to look at and our house was filled with paintings and objects my parents had collected so I guess that's where my interest started. I have quite different tastes in textiles and artists now but I suppose it has evolved through my own experiences as an adult, the places I've travelled to and the memories associated with particular designers.
How did you come to start the Karen Mabon brand?
I graduated from the Royal College of Art about ten years ago and started my own brand immediately afterwards. I'm not sure I would ever do the same now, knowing what I know about how difficult it is to build a brand and how many challenges I would face, but I was 24 and felt like I had so much energy and nothing to lose. Before I started the brand, I worked briefly as a designer for the UK high street. I felt frustrated and upset by the overproduction and how little time and consideration went into the design process. I really wanted to create beautiful prints which were really involved and I could spend weeks redrafting and perfecting, where there is something new to discover every time the viewer looks at the print. 
A really big part of the brand was a reaction against how disposable the high street fashion industry was; I wanted to create pieces that were timeless and could be treasured for years. In that respect, the values the brand has today haven't really changed much. The brand started as just a small collection of silk scarves and grew from there. These days nightwear is our biggest category.
What was your favourite collection?
My favourite collaboration was Peter Rabbit, like a lot of people in Britain I grew up watching those characters and I just feel like I love them so much. It's so nostalgic to me. The collection included cushions, pyjamas and sunhats, I actually have one of the cushions in my living room. 
What can we expect from the Karen Mabon collections in 2022?
We are expanding our product ranges to include dresses and different shapes – and we have some really exciting brand collaborations launching throughout the year which I am desperate to namedrop but still embargoed, unfortunately!