Twin Atlantic have been on our radar since the early days of supporting fellow Scots Biffy Clyro. Captured by their raucous, alt-rock sound we have been watching them climb the billing for years, and we wouldn't be surprised if they're rivalling Biffy for the headline slot at Reading and Leeds Festival next year.
A four-piece composed of lead singer and rhythm guitarist Sam McTrusty, Barry McKenna on lead guitar, cello and vocals, Ross McNae on bass, piano and vocals and drummer Craig Kneale.
Their new album 'Great Divide' which was recently released feels like it was made for the main stage: it's full of anthemic, rousing songs that will urge you to sign along.
We caught up with Twin Atlantic bassist Ross McNae to find out more about their new album, the recording process and their rider requests…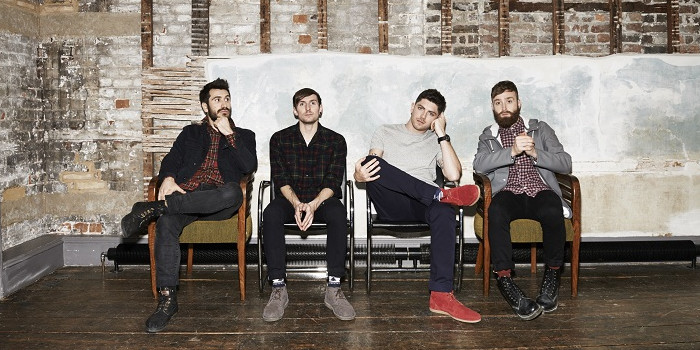 Question:

Tell us about your new album 'Great Divide'

Answer:

I think Great Divide is the first time we've fully relaxed and made a record purely for ourselves. It's the first time we've not tried to hide parts of our personality, sound and emotions.

Question:

Your new album was recorded in Wales and LA, how did the album develop over time?

Answer:

We thought we had all the pieces of the puzzle when we started making the record in Wales, but by the end of our time down there we realised that we needed a few things that we were missing. The only way to really get to those missing parts was to go to the other extreme so we went to LA.

Question:

You are playing some of the biggest gigs of your career, how have you changed as a band?

Answer:

We're really lucky at the moment to be getting to play to big crowds at our own shows and support shows. I think as a band we've relaxed into the idea of who we are now. It feels like we're enjoying our own journey, rather than trying to shape the journey into what we think it should be. We've grown up a lot since the last record was made and I think you can hear that transition.

Question:

What was the best gig you have ever done?

Answer:

I think T in the Park festival in Scotland this year was a big moment for me. It's always great to come back to Scotland to play and to be accepted in our own country after so many years of playing every small venue is a very special feeling.

Question:

What is being on tour like?

Answer:

Touring has its ups and downs like anything else in life, but recently we've been having a great time. We're lucky enough that touring is a little bit less tiring nowadays as we're not driving ourselves through the nights like we used to. We can concentrate on the shows nowadays which is what we're really making music for.

Question:

Oddest rider request on tour?

Answer:

We once asked for a bow and arrow as a joke and when we turned up it was there. That's about as out there as we go.

Question:

Strangest fan mail you have ever received?

Answer:

We get a lot of nice letters from people, but sometimes they can be a bit out there. I think it's just because we're Scottish that we take compliments pretty badly. I'm not sure if there's been anything really out of the ordinary though thankfully.

Question:

Which new Scottish bands are you listening to at the moment?

Answer:

Fatherson, The Lafontaines, Prides, Model Aeroplanes and Medals are all on our dressing room playlist. We have Model Aeroplanes and Medals on tour with us right now.

Question:

What can we expect to see from you in the future?

Answer:

Touring, touring and more touring. We've spent a lot of time making this record so we can't wait to travel the world and play it to people.
To find out more about Twin Atlantic and to listen to their music, visit their website here.
Interview by Clare Potts. Images property of Twin Atlantic