Peruvian cuisine is the latest food trend to hit the UK. First there was the advent of the country's staple – quinoa – which has enjoyed top superfood status for the past few years, and now other foods are gaining popularity. Peruvian food is packed full of flavour and nutrition, and is all about diversity. Ingredients come from the Pacific Coast, Andes and Amazon, and the country's large influx of immigrants from China, Italy, Spain and Japan, has helped shape the cuisine to be what it is today.
With Lima often named one of the world's culinary capitals, it's no wonder the UK has fully embraced it, with Peruvian restaurants such as Lima, Coya, Ceviche and Andina all opening in London in the past few years to critical acclaim. At the heart of this revival is super chef Gastón Acurio, who has been widely regarded for raising awareness of Peruvian food around the world. With more than 40 restaurants world-wide, he's made traditional Peruvian food fashionable and now everyone wants a taste. We've been scouring his first English-language cookbook, Peru: The Cookbook, recently published by Phaidon, and have picked out our favourite recipes.
Classic Ceviche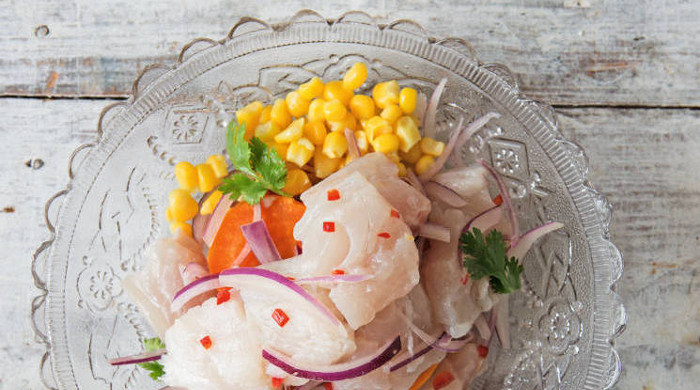 Ingredients
4 x 175g white fish fillets (such as sole, croker or grouper)
2 cloves garlic, very finely chopped
2 teaspoons limo chilli, chopped
Juice of 20 small lemons
1 teaspoon chopped coriander leaves
2 or 3 ice cubes
1 red onion, sliced
Salt and pepper
For a real taste of Peruvian food, Ceviche is the classic dish. Made with fresh, raw fish cured in citrus juices, it's packed full of flavour and is a quick, easy dish to make – this recipe serves four people. To make, cut the fish into 2cm-cubes, place in a bowl and season with salt and pepper. Add the garlic and chilli, mix, then add the lemon juice, coriander and ice cubes. Stir, leave to stand for a few seconds, add the red onion, then remove the ice cubes. Mix together and serve with cooked corn kernels and boiled sweet potato slices.
Pork Crackling Sandwich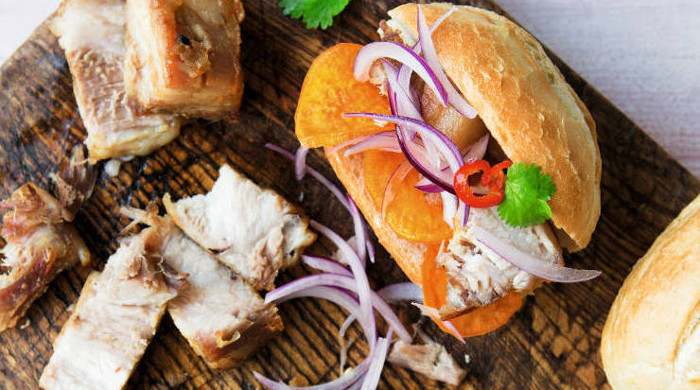 Ingredients
1 x 2kg pork belly
300g salt
1kg lard
4 cloves garlic
2 sweet potatoes, sliced
1 litre vegetable oil
4 crusty rolls
A street food favourite, these pork belly rolls are a real treat – this recipe serves four. Put the pork belly in a large bowl with the salt, cover with water and let soak for eight hours. Once soaked, remove the pork and rinse it well. Drain and cut into 5 x 4cm pieces. Put the lard into a large frying pan over medium heat to melt, then add the pork and garlic cloves, cooking gently for 45 minutes. Turn up the heat and cook for 25 minutes until the meat has browned. Heat the vegetable oil in a large pan, drop the sweet potato slices into the oil and cook for 5 minutes. Drain on paper towels. Slice the rolls and fill them with the fried potato slices, pork, onion, chili, and coriander.
Fried Sweet Potato Cubes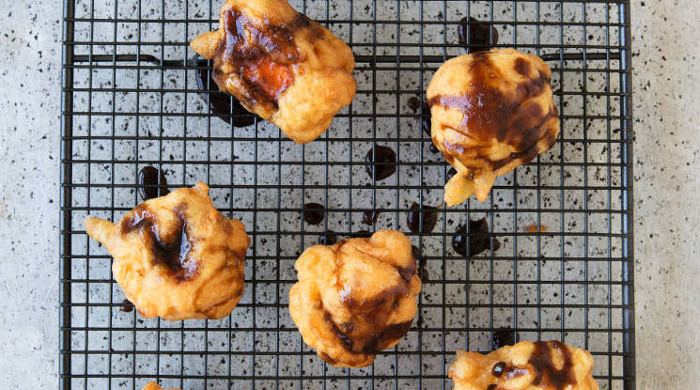 Ingredients
500g chancaca sugar
450g light brown sugar
1 cinnamon stick
Juice and zest of one orange
500g peeled sweet potatoes, cut into 10 x 3cm cubes
5 ½ tablespoons butter
150g plain flour
4 eggs
500ml vegetable oil
Place the chancaca sugar, half the light brown sugar, the cinnamon, and half the orange zest in a pan and cover with water. Bring to a boil, then reduce the heat and simmer until a syrup forms. Place the sweet potato cubes in a pan with the orange juice, remaining orange zest, and 500ml of water. Add the remaining sugar and simmer until the cubes are soft. Remove from the heat and drain. Place the butter and 120ml of water in a pan and bring to the boil. Add the flour, stir and remove from the heat to cool. Add the eggs one at a time to form a paste, then transfer to a bowl. Add the sweet potato cubes and coat evenly. Heat the vegetable oil in a deep fryer, drop the cubes into the hot oil and cook until crispy and golden. Drain well and serve with the syrup drizzled over.
Pisco Sour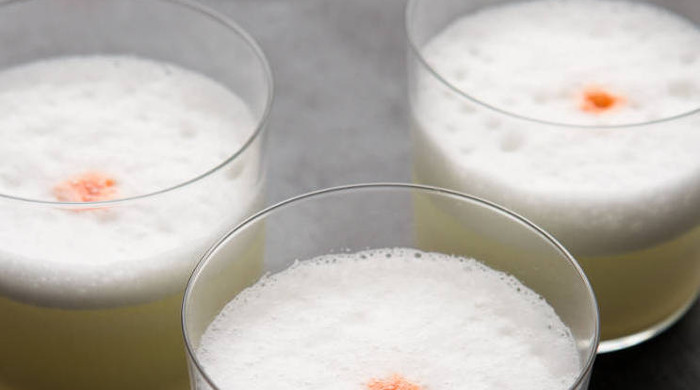 Ingredients
15 ice cubes
6 tablespoons Quebranta pisco
2 tablespoons lemon juice
2 tablespoons sugar syrup
1 tablespoon egg white
2 drops Angostura bitters, to finish
The perfect ending (or beginning) to a Peruvian meal is a Pisco Sour – the country's favourite cocktail. Place the ice in a blender and pour in the liquid ingredients. Blend for three seconds, then strain into a chilled stemless cocktail glass. Drop the Angostura bitters in the centre of the drink to finish.
Peru: The Cookbook by Gastón Acurio, £29.95 / €39.95, Phaidon is available here.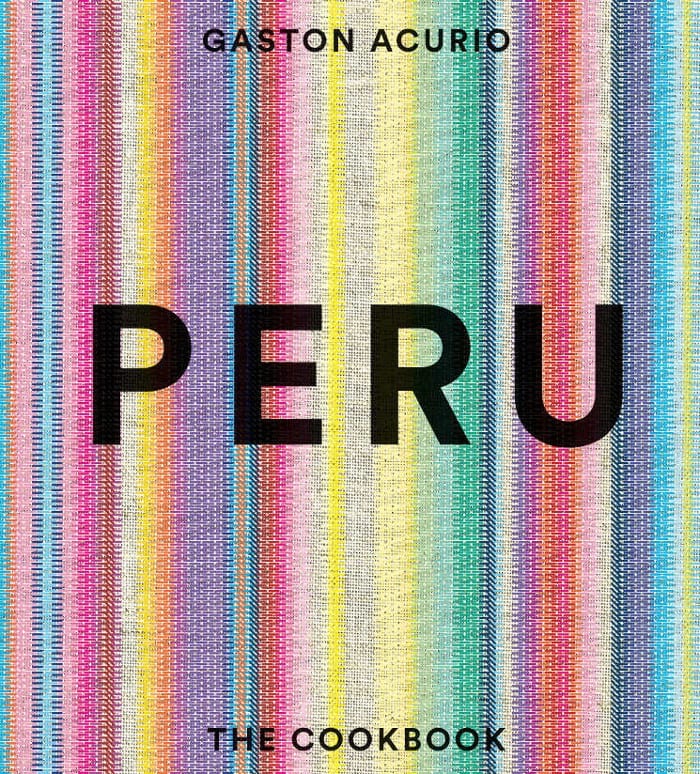 Images and recipes from Peru: The Cookbook. Words by Angharad Jones