Since the brand's inception in 2005, Our Legacy has been providing us with signature designs and repurposed fashion. Founded in the home of Scandi fashion Stockholm, by three friends Jockum Hallin, Cristopher Nying and Richardos Klarén the brand has gained a cult following. 
Inspired by seasonal themes, reworked silhouettes and the focus on being a product-based company over a fashion label, their clothing has a distinctive punk edge in both men's and women's fashion. From the brand's workshop initiative to their collaborations, here's all you need to know about Our Legacy clothing.
#1 What is the Our Legacy WORK SHOP?
Sub-label Our Legacy WORK SHOP is both a creative outlet to showcase the brand's current collections displayed next to inspirational reference garments, as well as a retail space for upcycled, recycled and dead stock all at a reduced price.
It became something of a recycling store.
With a passion for deconstructing and rebuilding, Our Legacy WORK SHOP gives objects a renewed value. The brand champions the creation of unique pieces, using up fabrics from previous collections which brings "responsible" clothing to their following and reduces their carbon footprint.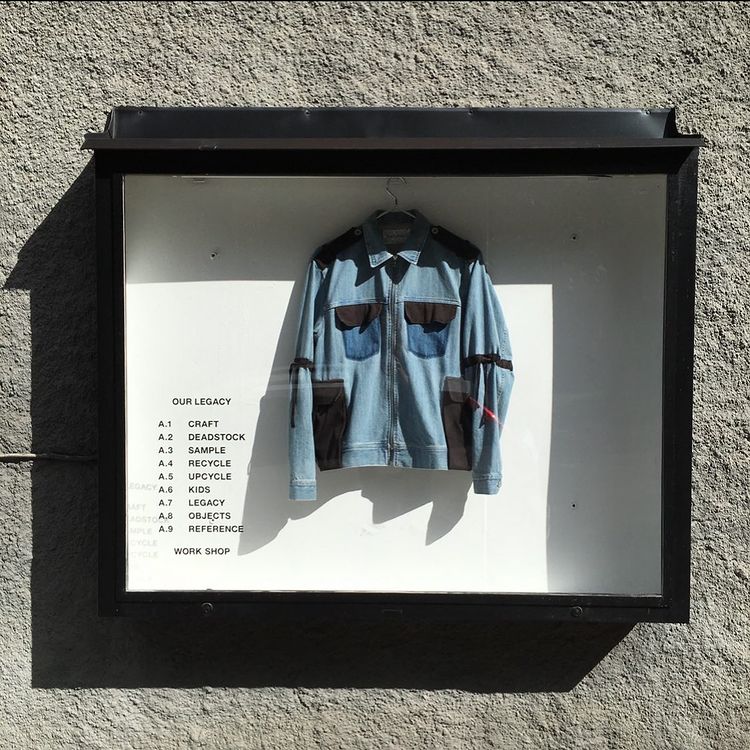 @ourlegacyworkshop
#2 Our Legacy Collaborations
Our Legacy WORK SHOP also collaborates with like-minded creative brands. The Our Legacy x Stussy and the Our Legacy x The North Face collaborations, used surplus materials from the Our Legacy mainline collections and worked together with these brands to create reworked one of a kind designs, merging both brand aesthetics together seamlessly.
#3 Our Legacy New Season – 'Déjà vu'
This collection delves deep into their military archive, breaking up their favourite garments that have been with them for decades. Repurposing pieces that were previously designed for survival with romantic, modern touches whether that be colour, cut or fabrication.
The collection includes denim made from Our Legacy staff jeans and WORK SHOP vintage pieces, soft functional shirting with detachable sleeves and rough grungy knits that have the feeling of washed-out towels.
#4 Our Legacy Men's Clothing