Once again Natasha Ramsay Lewis invited crowds to her second Chloe collection with a matchbox. As a young child Ramsay Lewis had collected the boxes, the invitation was a sort of testament to memory and her nostalgic mosaic of images that inspired the collection. Speaking of her SS18, the young designer stated "What I love about Chloé is that it's something very democratic and super easy to understand. You don't need to be a fashion person to get it." Chloe AW18 was much the same. One did not have to be trained in brand, fabrications and trends to understand that the sheer luxury of the items presented.
The show opened with a look that epitomised the Chloe girl, a deep V-neck, 70s collared shirt, cut to the navel in a sepia toned geometric print, layered under a rust knit jumper and chocolate skirt and cardigan combination. A heavy chain hung from the model's neck and the piece de resistance? A new cable knit monogrammed Chloe tight that reappeared throughout the collection.
Again, bohemia was at the heart of the collection yet the psychedelic traits so often present in Claire Wright Keller's collections had matured into a more sophisticated colour palette and an elegance in shapes and lines. The youthful air that Chloe is so well known for was still there, but tamed with modernist grit. Fur-fringed chaps and riding britches in warm brown tones gave the collection an overtly equestrian feel and the unorthodox knit layering an air of artistic nonchalance.
One thing that there wasn't a lot of? Outerwear. There was a cape, maybe a few lightweight trench coats but instead, Natasha Ramsay Lewis opted for a multitude of knits in a broad spectrum of shades. Heavy biker inspired boots in brown patent and suede were the only nod to the winter elements. Chloe girls don't feel the cold.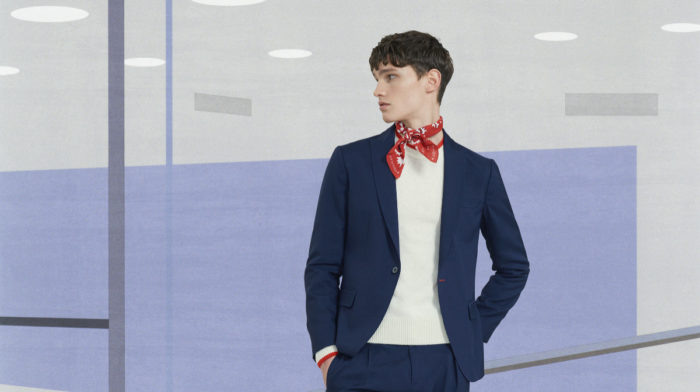 No one does effortless, chic nonchalance quite like the French. Take a look at our top 10 French brands you need to know here on Coggles.
Words by Georgia Leitch / Images from Imaxtree