Looking back on Copenhagen Fashion Week it was truly uplifting to see the return of physical shows and the elite front rows. Renowned for its small-city-local-vibe it felt like everyone was just catching up with old friends.
As new, established and emerging brands showcased their latest designs on the international stage, there was one thing that set Copenhagen Fashion Week above the rest. The implementation of a sustainable plan that required all brands who participated to meet minimum standards in six key areas – including environmental strategy, smart material choices and working conditions – by 2023.
Cementing themselves as the sustainable capital they have already inspired others to follow in their footsteps, as London reportedly looks at adopting a sustainable framework. Bravo Copenhagen Fashion Week!
Following 25 physical activations and 13 digital premieres from our favourite Scandi designers here's a round-up of the shows you need to get ahead of the curve for Spring Summer…
#1 Skall Studio
Showcasing the true Skall Studio aesthetic the collection was completely timeless with an emphasis on craftsmanship and materials. Taking inspiration from both Southern Europe and 90s minimalism, the collection included signature knits, heavy coats, 100% cotton jackets with undyed linen styles. The whole show was an invitation to take a deep breath and slow down to pay attention to the small and important things in life.
#2 Helmstedt
Helmstedt was a wonderful world away from the turbulent year we have experienced. Inspired by the pandemic, the collection encourages you to find beauty in simple things. Set offshore the under-the-sea show was a dreamy display of colour, pattern and positivity with each fabric picked to match each handprint. With the focus to create unique, beautiful clothing that will last every garment is its own piece of artwork.
#3 Baum und Pferdgarten
In a physical show that took to the streets in the heart of Copenhagen, 'The New Spirit' Spring Summer 22 show from Baum und Pferdgarten was powerful and uplifting. Paying homage to Finnish modernist architect and designer Alvar Aalto there was a balance between graphic strong lines and soft organic shapes. With an effortless mix of new athleisure and functionality, the show had a feeling of freedom and the future.
#4 Stine Goya
Stine Goya's Spring Summer 22 collection was inspired by the creative communities and spoke to those visionaries and voices. Highlighting their importance coming out of a very hard time the show was an empowering display of colour, print and fabrics. With structured, embroidered jackets to whimsical floor length dresses the physical show was a display of creative liberation.
#5 GANNI
The talk of Copenhagen Fashion Week once again, GANNI hosted a digital talk every day in the run up to the live stream of the collection. Presenting 'Higher Love' Creative Director Ditte Reffstrup brought an uplifting and progressive energy to SS21. Taking inspiration from the past year and coming out of the other side with a new love for life, the collection showcased body inclusivity with a combination of classic, romantic shapes merged with modernist prints and fabrics.
#6 Munthe
The Spring Summer 22 collection from Munthe is called "beloved keepers" and was described as a classic runway with a twist. With pleasing silhouettes, effortless denim, bright prints, and finer details their focus is creating timeless clothing. Designed not only to be easy on the eye but practical and comfortable, building a sustainably conscious closet of lasting pieces.
Thinking about the longevity of the clothing you own, not only is a way to have a more sustainable approach to fashion but will also help you carve out a style that is eternal and feels truly you. – Naja Munthe, Founder and Director
#7 Rotate
The Rotate Spring Summer 22 show had a dusky, coolness with pastel tones and sculpted silhouettes. Set in a warehouse, the models stepped out of classic cars and marched around in their chunky boots. With a subtle hint of glamour combined with rebellion, the collection focused on vibrant partywear that you can double as staples. Featuring silk slips, puff sleeves and statement sparkles it aimed to fill the gap in your wardrobe.
#8 Holzweiler
The Holzweiler Spring Summer 22 collection heavily reflected the time period we are living through. Creative Directors Jeanette Madsen & Thora Valdimars described it as 'Transit'.
The show moved through a new part of Oslo, showcasing the culture, urban geography and contemporary landscape. In the collection, the city-style shone through with darling hemlines, statement colours and patchwork fabric compositions.
We want to take back slow living, wear comfortable cool clothes and dress up occasionally.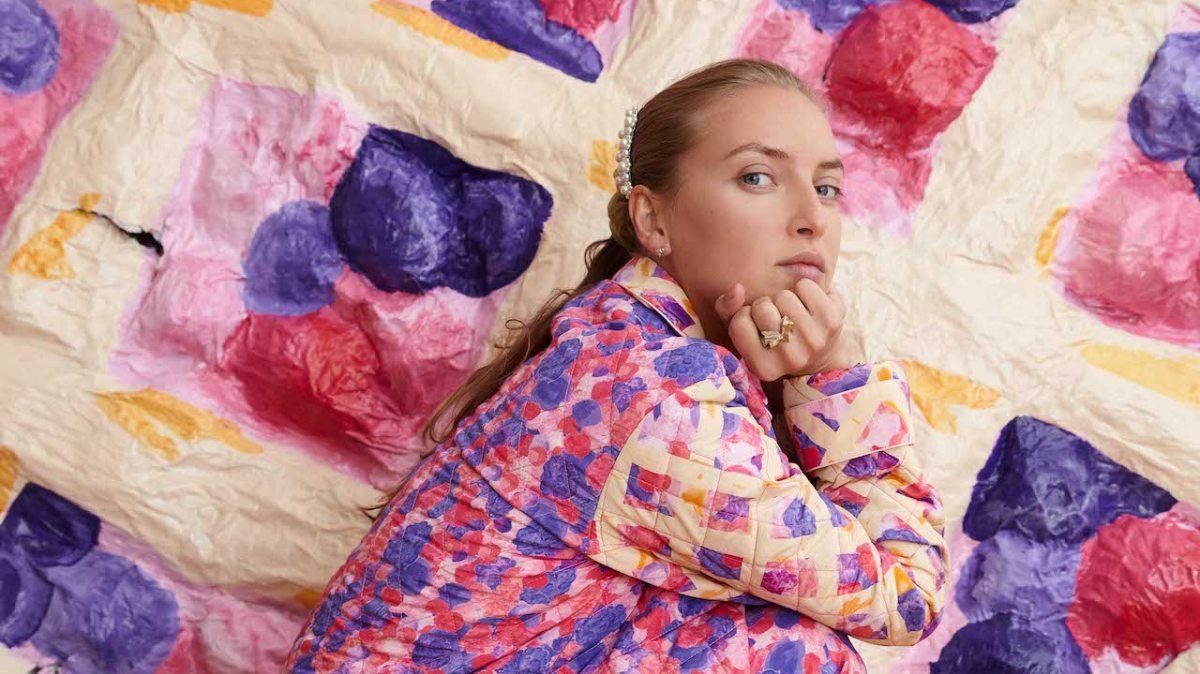 Join us for a Q&A with creative mastermind Emilie Helmstedt on her inspirations, her views on sustainability and the show-stopping Helmstedt collections.
Written by Holly Thompson
Featured Image Credit – @baumundpferdgarten