Denim is always a style staple in any person's wardrobe. Jeans are one of the most versatile items of clothing you can own; easy to dress up or down, you can put your own individual twist on them – almost like a blank canvas, if you will. Recently, denim has moved into high-fashion territory, with SS15 collections full of everything from full denim suits to seventies-inspired flares. Seen luxe at Burberry, super skinny at Saint Laurent, and paint splattered at Gucci, denim has been reworked for spring/summer and is a big trend. Fashion bloggers have embraced the trend in a big way, so we're looking to some of our favourites to see how they style their jeans.
Karlmond Tang from Mr Boy shows us that men can do double denim just as well as the women. He breaks up the denim by pairing a pale blue shirt with black slim fit jeans, keeping the rest of the outfit casual with a varsity jacket and camouflage print converse. A touch of silver jewellery and tee layered under the shirt adds small, but significant, extra details.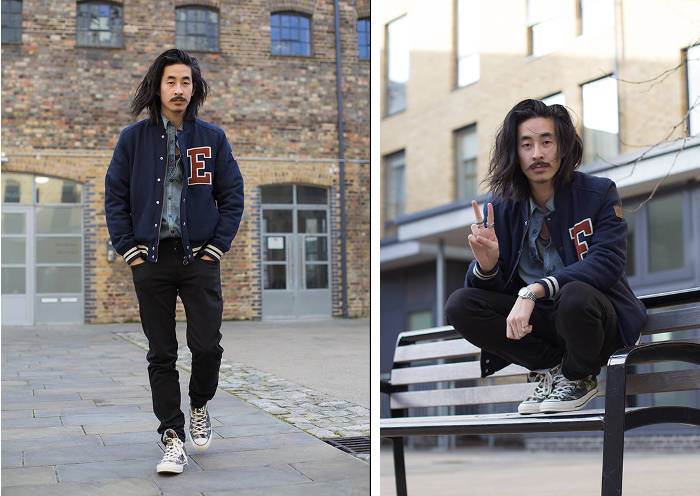 Images property of Karlmond Tang
This outfit from Adam Gallagher at the blog I Am Galla shows that all-black doesn't have to be boring, and can actually make a real style statement. His grey shirt breaks up the black, and looks great untucked with his slim black jeans. Adam's black jacket adds a smart element to his outfit, while the sunglasses and headphones make great accessories – and are practical, too.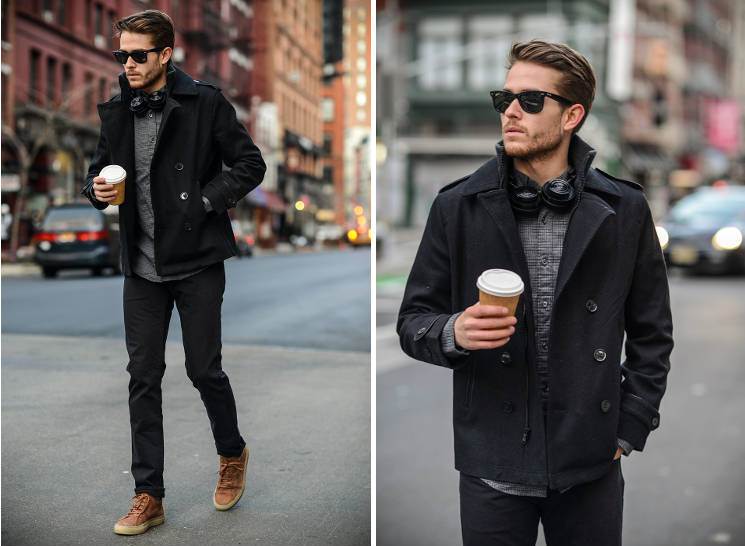 Images property of Adam Gallagher
Alexander Atkins from Mr Essentialist shows us how to layer without looking bulky. His combination of skinny jeans, white tee, denim shirt and leather bomber create a laid-back but slick and stylish look – a true example that basics can be interesting.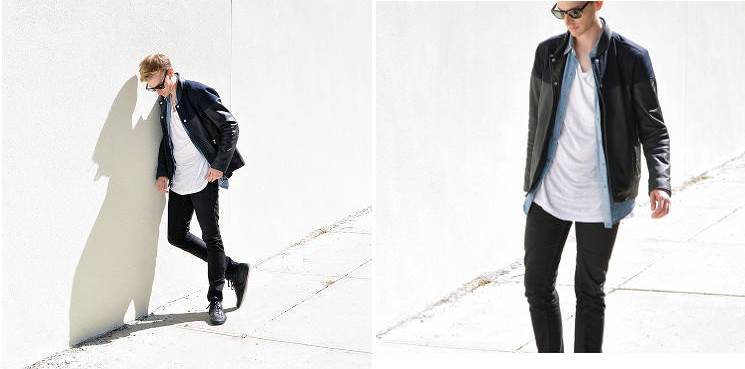 Images property of Alexander Atkins
Gabriel Garcia from men's style blog Cup of Couple gives us a masterclass in wearing grey jeans in this outfit. Cuffing the jeans shows off his Converse and adds an extra style detail to the jeans, as does layering a shirt under his graphic jumper. We love his on-trend raincoat too, making this a perfect casual outfit.

Images property of Gabriel Garcia