Stylish practicality reigned at Tod's AW18 show on day three of Milan Fashion Week. Bleary eyed editors (9.30am start during Fashion Month) swooned in a chorus of 'aaahs' as Gigi Hadid opened the collection, charging down the runway, French bulldog in hand. A clever man, Diego Della Valle knew that the quickest way to these spectator's hearts was of course, models and puppies – the clothes helped too.
A breath of fresh air, Tod's sportswear-inspired collection instilled a sense of calm into the madness that is fashion week. Both location and styling kept simple, Tod's offered quality clothes, easily worn and statement accessories, interchangeable for the modern woman.
A distinctly tan colour palette in everything from oversized shearling bombers to slouched leather trousers, the focus was, in typical Tod's manner, all on the accessories. Della Valle, of course made his name with the brand's infamous driving shoes, featured prominently throughout the show styled both with loose, oversized trousers and the more feminine dresses and knee length leather skirts. In addition to the typical Tod's mule, over the knee suede boots, decked with a crepe-sole wedge appeared in a multitude of autumnal hues, paired again with classic straight leg leather trousers, oversized outerwear and chic midi length dresses. Almost every model wore a bag, whether it be a large, oversized tote or a smaller, more formal minaudiere. The classic Tod's belt was revamped, decked with d-rings and snap pouches–the perfect fashion tool belt.
If camel was at the forefront of Tod's AW18 collection, it allowed for the bright shades of marigold, ginger nut and dusky mint to really stand out. Head to toe looks in these buttery hues didn't detract from the classic Tod's palette, they simply added to it.
Above all, the Tod's AW18 collection was wearable. Looks could have been pulled straight off the runway and into our Coggles' wardrobe in a heartbeat. Can we just bypass summer and head straight into Autumn?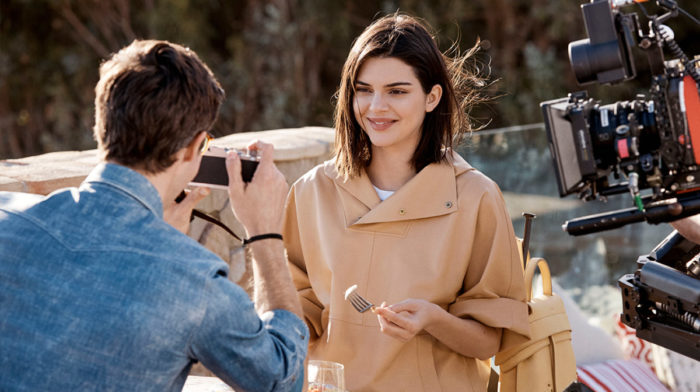 Starring Kendall Jenner & Roberto Bolle, we head behind the scenes at Tod's SS18 campaign for a insight into the authentic Italian dolce vita.
Words by Georgia Leitch / Images from Tod's