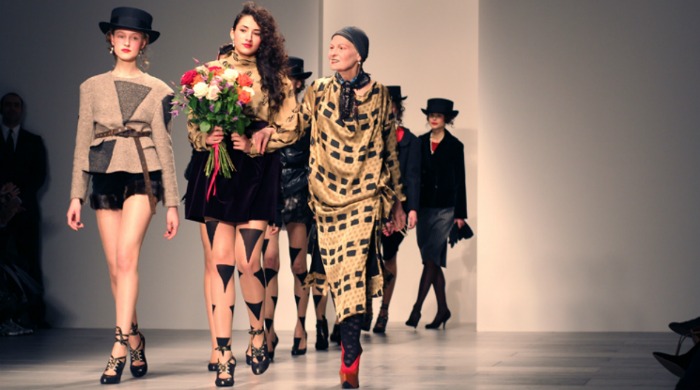 With a burst of red lips, cinched waists and luxurious fabrics, Vivienne Westwood Red Label transported the audience back in time to a more glamorous era.
From the first look; an oversized, black wool trapeze overcoat accessorized with a pill box hat and patent court shoes, the collection had a distinct theme and personality. Creating a new, slightly more refined Vivienne Westwood woman, each piece created a different dimension of this character. From beautifully tailored, cropped jackets and oversized, relaxed fitting coats to fur trimmed shorts, bright braces and tartan two-piece suits, the woman evolved from look to look.
This collection reflects not only the historical past but also a nod to Vivienne Westwood's own past as we see a reinvention of her S/S 1985 collection with the 'mini-crini' full, cage skirt making a welcome return to the catwalk. Playful features including oversized lapels coming together to create hearts and a stylized hybrid of a bowler and pork pie hat, paired with pearl necklaces.
A stunning off the shoulder evening dress in luxurious scarlet, heavy silk with the signature Vivienne Westwood gathered neckline created an instant classic within the collection.
The rich colour palette blended seamlessly from the more classic pieces in sumptuous reds, stark whites, metallics and dove greys to the more contemporary styles in mustard, plum and accessorized with tights peppered with triangles.
Texture and a combination of fabrics added depth to the collection, including fur, velvet, silk and wool, often contrasted against each other to form something utterly multi dimensional, tactile and visually stimulating.
Overall this collection represented a new era for Vivienne Westwood, a more simple, chic and refined era with the woman always at the heart.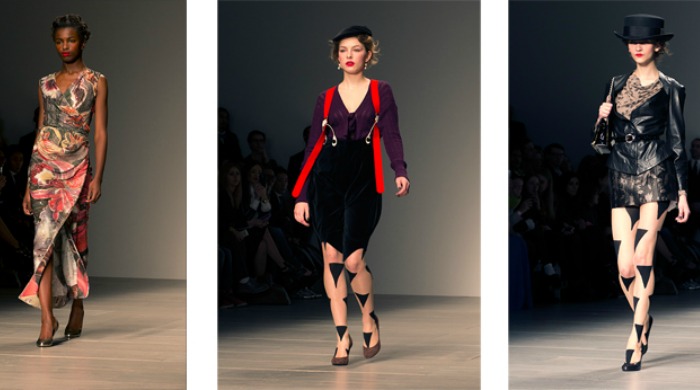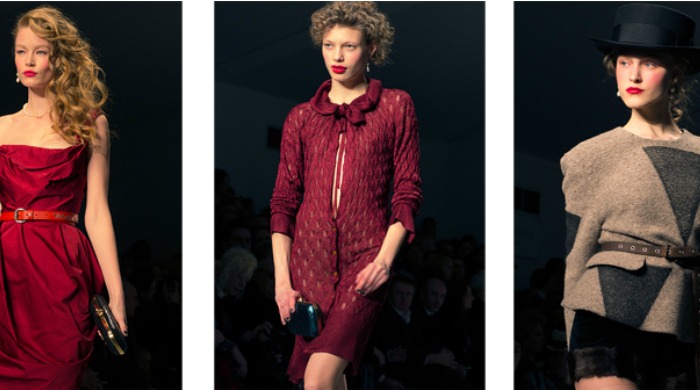 Words by Clare Potts. Images by Chantelle Foster.