Each season we await Christopher Raeburn's show with excitement and expectation for it to out do the previous collection, we definitely were not disappointed this season; marking the designer's fifth year at London Fashion Week. From the first opening moment of the show the music overtook the BFC tent at Somerset House, reminiscent of a foghorn it arrested our attention, encouraging everyone's eyes away from their iPhone to the catwalk.
Entitled 'Ascent', the Spring/Summer 2015 Christopher Raeburn collection is formed from the exploration of lightness and flight.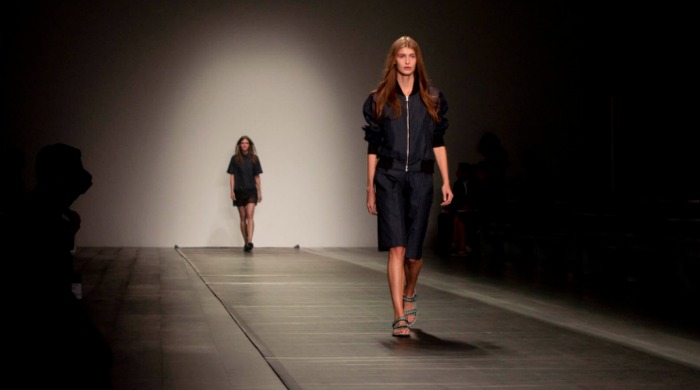 The opening looks of the show were intrinsically Christopher Raeburn, tailored and masculine in the most feminine of ways. An impeccably tailored bomber jacket with a square fit and subtle vertically striped fabric was the first look to emerge from backstage, sheer triangular panels focused attention on rounded shoulders creating a juxtaposition to the workwear aesthetic with a sense of sensuality. Oversized shirt dresses and masculine tailored followed suit accessorised with dip dyed hems and sheer shorts. This theme of subtle sensuality is developed throughout the collection, culminating in a range of sheer pieces with mindfully placed iridescent patches created from 100% recycled materials.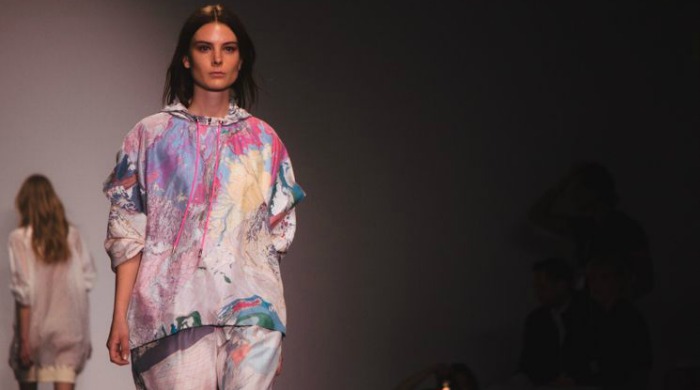 Continuing his concept of 'Remade': the fabric, the heart of the collection, was created by recycling original MIG fighter pilot suits combined with silk organza.
Evolving from the simple yet beautifully cut pieces came prints, pops of colour and the addition of parachute fabrics in swirling prints and patterns. Building from previous collections, the print was inspired by meteorological maps and weather patterns. Imagined in subtle tones, almost blending into the garment, camouflaged into the theme of the collection but still a prevalent part. To draw attention to these patterns, brighter colours run throughout matching the pinks, blues and yellows seen throughout the collection.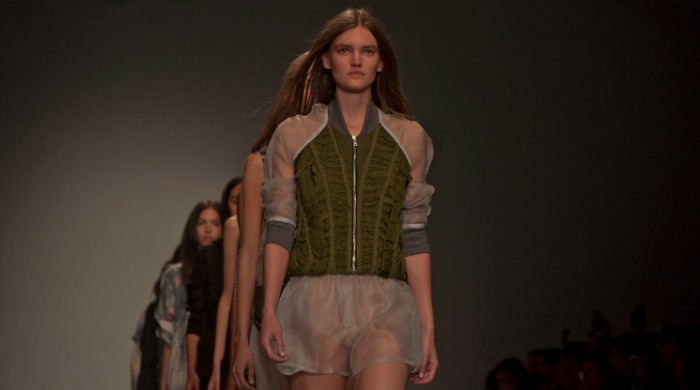 Stepping away from the meteorological print, a Japanese inspired flowing printed design completes some of the stand out pieces from the collection. Heavily inspired by Japanese design with a painterly palette, these pieces drifted down the catwalk with an air of elegance without losing attitude.
Classic backpacks and pack away bags ran throughout the show presented in a range of colours and sizes. Last but not least, this season's mascot the desert turtle makes an appearance in the trademark animal bags as well as clutches and purses.
Words by Clare Potts. Photography by Sophie Trott.