This week we invited celebrity stylist Hannah Macleod to our Alderley Edge Store to talk about her career in the industry and style some looks from our latest SS18 womenswear collection. From insights in to life at Vogue magazine to how the fashion industry really can be just like 'The Devil Wears Prada', we caught up with Hannah to get a behind the scenes look at what it's like to be 13 years deep in the world of fashion styling.
Hannah wears Dress by Ganni at Coggles
Tell us a little about yourself?
"I began my career working at Vogue magazine, which I have to admit at times was like 'The Devil Wears Prada' if you know what I mean! A fantastic experience nonetheless. I then moved on to YOU Magazine, the Fashion Supplement for the Mail on Sunday. I worked under Caroline Baker and to give you an idea of her character, she lived with Vivienne Westwood in the 60s so she had some amazing stories to tell! And a wealth of wonderful experience and knowledge to share.
I then moved to InStyle magazine where I was lucky enough to work with Maria Milano. She was tasked with setting up their online presence having recently come from Vogue where she set up Vogue.com. Her vision for the direction that the fashion industry was going was unrivalled at the time. It's only really now that I realise quite how forward thinking she was.
I then went freelance and have been ever since. I have definitely carved a path for myself styling mainly within the TV world and I have kept my clients varied and diverse, working with people from Naomi Campbell on her show 'The Face' to BBC News Presenter Sophie Raworth, to presenters and influencers Laura Jackson and Emma Willis. A wide breadth of really nice people which is super important when you're doing something as personal as dressing someone."
Who is your favourite celebrity you have styled?
"Without a doubt Emma Willis, she is exactly what you see on screen. There can be people who are not actually how you'd think they'd be from seeing them on TV, but she's so genuine, loyal, kind and unbelievably hard working. We get on which makes such an enormous difference because of course you want to care what your clients look like and being friends makes all the difference."
If there was any celebrity in the world you could style who would it be?
"I'd have to say Princess Diana, I just think she was amazing. She epitomised what it was to use clothes to your advantage, she understood the power of an amazing outfit. She did of course have stylists but she quite clearly had an eye for style, even going to the gym, she looked fantastic.
As sadly I can't work with her I'd definitely settle for Meghan Markle!! I think that we haven't seen anything from her yet, that's my prediction, she's playing it safe at the moment but I feel she will start to push the boundaries much like Diana did. It would be such fun to be part of that journey."
Do you have any preference over dressing celebrities over non-celebrities?
"We're all the same, we all have our own insecurities- parts of our bodies that we like and then parts that we're not so keen on so from that respect celebrity/non-celebrity it's the same process.
In terms of celebrity clients, it's great when you nail an outfit and it's trending on Twitter and the online publications are talking about it the next day. On the flip side, you can't please everyone all the time and the technicalities of dressing someone on-screen can be tricky too. Stripes, spots and close patterns are a no-go as they strobe. Black or white can also be difficult to light, you can't have colours too similar to the background… the list of limitations goes on.
The thing I love the most about dressing private clients is the effect that you can have on their confidence – that moment when someone looks in the mirror and their shoulders go back and they stand a little taller…helping people with how they look on the outside to help them feel better on the inside, that's a really cool feeling."
What other challenges would you say you face in your job?
"As I've mentioned before, taste it is subjective thing- you can't ever please everyone, and when it comes to celebrities there are a lot of people around them with an opinion which can be unhelpful. I have had TV producers come over and say that they are not sure about an outfit and I think… 'is that from a technical perspective or do you just not like it?' It can be tough negotiating opinions."
What's been your most memorable point of your career so far?
"It's going to sound like I'm doing her PR, I'm honestly not! … but it has to be when Emma [Willis] did the BRITS. I've been part of her journey and so seeing her standing on that stage in the O2 amongst the best musicians and artists in the world, head-to-toe in Alaïa looking like a rockstar, bossing it, was an emotional moment".
What advice would you give to a budding stylist?
"My friend's Dad once said to me 'never underestimate enthusiasm' and it's so true. You have to have passion and you have to work hard. Working in the fashion industry is not as glamorous as it seems. It is a very competitive industry but a lot of people fall by the wayside because they don't realise those things. My other piece of advice would be use social media and utilise the internet. These platforms allow anyone to have a voice and I am a firm believer that if you shout loud enough, you will get heard! No one is stopping you."
What would you say is your most treasured item in your wardrobe?
"Well despite today's appearances, I am bit of a tomboy so I would have to say my Dries Van Noten Brogues. They're the perfect balance between masculine and feminine. I wear them with everything from trousers to toughening up dresses, they were expensive but you know… cost per wear!"
What are your top three styling tips for SS18?
"Firstly embrace the pastel colours, we've seen millennial pink for a while now but new to the bloc is lavender. We saw Victoria Beckham doing the full lavender runway look which I think looks amazing, but of course lot's of people aren't that brave so just accenting your look with coloured socks and jeans rolled up or a pastel bag is a great nod to the trend without going all out.
Tea dresses are back which is lovely to see. They're super feminine and you can either go with it and put on a heel or a sandal with a straw bag, or you can go against it and whack on a biker boot or a pair of trainers, throw on a leather jacket embrace 90's grunge.
Three quarter length trousers too, they've been around for a while but they're definitely here to stay for a while longer. I love when a woman shows off her ankles I think it's really sexy. Even if you have an old pair of jeans, any style… skinny, straight, flared, roll them up and it gives them a whole new lease of life."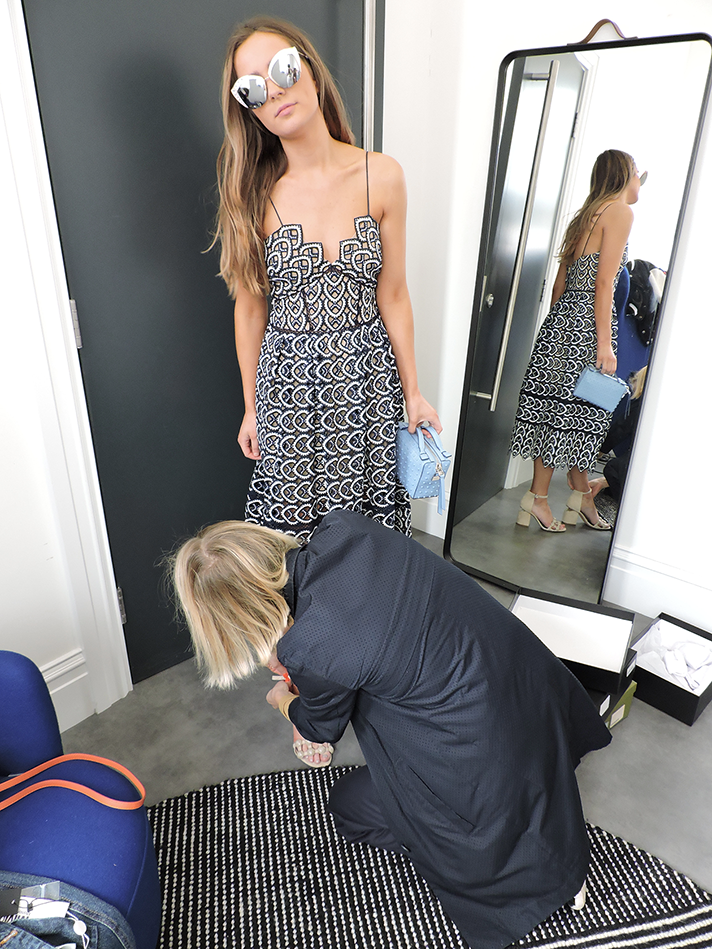 Hannah styles our Assistant Menswear Buyer Alex in
Dress by Self Portrait (in store exclusive), Shoes by Alexander Wang & Bag by Tod's

Having recently started a blog, Graham St, which provides fashion inspiration for whatever age you are, Hannah emanates the importance of moving away from any belief that age should affect your fashion choices.
After talking the art of SS18 styling, Hannah spent some time with our two Alex's from Head Office to show off a few ways to wear some of her key pieces from the Coggles store for the season, check out her top picks below:
Look 1: French Riviera