September is over and that means one thing, not only are we in pursuit of pumpkin spiced lattes, but fashion month is finished for another season. From the unique walk of Leon Dame at Maison Margiela in Paris to the stunning appearance of Jennifer Lopez in the jungle dress at the Versace show in Milan, we've been treated to some glorious fashion at the SS20 shows. We've had our eyes peeled for the latest trends from London, Paris, Milan and New York, so to save you a job we've highlighted some of our favourites in our SS20 fashion trend report.
New York -5th -13th September
Knitted Dresses and Florals
Fashion Month kicked off this September with some impressive runway shows in the USA capital, New York. Kate Spade showcased stand out SS20 trends including colourful knitted and floral dresses as well as utilitarian jackets. Hosted in Soho's Elizabeth Street Garden, the theme for the show was Frances Burnett's The Secret Garden which focuses on rejuvenation, and we can certainly see this in the new season collection.
Jackets
A reoccurring trend when it comes to spring summer jackets and coats, utilitarian style is back again for SS20. The khaki and sand tones of the style lends itself well when partnering with feminine floral looks.
Boxy
When it comes to the British spring summer seasons, a light jacket for cooler evenings is essential, and we're loving the boxy cropped style of the jackets showcased at Helmut Lang. The structured shoulders and double breasted buttons give a nod to vintage 80's style.
Pleats
Think less of 80's rara skirts and more tennis skirt pleats, that's what we saw at Helmut Lang's SS20 show, with pleated skirts, dresses and trousers taking centre stage.
Matchy Matchy Two-Piece
Similar to ease and popularity of the SS19 boilersuit, the matchy matchy two-piece is going to be a big trend in SS20. Perfect for the everyday as well as more formal occasions, floral two-piece tops and trousers make an impact, look stylish and take the hassle out of choosing an outfit. We saw an abundance of matching tops, trousers and skirts across NYFW.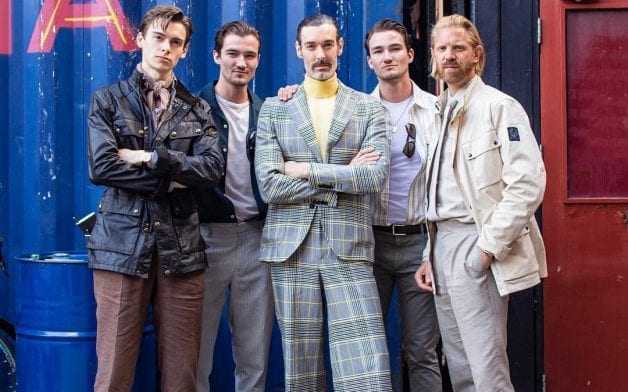 After spending our weekend in the capital for London Fashion Week Men's SS20, there were a certain few standout trends we wanted to highlight. From the seersucker suiting at Oliver Spencer to tie dye shirts at Nicholas Daley we're running through the SS20 trends that will be all over your fashion feed.
Milan 17th-23rd September
Checks
You'll struggle to find a designer who didn't integrate some sort of check into their SS20 collection. In Milan we saw a plethora of tartan, window pane and gingham check, from Gucci, Fendi and Missoni to name a few.
Burnt Orange and Green
Burnt orange tones and green hues were two focal shades seen throughout fashion month. With the two colours seen across each fashion week across the globe, we'll be moving away from the mint green and brighter oranges of SS19.
Oversized Everything
Some may see this as a bit of a marmite trend, but we're fully embracing the oversized everything look. In Milan we saw oversized bags, dresses and coats from designers including Bottega, Philosophy Di Lorenzo and Fendi.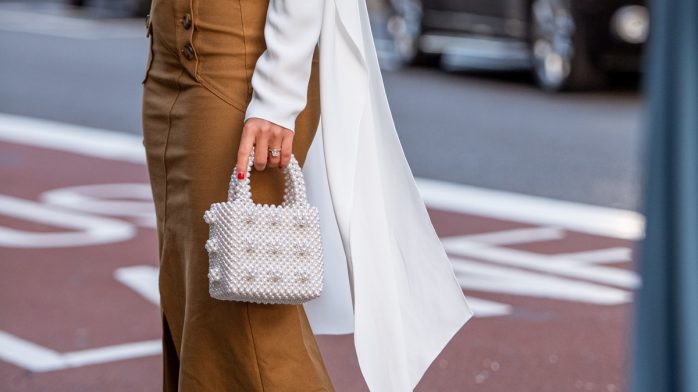 From the green hues to the new romantic ruffles on the runway, take a look at our round-up of the trends you need to know in SS20.
Paris 23rd-1st October
Festival Style
From fringing to seriously short shorts, Paris fashion week was channelling festival style in their SS20 collections. Isabel Marant gave us 70's vibes with her textures and shapes, in a mix of crochet, slouchy western boots and poncho's, whilst Saint Laurent and Chanel also followed suit as they embraced the short shorts for SS20.
Relaxed Rounded Shoulders
As well as the more 80's styled structured shoulders seen on jackets and dresses we saw a relaxed and more rounded shoulder at Paris Fashion Week, especially at Maison Margeila, Lanvin and Louis Vuitton  shows.
Crochet Lace Looks
Loewe, Isabel Marant and Christian Dior were but a few designers to adopt the crochet lace look in their SS20 collections. On the runway at Loewe we were treated to a selection of crochet lace dresses in spring time favourites lilac, yellow and white. Similarly at Christian Dior, we saw crochet lace dresses in khaki tones with a floral finish take to the runway.
Leather
Leather was a staple at the shows of  PFW SS20, with a selection of not only classic black leather but also pops of burnt orange, purple and green in all garments specifically seen at Hermes,Maison Margiela and Louis Vuitton.
Image credit : Vogue Runway