We may have been watching through our screens, but fashion month certainly didn't disappoint this season. Undeterred by restrictions and regulations, the fashion schedule didn't stop as designers showcased their SS21 collections. With designers exploring alternative ways of showing their designs via digital methods, fashion month's new normal is making it more inclusive and accessible to all who love design. For those of you who may have missed it, here are the best things we saw from fashion month SS21.
#1 CHANEL Teaser and set
Faultlessly depicting the golden age of Hollywood with it's vintage aesthetic, CHANEL brought the glitz and glamour with a teaser video and set design for their SS21 collection. Using sepia stained footage of tinsel town, the teaser braced us for what was to come in the show. Giving a nod to the muses of the brand, Karl Lagerfeld and the various Hollywood actors and actresses he dressed for film roles and in real life. Taking place as usual at the Grand Palais in Paris, the backdrop to the collection was an imitation Hollywood sign spelling CHANEL with the collection giving us subtle references to the era while also keeping youthful.
#2 Prada x Raf Simons
Fashion month SS21 saw Miuccua Prada and Raf Simons come together for their first collaboration as co-creative directors. The highly anticipated collection was streamed on Instagram for everyone to see and was followed by an intimate Q&A with both Miuccua and Raf.  Speaking about everything from sustainability and inclusivity to how long the pair have wanted to work together, the Instagram live was another step in the right direction for bringing the consumer closer to the luxury fashion world.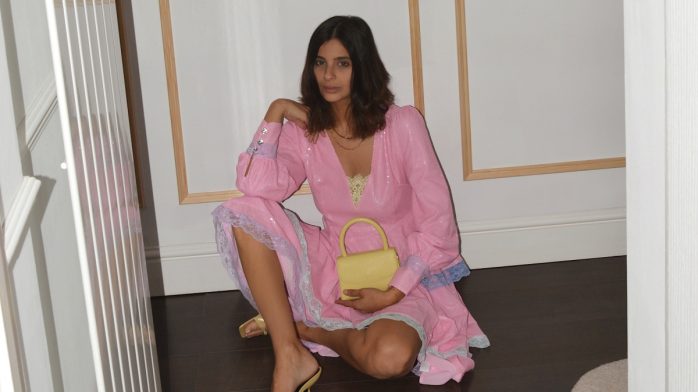 Known for her impeccable taste, attention to detail and flair for styling, Santina shows us how she'll be transitioning into the cooler months with her AW20 style notes as she takes us through three of her favourite looks from Coggles new season offering.
#3 Eliza Rutson Pang
Spotted walking on some of the most desireable runways, Eliza Rutson Pang is most definitely a girl in demand. Walking previously for designers including Off White, Paco Rabanne and Valentino, Eliza's striking features have made her the perfect addition to runways across fashion month. Eliza was born and raised in Hong Kong and is the offspring of half British half Chinese parents, her Mother Sara Rutson former Vice President of global buying at Net-a-Porter and Andrew Pang, author and expert in Japanese Origami. At only 18, Eliza's modelling career is only just starting and is certainly a face to watch.
#4 Isabel Marant
The Isabel Marant SS21 runway lifted the mood tenfold with a show that resembled the scenes of your favourite nightclub. Models showcased the evening to daywear collection to the beat of techno remixes. Sticking to the labels signature shapes, the SS21 collection is more of what we love about the designer. The collection's colour blocking and reimagined 80's designs were a prominent part of the show. When speaking to Vogue about the show, Isabel said: "the wardrobe was occasion-less, perhaps a theme in our supposedly changing approach to dressing, what with the lack of anywhere to go other than where your laptop is. It's about giving confidence to women, making them feel good in what they're wearing—that it's easy and comfortable and doesn't disguise you in something you're not."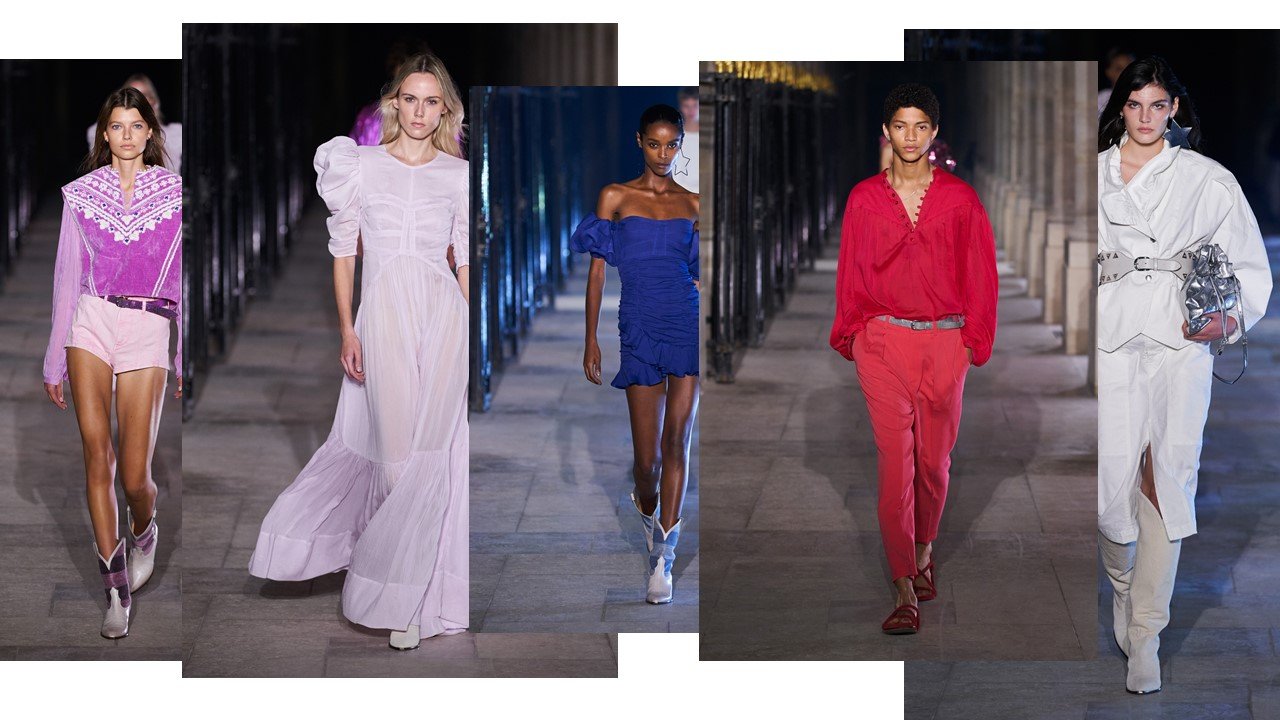 #5 Lila Grace Moss Debut
When you grow up with a supermodel Mum like Kate Moss, you're destined to walk one of fashion's most watched runways. At only 18 that's exactly what Lila Grace Moss did as she made her debut at the Miu Miu SS21 show. In homage to the missed sports games and social events of 2020, the backdrop to Miu Miu's show was a mock sports arena covered in screens which live streamed Miu Miu's poster girls watching the show from the comfort of their homes. The collection was also a celebration of the sporting aesthetic, with the juxtaposition of sporting stripes on structured blazers and tennis dresses finished off with a bow cinched in at the waist.