Founded in 2002, Danish brand Designers Remix is everything we love in Scandinavian design; clean, minimal, effortless and oh-so-stylish. The past couple of years have seen the brand grow beyond Scandinavia, embraced by women in Europe and the U.S. for it feminine, sophisticated designs that have a slight androgynous edge. The woman behind the success is Charlotte Eskildsen – who, along with husband Niels – established Designers Remix. We sat down with her to find out more about the brand, and how Danish architecture influences her designs.
Shop Designers Remix on Coggles >>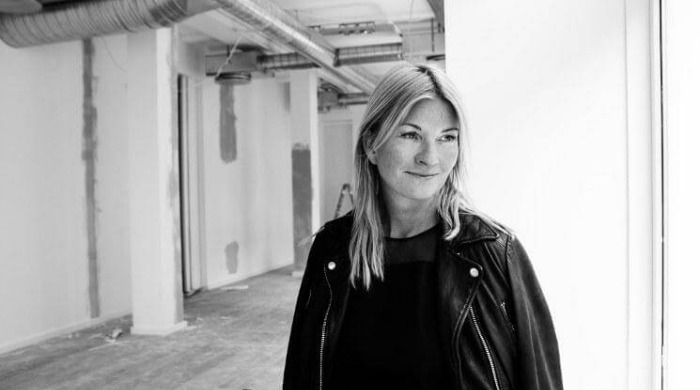 Question:

Tell us about Designers Remix

Answer:

Designers Remix is a global full range womenswear brand with a Scandi feel to it. We are based in Copenhagen, Denmark and our design heritage is founded in our Scandinavian approach to everything from fashion, architecture and interior.

Question:

The brand was founded in 2002, how has it developed since then?

Answer:

The brand started as a small component in a bigger company. When my husband and I bought the brand; we had big ambitions in turning the brand into a successful womenswear brand that reflects both my own personal taste and what women want to look like today. From the very beginning I have had very strong opinions in how the brand should develop in terms of design and the creative aspects that surround it.

When Niels and I had our first daughter I became aware that it was so difficult to find quality clothing for children, which resulted in the foundation of our miniature brand, Little Remix. As the company grew, our markets expanded and we are today present in most countries all over the world with some of the best retailers one could ever imagine. I feel very lucky in this way.

Question:

Where did inspiration come from for your AW15 collection?

Answer:

Our AW15 collection "Racing to the Past" is driven by the decade of growing feminism and sexual liberation; the '70s in admixture with race-vibes. The '70s inspiration is evident in the choice of organic soft fabrics such as rya rugs, cork, wood, furniture wool and key styles of the decade such as flared pants, neat fitted coats, cropped tops and the tie ribbon shirt.

The overall impression of the collection seems soft and light yet powerful. The dreary earthy colour scale is obviously retrieved from the decade of growing feminism and sexual liberation. One will see rust, electric lilac, pearl white, mint, grey and brown, which is of course mixed with the Designers Remix signature colour – black.

Question:

You're based in Copenhagen – does the city influence your designs at all?

Answer:

Obviously it would be easy to say that I am inspired by the fashion in Copenhagen, since we are known for our great taste in the Scandinavian countries. However I have always been more fascinated by Danish design and architecture. Some of my collections in the past have been very much influenced by buildings and furniture from some of the best architects in the country. I have an architectural approach to the entire design process, which is easy to recognise in how stringent we are in the fitting, shaping and silhouette creating process. You will never find any heavy prints in our collections, as I believe it is the fit that makes the woman feel beautiful.

Question:

Do you incorporate your personal style into your designs?

Answer:

Naturally the brand reflects my personal taste – my collections are based on the impressions I get from opinion leaders all over the world mixed with a good portion of gut feeling in terms of future trends. I will never design something that I wouldn't like to wear myself or that I wouldn't like our customers to wear.

Question:

Who would you like to see wearing Designers Remix?

Answer:

I would like to think that the 'Designers Remix woman' is a young vibrant, feminine yet edgy woman with a strong confident personality, a clear sense of who she is and not afraid of standing out from the crowd. She has a cool mysterious aura that surrounds her and a good sense of style that is reflected in everything around her.

Question:

What has been the highlight of your career so far?

Answer:

To receive an award is really special to me. Over the years I have received Elle Style Awards, Dansk Design Award and the Golden button. However buying 49 of the shares of the brand was definitely a highlight in my career as well.

Question:

What's next for Designers Remix?

Answer:

Designers Remix has over the past season experienced a massive growth in our client portfolio worldwide. It is our ambition to keep growing internationally while staying true the DNA of the brand.
Words by Angharad Jones. Image courtesy of Designers Remix.