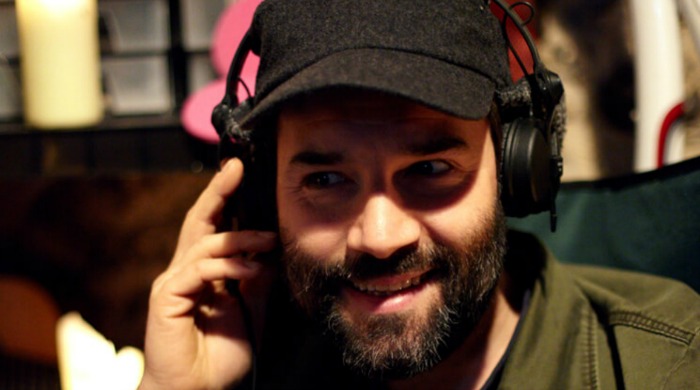 A decade on from its official birth, the podcast has undergone something of a renaissance over the past couple of years. 2015 has reaped the fruits of this renewed interest, offering us a variety of podcasts with content ranging from cutting-edge investigative journalism, to facts and trivia on science, culture and much more. Not only is the scope of the podcast format broadening, but more importantly the quality of podcasting has also been revved up to transform it into one of the most exciting and powerful media forms around. In light of the successful year that podcasts have enjoyed, the Coggles team have put together a collection of our five best podcasts of 2015.
5) The Adam Buxton Podcast & Brett Easton Ellis Podcast

It was always going to be a struggle to draw up a list of just five podcasts, but we feel that these two conversational podcasts complement each other in their style and qualities. The Adam Buxton Podcast sees the British comedian interview a different celebrity in each episode (interviewees range from Louis Theroux, to artists like Lianne La Havas), in a light-hearted, fun interview style while also delving deeper into the celebrity personality. Click here to find out more.
Brett Easton Ellis (author of American Psycho) similarly interviews an eclectic range of guests (Shirley Mason and Quentin Tarantino among others) but in a more intellectual style that focuses on art and culture as well as the personal stories that have helped shape the career of Ellis's guests. When listening to these podcasts, you feel that you are part of an intimate three-way conversation between the interviewer, interviewee and yourself. Click here to find out more.
4) Song Exploder
Launched on 1st January 2014, Song Exploder presenter Hrishikesh Hirway conducts conversations with renowned musicians who deconstruct a single song to explain exactly how it came to be. From the stories behind the lyrics, to the influences in the melodies and any tracks sampled, the podcast offers a fascinating insight into the craftsmanship of songs with help from world-renowned artists including U2, The National, Ghostface Killah and, most recently, Björk. Click here to find out more.
3) StartUp
Launched by former This American Life producer Alex Blumberg, StartUp is a podcast series telling the inside story of start-up companies. Looking at everything from concept to marketing, the first series takes Blumberg's very own first start-up company, a podcast network now known as Gimlet Media, as its subject of analysis. That series finished in February this year, but Blumberg returned with co-host Lisa Chow for the second series in April 2015, charting the rise of dating company Dating Ring. The podcast provides an astute and intriguing look at the business of start-ups in a way that is a pleasure to discover, whether you're a budding entrepreneur or otherwise. Click here to find out more.
2) This American Life
Starting out in 1995 as an hour-long radio program broadcasted weekly in the US, This American Life is now one of the most popular podcasts available, with more than one and a half million downloads for each episode. Hosted by Ira Glass, each podcast focuses on a particular theme and branches out to tell binge-worthy, non-fiction stories that explore the theme in often unimaginable ways. If you have yet to discover the program (where have you been hiding?), there is also a gargantuan backlog of excellent programs to explore. From 2015, we recommend episode #564: Too Soon, which looks at a particularly controversial celebrity comeback, and #573: Status Update which explores social media, status culture and the effects these phenomena have on our everyday lives. Click here to find out more.
1) Serial
Predictably, but deservedly, there was a unanimous decision on what should sit at our number one spot. A spin-off show from the creators of This American Life, Serial was launched in 2014 and was almost single-handedly responsible for the recent explosion of interest in the podcast format. In short, Serial is an investigative journalistic podcast that unfolds one story over the course of a season. The first series traced the story of a 1999 murder in Baltimore and was notable for its meticulous attention to details in the murder case, the excruciating research undertaken by the Serial team, but perhaps most importantly for the seamless narrative style delivered by talented host Sarah Koenig. The second series, which premiered just three weeks ago, centres on US soldier Bowe Bergdahl who spent five years in Taliban captivity after being captured in 2009 and is already proving to be as addictive and engrossing as the original series. Click here to find out more.