Piccadilly Records was founded in 1978 and remains Manchester's most famous independent record store. Priding itself on an across-the-board music policy and friendly knowledgeable staff, the store is a Manchester institution yet is known and respected worldwide as a bastion of independent music. We catch up with Piccadilly co-owner Philippa Jarman, who has been working behind the Piccadilly counter since 1986.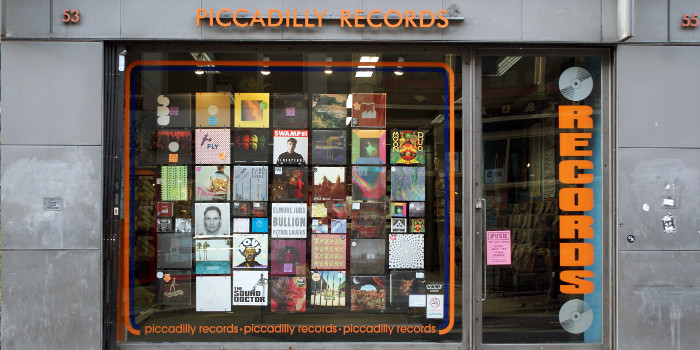 Question:

Piccadilly has a great reputation, not just in Manchester but worldwide, as a leading outlet for independent music. What's the secret behind the shop's success?

Answer:

There's so many different things. Firstly, we work really hard, doing 12 hour days to keep up with things. Secondly, we're still really enthusiastic about music, and we're always looking for something new. We're not like a supermarket, we just stock stuff we like.

Question:

Piccadilly has been going since 1978, making it something of an institution. How long have you been working behind the counter?

Answer:

I've been here since 1986. The company that owned the shop went bust in 1990, so a few of us got together, bought the name and re-opened. We've been in the same location in the Northern Quarter ever since.

Question:

What's changed in that time?

Answer:

The biggest change I've noticed is the people. We see people come in as teenagers, then in a suit when they get their first job. They then come in and they're married, and a year or two later they're pushing a pram into the shop with their kids.

Question:

That suggests there's a strong customer loyalty. Do you still see the same faces as you did in the 1980s?

Answer:

Yes. Obviously there are people who just come in for a few years and then move elsewhere, but we do get a lot of regular customers who come in week in, week out, have a chat and buy records. They've grown up with us.

Question:

Does that prove the theory that independent record stores aren't just shops, but also a kind of focal point for the music community in their town or city?

Answer:

We do have that link with the customers that maybe you wouldn't get at a high street store. They can spend more time here and chat to us if they want to. If they want to come in, get what they want and pay, that's fine, too. We're definitely a musical hub for Manchester.

Question:

Recently, there was a report that stated that Manchester was the 'illegal downloads capital of the UK'. Did that come as any surprise?

Answer:

Partly. Manchester is a city with a lot of students, so that would probably offer a reason why. You'd expect students to file share a lot more than older people.

Question:

Many people have a romantic ideal of independent record stores, as champions of underground music staffed by music fans. How close is the reality of day-to-day life at Piccadilly compared to this ideal?

Answer:

It's exactly like that, actually, with hard work added on top. While we do make an effort to chat to people and pass on recommendations, there's a lot of work that goes on behind the scenes to make it friendly and a nice place to come shopping.

Question:

How do you see the role of the shop's staff? Are you curators, keen to point out thrilling new music, or merely there to serve customers?

Answer:

We're definitely curators, if that's the word you want to use. Different people who work behind the counter have different customers they deal with, because they know what they like and can make recommendations accordingly. People appreciate that, I think.

I've been here since 1986. The company that owned the shop went bust in 1990, so a few of us got together, bought the name and re-opened. We've been in the same location in the Northern Quarter ever since.

Question:

The role of recommendations to customers seems to be key to your approach. Do you still do your end of year, fanzine style publication featuring lists of your favourite records?

Answer:

Yes. We get all the staff to give us a top 20, and combine that into an annual top 100. Each staff member gets to write about their year at Piccadilly and their favourite releases.

Question:

People have been predicting the demise of vinyl records as a format for decades. Others have said that vinyl is making a comeback. What's the reality?

Answer:

I remember doing an interview with North West Tonight about the resurgence on vinyl. Every other year it's either 'vinyl is dying' or 'vinyl is back'.
Visit Piccadilly Records' online store here.
By Matt Anniss