Since its inception just eight years ago, Record Store Day has become a key date in the music calendar for celebrating vinyl culture at independent record stores around the world. The day is marked with a plethora of exclusive releases from some of the world's biggest acts, plus rare and often intimate live performances, a tradition initiated by Metallica's performance in San Francisco in its inaugural year.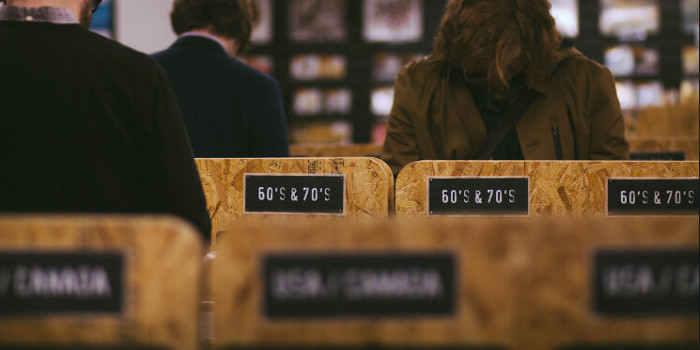 This year's offering is perhaps Record Store Day's richest yet, with releases from the likes of the late David Bowie, Outkast, the Flaming Lips, the Weeknd, Bob Dylan, Fleetwood Mac, Mac DeMarco, plus many more. You will be able to snatch a copy of one of more of these releases at one of the UK's 200 participating stores. But which records should you be keeping an eye out for? And which independent record stores should you plundering on 16th April? Allow us to guide you with the five releases we will be hunting down this RSD and a checklist of the best independent record stores closest to you.
1. David Bowie, "TVC 15"
A mammoth figure whose untimely death just days after the release of Blackstar violently shook the music industry this year, David Bowie's "TVC 15" this year celebrates 40 years since its original release on Station to Station. This 7" picture disc from Rhino Records also features "Wild Is The Wind" on the B side, making it a valuable addition to any Bowie fanatic's collection.
2. The Flaming Lips, Lightning Strikes the Postman
Longstanding supporters of RSD, veteran Oklahoman rockers The Flaming Lips' release for this year comprises an alternative version of 1997's Clouds Taste Metallic. This edition is a 13 track CD accompanied with an exclusive comic written and illustrated by indefatigable frontman Wayne Coyne.
3. The Isley Brothers, This Old Heart of Mine
The first album released by The Isley Brothers on seminal Detroit-based Tamla Motown label, This Old Heart of Mine celebrates fifty years since its release in 2016. The album gave the Brothers the biggest hit of their early period in the title track, and is a poignant record packed with the soulful flavour that saw the group become the profoundly influential outfit they are known as today.
4. Funkadelic, One Nation Under a Groove
Often cited as the greatest funk album of all time, Funkadelic's tenth studio album was both their most commercially successful and critically lauded record. Pressed on red vinyl with a limited release of 2,000 copies, the record includes 26 minutes of the remastered original mixes, both sides of the original 7-inch hit single, the rare 11-minute-plus Disco Mix and comes in a full colour picture sleeve illustrated by Funkadelic artist Pedro Bell.
5. Fleetwood Mac, Alternative Funk
An integral part of the forthcoming collector's item Deluxe edition of Fleetwood Mac's iconic twelfth album, the RSD exclusive Alternative Tusk is printed on 180 gram black vinyl and is limited to a release of 5,000 LPs.
6. US Bonus: Patti Smith, Horses Live Electric Lady Studios (US Release Only)
2015 marked 40 years since the release of Patti Smith's iconic breakthrough debut album, one which would go on to influence the burgeoning New York punk rock scene. To celebrate, Smith hit the road to perform the album in full around the globe. Her powerful performance has been captured on this 2x 180-gram LP album, recorded in the same facility as the original, which also marks the first offering from Electric Lady Records. Sadly this record will only be available in the US.
Where to go for your RSD haul?
Take your pick from one or more of our favourite participating record stores around the UK:
South England
The Book and Record Bar, 20 Norwood High Street, West Norwood, London
Rough Trade East, Draywalk, 91 Brick Lane, London
Jam Records, 32 High Street, Falmouth, Cornwall
Resident Music, 28 Kensington Gardens, Brighton
Brill/Clerkenwell Music, 27 Exmouth Market, London
Raves From The Grave, 5 Weymouth Street, Warminster, Wiltshire
North England
Piccadilly Records, 53 Oldham Street, Manchester
Jumbo Records, 5-6 St Johns Centre, Leeds
Vinyl Tap, 42 John William Street, Huddersfield
Beatdown Records, Unit 1, Clarendon House, Berwick St, Newcastle Upon Tyne
Probe Records, Retail Unit 1, The Bluecoat, School Lane, Liverpool
Scotland
Underground Solu'shn, 9 Cockburn Street, Edinburgh
Love Music, 34 Dundas Street, Glasgow
Wales
Tangled Parrot, Upper Floor, 32 King Street, Carmarthen
Spillers Records, 27 Morgan Arcade, Cardiff