A new calendar year is fresh with potential. Festivals, shows, film releases and exhibitions are rolling in quick so it's time to start booking in your 2020 culture fixes. This year is seeing the launch of some of the most exciting and anticipated exhibitions around, from deep classic art archive dives to performance art installations. Whatever your taste, understanding level or location, this year promises an eclectic mix of exhibitions old and new to feed your mind and soul. Here are our top picks for exhibitions to see in 2020.
#1 Stranger Than Kindness: Nick Cave – The Black Diamond, Copenhagen
23rd March – 3rd October
It's not every day that Gucci sponsors an exhibition, but it's not every day that an iconic opens up their personal archives like this.
Nick Cave's career has spanned sounds, genres and forms, from films to novels to albums. His newest album Ghosteen received high critical acclaim and has been dubbed his best work yet, a bold statement to give a man who has now released 16 studio albums and 4 live albums. He truly is a powerhouse creative, making this exhibition all the more intriguing. In his work, Cave touches on a huge range of subjects such as morality, religion and love through rich storytelling. His later work, however, has become increasingly tender and personal as he's opened up on his weekly newsletter The Red Hand Files about the process of creating following the tragic death of his son. So it makes sense for Cave to do this exhibition now, opening up his personal collection to put on a display of over 300 objects and things that have inspired his work, spanning 8 rooms in the beautiful Black Diamond in Copenhagen. To guide you through the exhibition, Cave has also composed new music with long-time collaborator Warren Ellis, creating an immersive atmosphere to accompany you through the narratives in his work.
Whether you're a fan or a complete newbie to the world of Nick Cave, this is sure to be a fascinating insight into the creative process and simply a chance to be a little nosey and take a peek into the archive of an icon.
#2 Andy Warhol – Tate Modern, London
12th March – 6th September
Andy Warhol is an artist that's widely known but rarely understood. For many, their association with Warhol will go no further than a soup can, but under the pop-art there lies one of the most fascinating cultural icons ever. Tate's first Warhol exhibit in over 20 years, this new major retrospective will take a fresh look at the life of the artist, considering his background as the son of immigrants who spend his early life impoverished, drawing shoes to earn his money. The exhibition will track his rise into the central figure of the New York social scene and controversial celebrity. 
You'll be treated to Warhol's most iconic work including the Marilyn, Coca-Cola and Campbell's soup pop-art pieces as well as some lesser known work. This exhibit will be the first in the UK to display portraits from his Ladies and Gentlemen series, a portrait series of black and latinx drag queens and trans women from the New York scene. You'll also get to step into Warhol's Factory in an interactive space as you play with his Silver Clouds and experience Exploding Plastic Inevitable, a film, light and sound piece he created with The Velvet Underground and Nico. While you might feel like you know Warhol or have seen it all before, an exhibition this thorough and fresh on the icon is rare, so don't miss out. 
#3 After Life: Marina Abramovic

 

– Royal Academy of the Arts, London
26th September- 8th December
If you get to just one of our exhibitions to see in 2020, we'd suggest making it this one.
Marina Abramovic is arguably one of the most important and well-known performance artists in the world. In her 50 year career, Abramovic has put on some of the most challenging and thought-provoking performances ever seen, confronting and comforting her audiences and even putting her life at risk. Her 1974 performance Rhythm 0 has gone down in history as one of the most intense and ambitious performance pieces ever, while her 2010 performance The Artist Is Present, which saw her simply sitting silently and sharing 1 minute of eye-contact with members of the public, went viral when her ex-partner turned up and the creative couple saw each other for the first time in 30 years.
This exhibition will debut new pieces alongside the most notable works from her 50 year career, shown for the first time in the UK. Judging from her past work, we think this is set to be one of the most intriguing and exciting exhibitions of the year. But be warned, to enter you'll have to face pushing past two naked people in the doorway, recreating of her iconic piece Imponderabilia…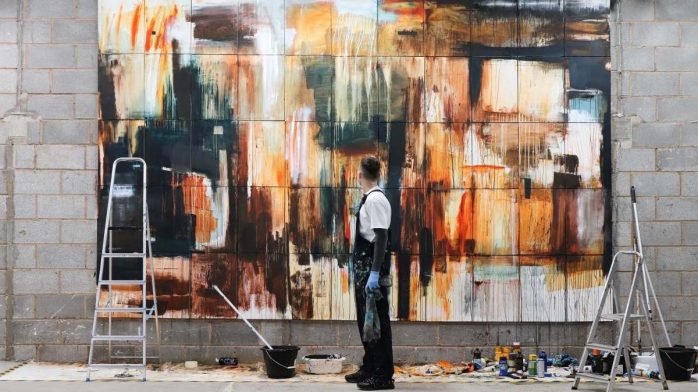 Tom Burbidge combines his love for creative expression and contemporary design to produce stand out abstract paintings. We wanted to get to know a bit more about the established artist, from what makes him tick to the aesthetic and process behind the creation of each piece.
#4 Exhibition[niste]: Christian Louboutin- Palaise De La Porte Doree, Paris
26th February – 26th July
Christian Louboutin was born in the 12th District of Paris, pretty close to the Palaise De La Porte Doree, so this exhibition feels like coming home. It was also at the Palaise that he saw a sign forbidding the wearing of high heels in the museum. This sign became the original inspiration behind the Pigalle shoe which remains the brand's pièce de résistance. A drawing of that original sign is just one small part of the Louboutin's inspirations on display at this exhibition, looking into influences including everything from fish to theatre. We rarely get a looking into Louboutin's world, being a famously private man, so this chance to get an insight into his design process is a once in a lifetime opportunity. Seeing the whole process from inspiration to design to the final product, Louboutin has spoilt us with this exhibition, making it a perfect trip for shoe-lovers and art-lovers alike.
As well as his inspirations, the exhibition will also unveil new collaborations that have never been seen before. Working with artists that have impacted his work, you'll be able to see Louboutin's collabs with people like director David Lynch and other artists, choreographers and designers worldwide, definitely making this an exhibition to see in 2020.