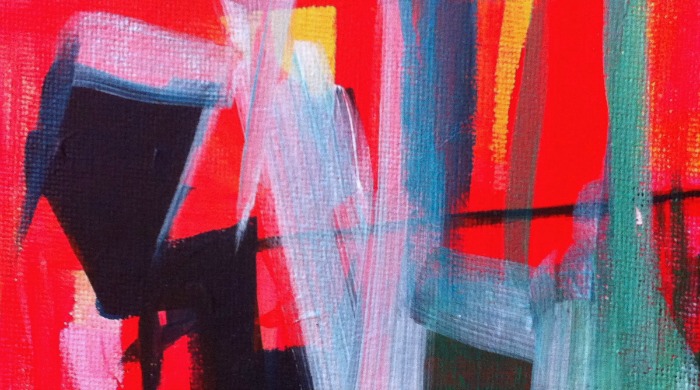 Inspired by the 1980's and Miami Vice era Americana, the abstract artwork of Amelia Wood bursts onto the page in a flurry of colour. Amelia is a Londoner born and bred but has recently relocated to Oxford to escape the city.
Bold swathes of colour, brush strokes with purpose and explosions of blurred lines cover the canvas to create an emotive piece of art. Inspired by urban landscapes; ranging from the cluttered streets of Continental Europe to the favelas of Brazil to the iconic buildings in London, unrecognisable but entirely familiar because of the abstract nature of her work.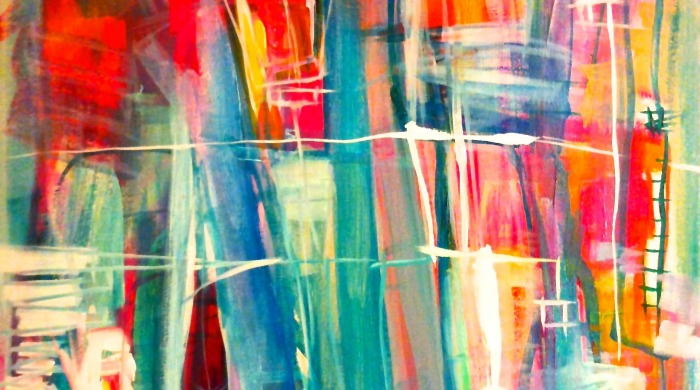 Question:

Have you always been artistic?

Answer:

I have always been artistic and creative, I come from a creative family and have grown up surrounded by art, photography, creative concepts and visuals. I knew from a very young age that I wanted a career in art and design but it is only in very recent years that I decided to take the path of an abstract artist. In reality, I always thought I may have ended up with a career in graphic design, having studied this at uni.

Question:

How did you make the decision to become a professional artist?

Answer:

It has always been a dream of mine to become and artist, or certainly be involved in the creative world. The decision was an easy one, however reality meant that I needed to work extremely hard, take a huge risk and believe in my dream and what I wanted to achieve. Approaching 30 and working 9-5 in a job that was making me extremely unhappy had a huge impact on my decision. I know that I am still very young, so, with age on my side, a very supportive family and a passion to paint, I created my first abstract painting and sold it two months later.

Question:

Where is your favourite place to go to in Oxford?

Answer:

That's easy, the Cowley Road. It's the multicultural landmark of Oxford, with its eclectic mix of cafés, bars, restaurants and charity shops, the Cowley Road really has everything to offer. Oxford is a cracking city with so many wonderful places to visit but I would be lost without my afternoon coffee at Restore Garden Café, my GnT's at Cafe Tarifa and my late night boogies at The Big Society.

Question:

Where is the most inspirational place in the World for you?

Answer:

I am a city girl through and through and love nothing more than being surrounded by city lights, sounds, smells and chaos. Armed with my sketchbook, watching people and cafe hopping is what drives me. New Orleans, New York and Miami are the most inspirational places in the world for me. I am in love with America, however, being a born and bred Londoner, she is my first love and quite possibly, my main inspiration.

Question:

What are you working on at the moment?

Answer:

That's tricky. To be honest, I can't say too much about the painting I am working on, purely because all I have is a huge mass of blue, a bright pink line and a few flashes of white. I'm thinking it may evolve into some form of an abstract seascape but it really is too early to say. Knowing me, tomorrow it will all be orange.
Words by Clare Potts. Images courtesy of Amelia Wood.