Rome may be the place that western civilisation began and Venice may be one of the most aesthetically iconic cities in the world, but Milan is where design thrives (and where aperitivo overrules anything else). Playing host to seasonal fashion weeks and Salone del Mobile, as well as being a city that continually pushes the boundaries when it comes to modern art, architecture and ways of living, Milan is one of Europe's most stylish cities. It has the hotels to prove it too, meaning a trip to the city will immerse you in style from the minute you arrive. Discover our top five design-led hotels in Milan below, and start planning your next trip now.
Room Mate Giulia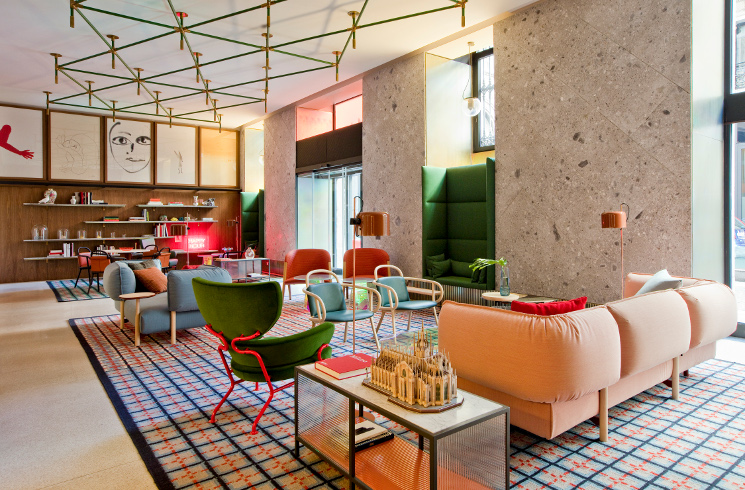 Just two minutes from the Piazza del Duomo is Room Mate Giulia, an 85-room hotel where mid-century modern furnishings reign, the colour palette is bold and cheerful and local artwork adorns the walls. The public spaces are the most eclectic, with the lobby a mix of colourful chairs and sofas, design books and travel guides, with the bedrooms a slightly more muted, tonal affair (but by no means less creative). Discover more about Room Mate Giulia here.
Palazzo Segreti
Situated in downtown Milan, Palazzo Segreti occupies a restored town house, where original features come together with modern style to create a subtle yet design-led space. Exposed brick walls painted white sit alongside dark parquet flooring and large wrought iron doors, while modernist beds and sleek sunken baths evoke a sense of calm in the middle of the busy city. Find out more about Palazzo Segreti here.
Straf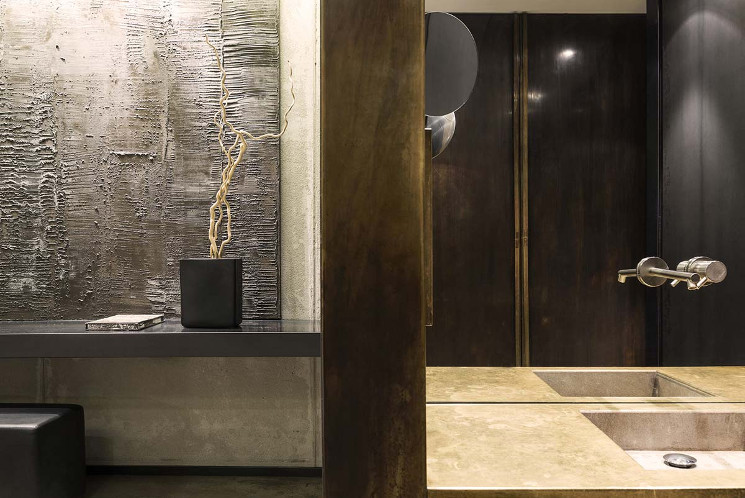 Straf is the creation of Italian architect and fashion designer Vincenzo de Cotiis, so it comes as no surprise that design takes precedence in this hotel. Approached as though a large-scale art installation, de Cotiis transformed a 19th century palazzo into a modern, conceptual place to stay with a deconstructionist take on industrial design – think oxidised brass, raw cement floors, rough walls and burnished iron. Visit the Straf website to find out more.
Senato Hotel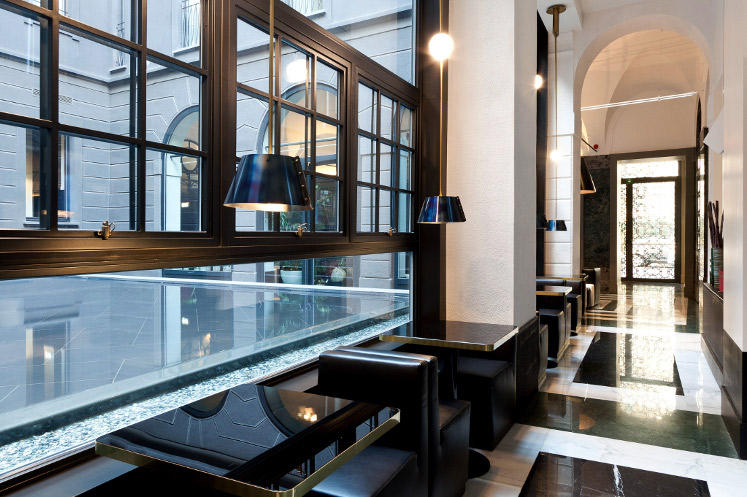 Another former private residence turned boutique hotel, Senato Hotel opened in 2016 and is perfectly located just off the Quadrilatero della Moda. The design itself is modern Milan at its best, with Carrara marble bath tubs, brushed brass accents and polished black-and-white details throughout the 43-room hotel. Discover more about Senato Hotel here.
Hotel Magna Pars Suites
Housed in a former perfume factory, Hotel Magna Pars Suites is made up of 39 suites featuring the finest Italian furnishings, craftsmanship and art – resulting in spaces that are both refined and welcoming. Living areas and bedrooms come with clean white walls and polished dark floors, while the public spaces feature singular pieces of statement furniture for maximum impact. Visit the Hotel Magna Pars Suites website to see more.