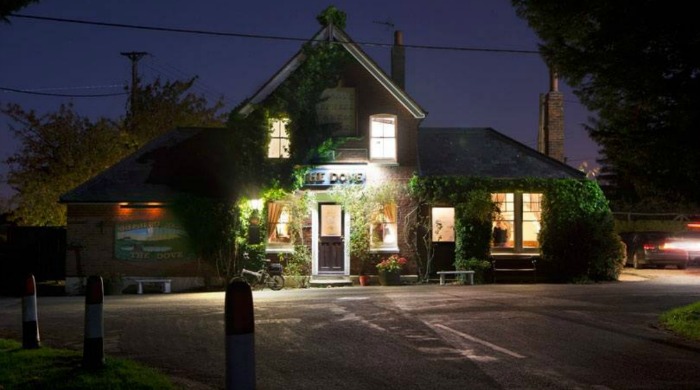 They say that some secrets are just too good to keep and in sleepy Dargate, Kent, there's one secret that we're  predicting is not going to stay that way for long. Perfectly situated on the edge of the ancient Blean Woods, tucked away on Plum Pudding Lane (could you ask for a tastier address?) is The Dove Inn, a family run venture by Chris, Dee and Ben that would satisfy even the most demanding of palettes.
Don't let the sleep country pub exterior deceive you, this isn't just your standard rural fare. The menu is small but well thought out, offering all of the standard country favourites and the obligatory Sunday Lunch  alongside some more unexpected fine dining options. Ben, the chef, is constantly changing the offering to suit what is seasonally available, with all ingredients fresh and locally sourced. If it is on the menu however, the roast rump of Salt Marsh Lamb, accompanied by a mint pea puree, potato fondant, braised baby gem lettuce and bacon couldn't get a better recommendation. For the dieters: we won't recommend glancing at the dessert menu whatever the time of year, as delectable options such as Yorkshire Parkin with Chai Tea Ice cream & Butterscotch sauce, Sticky Toffee Pudding and Lemon Panna Cotta with lime curd and mixed berry compote, will soon have you reaching for your spoon before you know what's taken over you!
The pub welcomes walkers, families and dogs which means it always has a warm atmosphere as soon as you enter the door. Live music nights are also a regular feature at the venue,with the last Friday of every month devoted to highlighting local talent wherever possible. At the moment that means staying indoors, but come summertime customers can look forward to enjoying the music in the relaxed countryside. Combining fine dining with an approachable and welcoming environment is something that restaurateurs often fail to achieve, however it looks like The Dove Inn have managed to hit the nail on the head perfectly. Tell your friends – but not too many at once, parties of eight or more are required to pre-order with at least 24 hours notice.
Words by Olivia Cooley. Image property of The Dove Inn