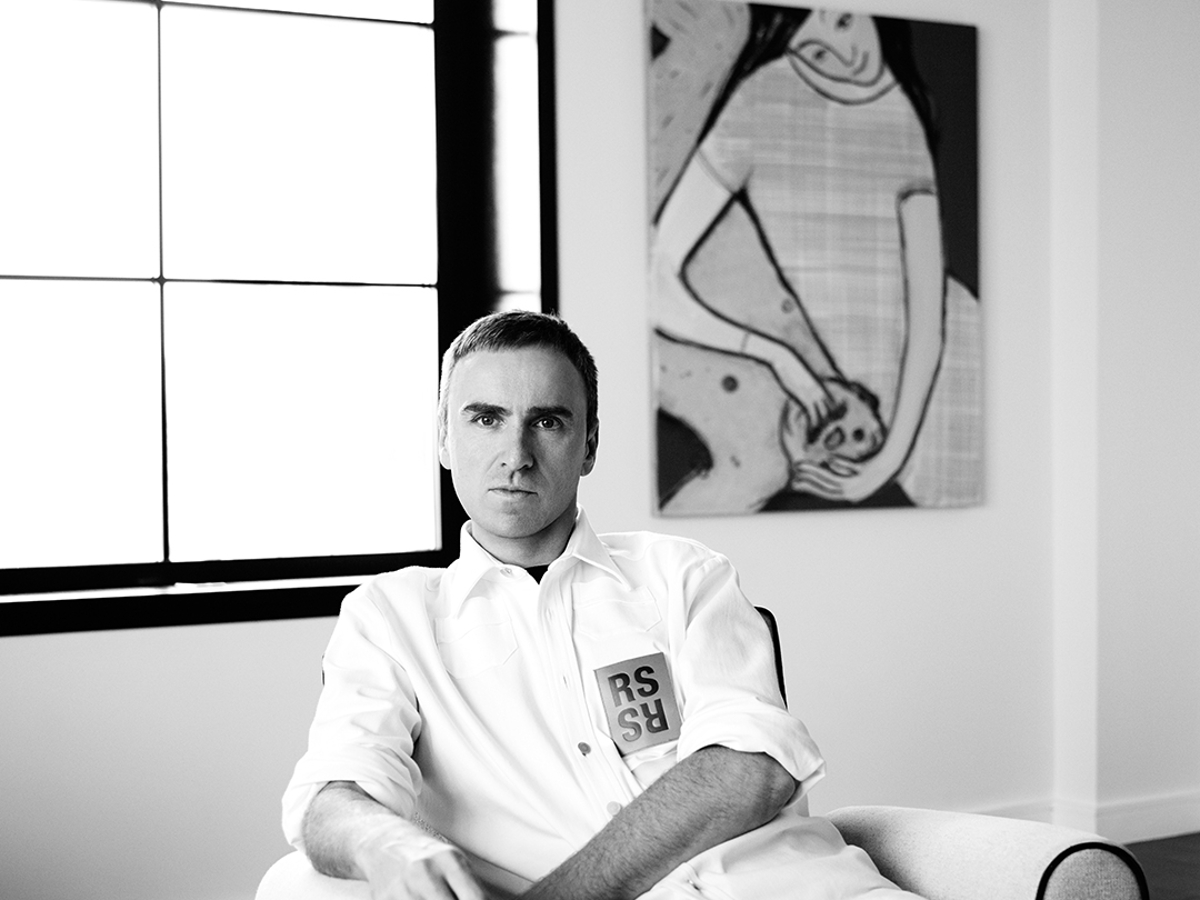 In little over 20 years, Belgian designer Raf Simons has almost singlehandedly redefined contemporary menswear.
This statement may seem bold, but it is almost undeniable and recognised by some of fashion's most influential figures: Back in 2004, when Raf had been designing for less than a decade, New York Times fashion critic Cathy Horne claimed it was Simons who had made Hedi Slimane, former creative director of Dior Homme and Yves Saint Laurent, "possible"; Kanye West, today one of streetwear's most influential figureheads, refers to Raf as his "idol"; Vogue's editor-in-chief Anna Wintour has hailed Raf "a rock star in his own right", and more recently A$AP Rocky described Raf as "our fashion god" while offering his dedicatory track "RAF" . Simons today holds a place in the pantheon of fashion designers, one of a younger generation alongside the likes of Rei (Kawakubo, CDG), Hedi (Slimane, Céline) & Yohji (Yamamoto) whose iconic status sees them referred solely by their forename.
Quite some feat, especially for a Belgian hailing from a small Flemish town and starting out his career as a furniture designer. In fact, Raf Simons ended up becoming a menswear designer almost by accident.
After studying Industrial Design and Furniture in Genk, the young Belgian started out life as a furniture designer for various galleries. From 1991-1993, Simons worked at the studio of friend and mentor Walter Van Beirendonck who took Raf off to Paris Fashion Week in 1991 for a dose of design inspiration. It was here that Raf saw the work of fellow countryman Martin Margiela for the first time, an experience that sparked his move towards fashion design and has remained with him until this day.
As a student I always thought that fashion was a bit superficial, all glitz and glamour, but this show changed everything for me. I walked out of it and I thought, That's what I'm going to do. That show is the reason I became a fashion designer.
Drawing influence from the liberated, imaginative approach of Maison Margiela, Raf created his first menswear pieces principally to impress Linda Loppa, Belgian fashion's educator extraordinaire, angling for a place on her course at Antwerp's Academy of Fine Arts. Instead, Loppa urged Simons to set-up his own business and put him in contact with an agent who in turn sent Raf off to Milan to sell his first collection.
In 1995, Raf Simons presented his first menswear collection at Daniele Ghiselli in Milan. Entitled Deux Hommes, his first show was presented as an 8mm film with two men entering and exiting the frame in new outfits. He continued with this format until 1997, when Raf presented his first catwalk show at Impasse de Mont-Louise during Paris Fashion Week. A seminal show for the designer, the A/W97 show was considered a transformative show in his career, for the first time presenting young models wearing new wave garments influenced by school references. These educational uniforms would become a re-occurring motif in the work of Raf Simons, and an influence that disseminated throughout the fashion industry over the coming years.
Over the next few seasons, Raf's menswear collections began to consolidate his aesthetic and incorporate more of his personal influences. His menswear was injected with cultish youth affiliations before anybody else was doing it, and Raf would later draw inspiration from his interest in techno and goth aesthetics. His passion for music was translated into his clothing, taking stylistic references from bands including Joy Division, New Order, the Manic Street Preachers, and in 1998 he invited German electronic band Kraftwerk to walk his catwalk in a show soundtracked with the group's music.
By the early '00s, Simons had defiantly established his sartorial vision and already his influence could be seen penetrating popular culture; In 1999, critics spotted similarities between the long coats and zippers of The Matrix and Raf's recent autumn/winter collections; a few years later, American actor Jared Leto seemingly took inspiration from Raf's collections when creating rock band 30 Seconds to Mars, releasing their debut album in 2002. A decade before fashion's established houses began mining streetwear for inspiration, Raf was already using popular culture references and graphics as an integral part of his work.
Before he caught the eye of fashion's established houses, the early-to-mid '00s saw Simons evolve his aesthetic into collections that would influence menswear for years to come. From collegiate looks and graphic art in streetwear to sheer net tops and a whole range of draped, asymmetrical and oversized silhouettes, Raf's influence on menswear has pervaded most of the contemporary landscape's key players, from Off-White and Supreme to OAMC and Alexander McQueen.
By 2005, Raf was still largely an enigmatic figure with a cult following, but his snowballing reputation brought him to the attention of some of the industry's bigger names. In June that year, he was appointed as Creative Director for Jil Sander. His appointment saw Raf debut his first womenswear collection in 2006 and demonstrate how his sensibility could translate into a full feminine wardrobe.  Famed for its austere minimalism, Simons helped transition the Jil Sander sensibility and expanded its commercial potential with the launch of diffusion line Jil Sander Navy.
In 2012 after six years at Jil Sander, Raf Simons was appointed as Creative Director at Dior after the dismissal of John Galliano. But with fellow Belgian Kris van Assche already designing the menswear collections, at Dior Raf for the first time delved into the world of Haute Couture. Despite his success for the brand, he resigned after three years to focus on his own brand which continued to pave the way in contemporary menswear. In addition to expanding the commercial appear of the Raf Simons brand with its own diffusion line—Raf by Raf Simons—the brand was also experimenting with more collaborations with labels including Fred Perry and adidas. In 2013, adidas gave Raf the opportunity to work with a sneaker silhouette that had originally flopped at the Three Stripes brand. The Ozweego 1 was released in 2013 with co-signs from the likes of Big Sean, Wiz Khalifa and DJ Clark Kent. The Ozweego swiftly established itself as the streetwear silhouette of fashion aficionados, gaining the moniker of "the UGG boot of the streetwear world" for its universal appeal.
Never one to stand still, Raf continues to pioneer in the realm of menswear today. In 2016 he was appointed as the Chief Creative Officer at Calvin Klein, following in its founders' footsteps one year later by scooping the prestigious Menswear Designer of the Year and Womenswear Designer of the Year at the 2017 CFDA Awards—only the second time in the history of the CFDA Awards that the same designer has taken both accolades. Alongside his work at Calvin Klein, Raf presents his own menswear collection bi-annually and continues to collaborate with both new and old partners to both evolve iconic products and create brand new pieces.