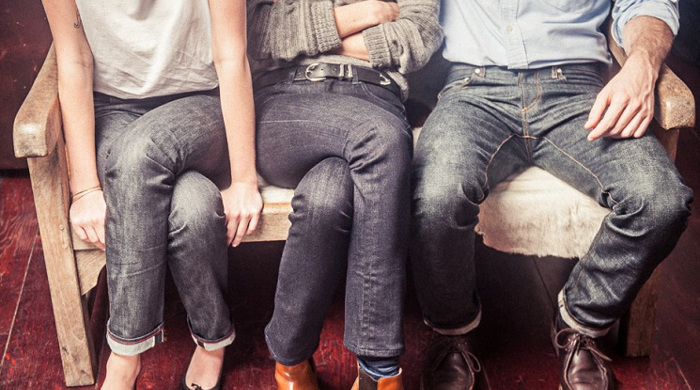 Finding the right pair of jeans for your body type can sometimes feel like a never ending battle. We've all been through a denim dilemma, you're in a shop and the jeans you've chosen look amazing, they fit you perfectly and you feel like you'll never have to buy another pair of jeans again. But once you get them home, they immediately transform from the perfect pair of jeans to the worst.
If you follow the rules and know your body type, it's easy to find the perfect pair for you even when you're buying jeans online.
FOR MEN:
Finding a good fitting pair of jeans is generally easier for men as most styles will suit, it's just about finding the perfect pair for you and following these golden rules.
Choose a size smaller than you usually would, denim has a tendency to stretch out of shape after a few wears so this will help you to avoid the inevitable loose waistband.
Don't be afraid of trying out a different style, whether it's embracing skinny jeans or trying out a wider leg, broaden your horizons as you might just find exactly what you've been looking for.
For an athletic build, it's most likely that you will suit a regular shape. It will flatter your shape without being too tight on calf muscles.
For a larger build, opt for a relaxed fit, Levis vintage jeans will suit your shape.
If you're a tall guy, go for a skinny fit or straight leg jean. Edwin jeans come in a range of lengths and sizes.
FOR WOMEN:
It's trickier to find the right pair of jeans for women as there are so many different shapes, of both bodies and jeans, but as long as you know your body shape, you can find your perfect match.
If you have an hourglass shape, opt for a pair of classic, wide leg or boot cut jeans. These will balance your figure perfectly. If you're a little conscious of your waistline, choose a pair with a higher rise, this will flatten your stomach and accentuate your curves.
For pear shaped women, choose a low-rise waistline to balance your hips. A straight leg jean would suit your shape. Paige High Rise Straight Leg jeans would be a great option.
If you have long legs, you have the pick of the bunch. Skinny jeans will accentuate your leg length but at the same time, you can easily get away with a more flared style. Paige jeans have a great range for those of us who are blessed with long legs.
If you have a boyish figure, try a pair of shaped skinny jeans that will accentuate your curves, however small they may be. J Brand jeans are the ultimate jeans for creating shape and creating lift.
If you have any burning questions about your jeans or denim in general, just drop us a tweet and the Coggles team will be happy to help.
Words by Clare Potts. Images courtesy of Rehnsen