Each season, the spectacle that is Fashion Month finishes with a week-long stint in Paris. Home to haute couture, Paris is where the big established names pull out all the stops. Drama and theatre often plays a part, with the likes of Christian Dior, Givenchy, Celine, Balenciaga and Chanel all showcasing their new collections.
This season, we saw the first Carven collection from co-creative directors Alexis Martial and Adrien Caillaudard, following Guillaume Henry's departure. Not stepping too far away from the Carven we've come to know over the last five years when Henry was at the helm, the looks were very Parisienne, elegant and chic – but with a slightly younger, fresher twist. Sixties-inspired silhouettes ruled, with miniskirts and cropped high waisted trousers paired with delicate white shirts and short boxy jackets. There was a bit of a back-to-school feel for AW15, with ankle socks worn with slingback clogs, and short skirts and jumpers worn over polo necks. Huge disc necklaces completed most looks, adding that quirky element that Carven has become known for.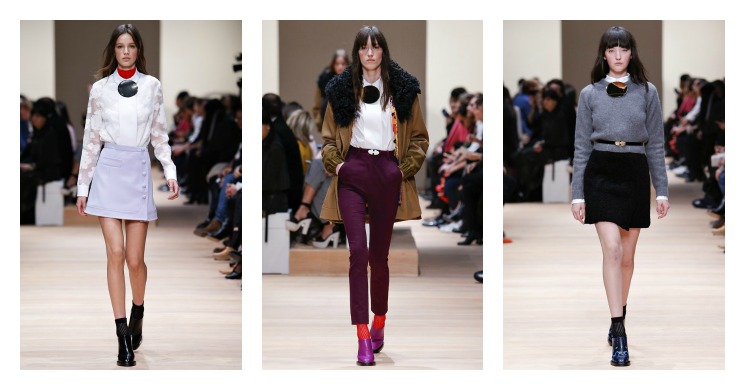 Under Olivier Rousteing, Balmain has become known for its fleshy, glamorous collections, and it was no different for AW15. Seventies was the era that inspired Rousteing, with wide leg, billowing flares and extremely low-cut jumpsuits making their way down the runway. The Eighties were also given a nod, with bright colour blocking, peplums and those exaggerated shoulders that Balmain has become famous for.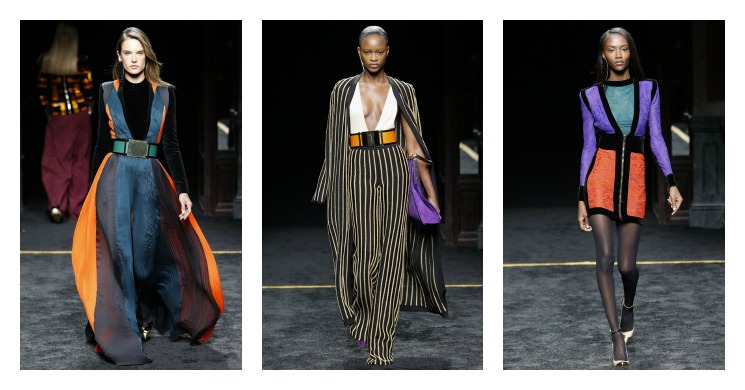 For Lanvin AW15, Alber Elbaz looked to his Moroccan roots for inspiration. Saharan influences were seen in Berber stripes, shaggy sheepskin jackets, wrap-around blanket coats and long fur gilets. The Seventies was also a big influence: boots were either knee-high and snakeskin, or slouchy and suede. Fringing and tassles were seen on everything from jackets, skirts, belts and bags, while dresses were long and billowy in dark floral and animal prints.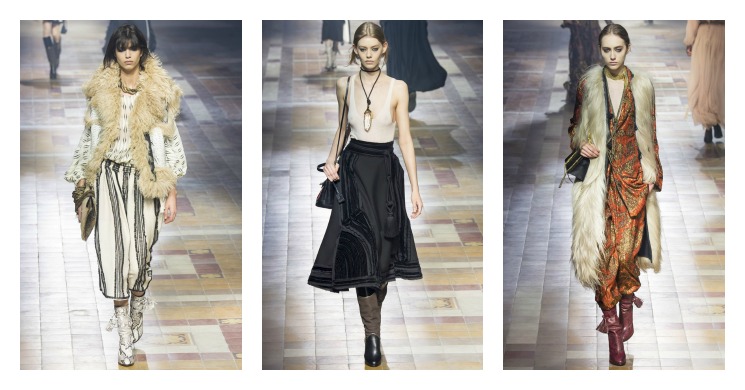 Raf Simons' AW15 collection for Christian Dior was a darker, sexier one for the French fashion house than the one we saw for spring/summer. Ankle and thigh-high latex boots were worn with each look, either in block colour or psychedelic print. Skin-tight body suits were worn under oversized jackets and coats, while masculine tailoring was seen in tweed suits with cropped trousers.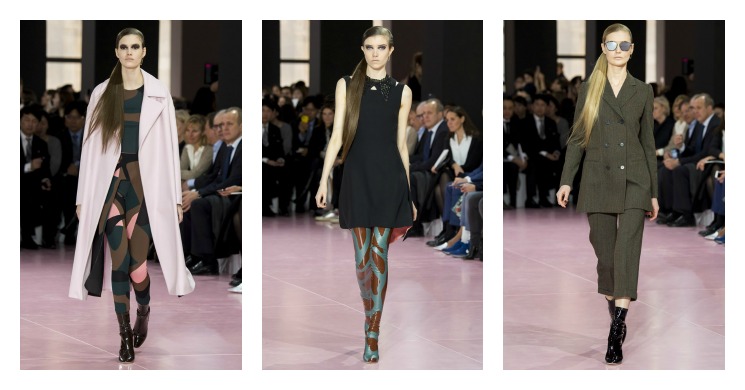 Isabel Marant epitomises the bohemian, nonchalant Parisienne; a look that is coveted by women the world over. This season she looked to the Eighties, with white high waisted jeans and skirts cinched in with belts, rah-rah skirts, and shoulder-padded cable knit and Breton jumpers. The Bohemian style that Marant is known for was seen in peasant blouses, tribal prints on oversized jackets, and belted mini dresses worn with slouchy knee-high boots.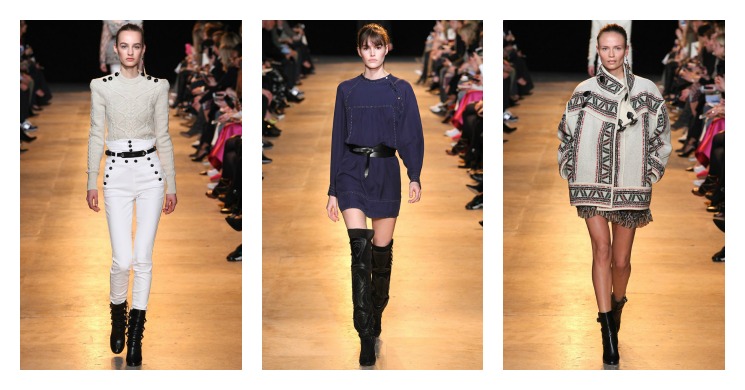 London hosted Vivienne Westwood Red Label, while Paris showcased her main line – Vivienne Westwood. Like the former, this collection was inspired by climate change, with an activist theme running throughout. True to Westwood form, her AW15 collection was eccentric and colourful, with her signature draping seen throughout. It was also a 'unisex' collection. Both men and women wore shimmery hula skirts either on their own or over trousers, men wore fitted lace or draped tartan dresses, while women were swathed in oversized men's tailoring.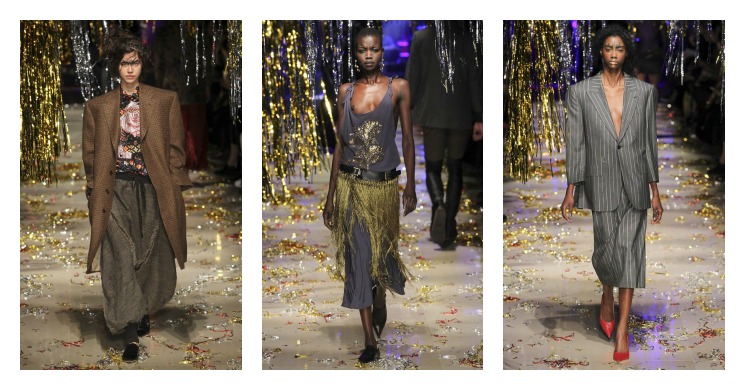 Céline has loosened up slightly for AW15. Phoebe Philo is known for creating collections that are wearable, chic, edited and elegant; this signature style was still seen this season, but Philo also had a bit of fun with it, with softer silhouettes and individuality in each look. Knee length skirts and culottes were billowy and deconstructed, worn with stark white trainers, oversized jumpers or slim ribbed knits. Zebra print was used on coats and shopper bags, fox and deer illustrations adorned delicate shirts, and big fluffy pom poms were slung over models' shoulders. A fun collection for Céline, but one that is still totally wearable.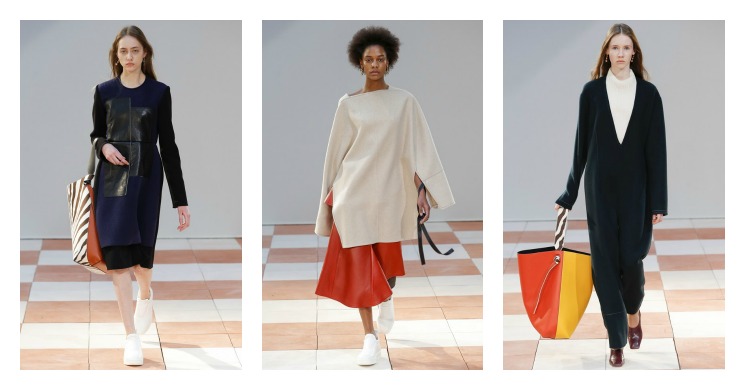 Chanel is one of the most anticipated collections each season, putting on a show like no other. For AW15, Karl Lagerfeld transformed the Grand Palais into chic Parisian café Brasserie Gabrielle, complete with waiters, baskets of pastries, dark wood, and white tablecloths. This was a classic Chanel collection, full of every day glamour. Tweed skirt suits in black and white, greys, browns, reds and blues opened the show, while ankle-length skirts were tied with ribbon at the waist, creating apron-esque styles which paid homage to the café theme. Simple dark chiffon dresses closed the show, adorned with statement silver jewellery.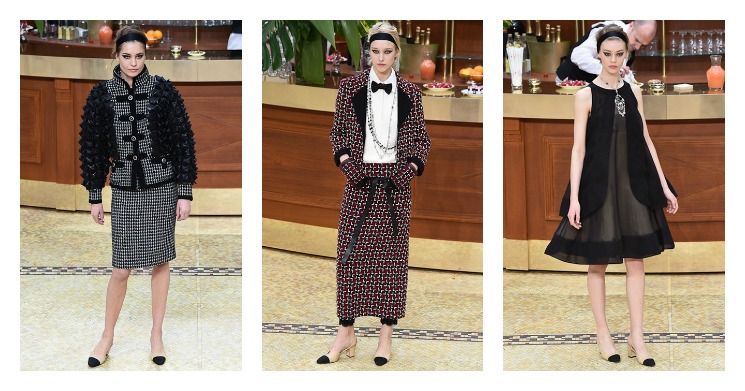 And finally, Valentino. One of the biggest moments of the show this season was the finale, with Ben Stiller and Owen Wilson closing in their Zoolander roles – Derek and Hansel, respectively. Blue steel was out in full force as the really, really ridiculously good looking models strutted down the runway, and blended fashion fantasy with reality. But the clothes were equally as good. Valentino is known for its prettiness, femininity and romance, and this season Maria Grazia Chiuri and Pierpaolo Piccioli created just that. Black and white optical art on long dresses and oversized jumpers opened the show, while leather, lace and intricate embroidery were featured throughout. The signature Valentino red dress also made an appearance; this time it strapless, cut right down to the navel and in billowy chiffon. As always, a beautiful collection from Valentino for SS15.