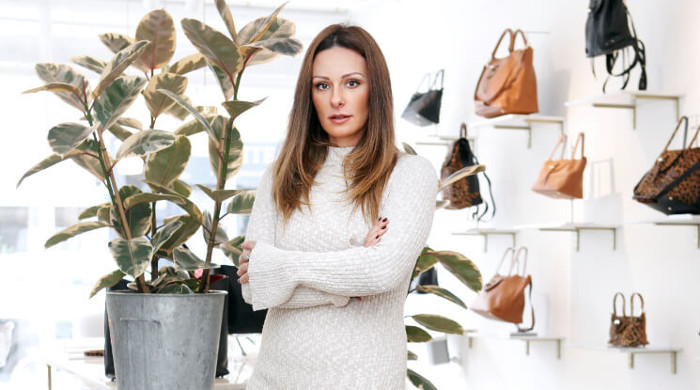 In 2005, London-based Melissa Del Bono recreated the fisher women's basket typical of Lipari, Sicily, where she grew up, using the shape and texture as inspiration for a luxury handbag crafted from the finest Italian leather. Since then, meli melo (so named after her childhood nickname 'Meli') has gone from strength to strength, with timelessness, effortlessness and quality at the heart of each collection. We sat down with Melissa to find out more about the brand, plus her take on the SS16 collection.
Question:

The brand takes inspiration from both Sicily and London – how do the two complement each other?

Answer:

Both are so important in the brand's heritage and, being half Sicilian and half British, I am constantly influenced by both. For meli melo, the design often takes its first steps from my Sicilian roots; I'll look at traditional Sicilian shapes, for example the wicker basket I used to carry as a child, and re-invent it adding sleek lines and minimalism which I take from my London life. All of my handbags are designed in London and made in Italy, the quality is beautiful. We use family-run artisanal factories that really 'get' craftsmanship, it's so important to me and the brand.

Question:

What makes meli melo handbags stand out from the rest?

Answer:

The quality. So many women that shop with us come back time and time again because of the quality. The bags are an investment; through buying one you will keep it forever. I think the subtlety makes us unique as well; we are known for our discreet branding and design, it's what makes our bags timeless yet modern at the same time.  

Question:

meli melo handbags tend to move away from trend-driven designs to ones that are more timeless; was this deliberate?

Answer:

I am naturally more drawn to subtle design, which without being deliberate, means I tend not to follow the trends. I'm not one for anything too in your face, in terms of metal work or features, unless it is a great print on the leather. Maybe that will change but I like a piece I can imagine picking up in years to come and still love it.

Question:

What's your favourite handbag from the new collection?

Answer:

It is a collective of the Rosalia and Santina. I am obsessed with the embossed woven leather, it's just so special. These two bags will sit as new signatures alongside our Thela Tote. They are inspired not only by my Sicilian heritage but also my icons, Audrey Hepburn and Jane Birkin used to carry a basket and I love how they mix something so effortless and almost organic with their otherwise lux looks. The texture on the leather is like no other.

Question:

How would you style it?

Answer:

In the summer, with cropped flared jeans and Breton top and in the winter with an oversized knit and pea coat. Despite being modelled on a basket shape (the Rosalia) they are both seasonless bags. There's something seriously cool about carrying a basket in the city.

Question:

What can we expect to see next from the brand?

Answer:

New styles, really unique collaborations (with A-list stylist Kris Zero who styles Kate Bosworth & Shailene Woodley as well as working with Emily Ratajowski & many, many more) and a continued love of quality and subtlety.
Interview by Angharad Jones. Images courtesy of meli melo