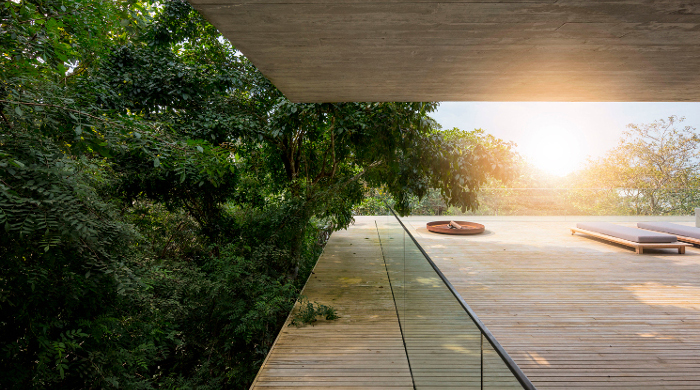 Modernist architecture may have its roots in Europe, but it has quite possibly been best interpreted in Brazil. It's progressive, expressive and unique – yet also manages to be completely effortless, slotting into the South American country with ease. Oscar Niemeyer defined Brazilian modernism in the 20th century – most notably with Brasilia, where he designed a series of governmental buildings that have become iconic around the world.
For the 21st century, Brazilian architect Marcio Kogan (who heads up Studio MK27) has taken the country's modernism to the next level, with slightly more subtle – but equally as impressive – buildings that combine simplicity with extreme locations.
One such project is 'Jungle House', nestled within the canopy of a rainforest in the coastal Guarujá, São Paulo state; contemporary space that makes the most of its unique natural location.
The team used the landscape as their inspiration for the build, using it as a way to connect architecture and nature; the concrete house juts out from the mountain, with the construction shaped to respect the existing land. The primary living spaces have been placed on the top floors to fully integrate the house and its residents with the surrounding rainforest.
The large wooden deck – which sits at the top of the home and is the most striking element of the build – features a partially-covered, slightly sunken living space, while the infinity pool is surrounded by the leafy forest and offers undisrupted views for the swimmers. Around the side of the deck is a sunken hot tub, where the forest spills on to the edges. At the very top of the home is a rooftop garden, further bringing the build and its surrounding together.
The first floor holds six bedrooms which have been built with more privacy in mind, but feature small verandas with hammocks for a peaceful space among the tree tops.
The interiors have been left bare, using the concrete and timber that make up the exterior. Colours are neutral – think whites and greys – creating a minimalist yet warm feel that doesn't detract from the views outside.
To see more of Studio MK27's work, visit their website.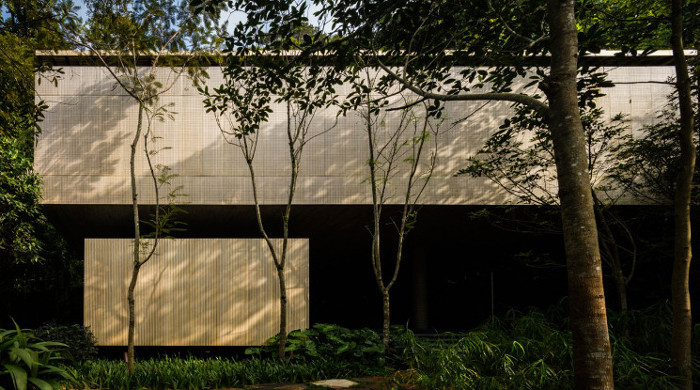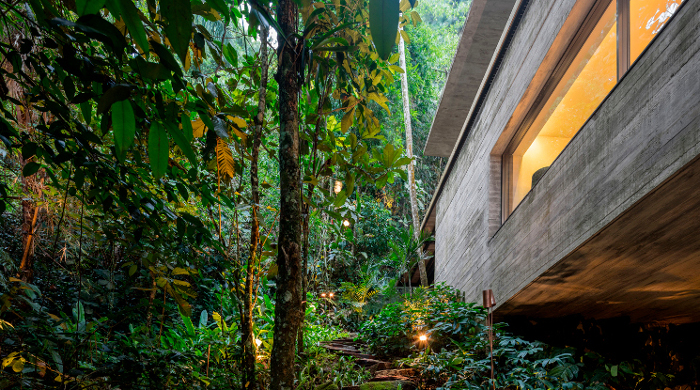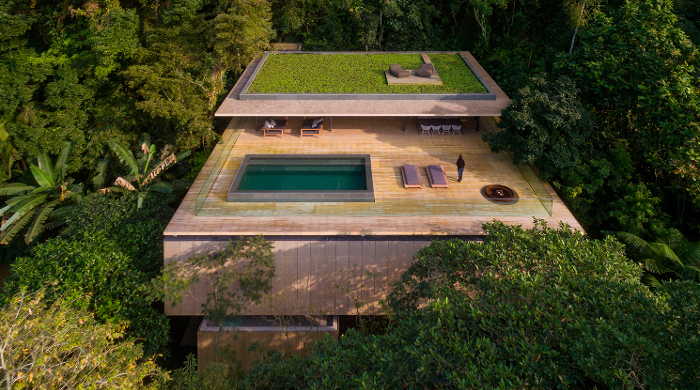 Words by Angharad Jones. Images property of Fernando Guerra/Studio MK27