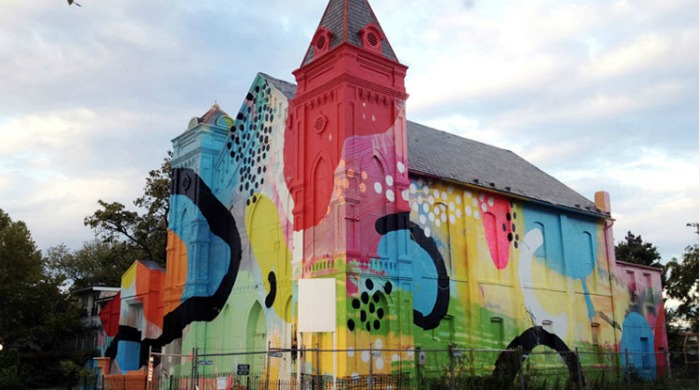 Born and raised in Atlanta, Alex Brewer also known as Hense has been involved in art for the past two decades. From commissions and prints to amazing graffiti pieces engulfing churches, Alex's work is downright amazing.
His work spans from small pieces to enormous works of art,his most recent exterior work measuring 137 feet tall and 170 feet wide.
His vibrant, gestural and often manic work is hypnotising yet reminds me of classic artists like Kandinsky in places. We're in complete awe of his exterior work; the buildings suffocated with his art astound us.
For further information and to see the rest of his work, click here.
We chatted to Alex to learn more…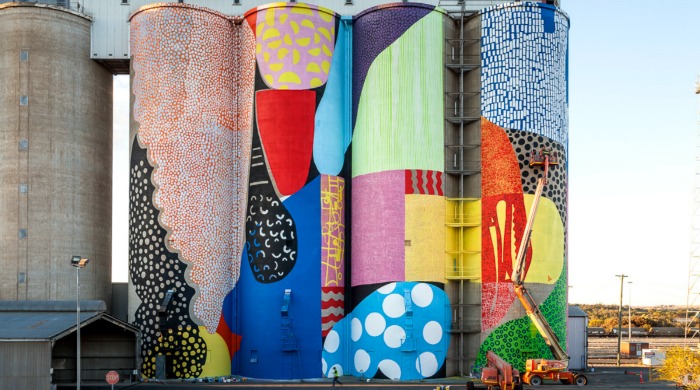 Question:

WHAT INSPIRED YOU TO START GRAFFITI?

Answer:

I started writing graffiti when I was 14 years old which was around 1992. I think I originally was interested in it because I was seeing a lot of really great work in Atlanta at the time.

I would ride the public transit and get really inspired by work I saw on old warehouses off the lines. There were also several big legal walls in Atlanta at the time which was a huge source of inspiration for youngsters like myself. Yeah I think I first started trying to emulate what I saw with a marker on paper and then started to really dive into painting on the streets.

Question:

WHICH IS YOUR FAVOURITE PIECE OF YOUR WORK?

Answer:

I have a lot of favorite spots I painted or favorite letter styles, but I'm really into pure abstraction at the moment so my favorite works would be projects I've completed recently.  My latest public artwork was in Lima, Peru and I feel pretty strongly about the scale and detail of the work, so I'd mention that as a current fave for sure.

Question:

YOU USE A LOT OF LAYERS AND RE-PAINT A LOT OF YOUR WORK; DO YOU EVER REGRET PAINTING OVER SOMETHING?

Answer:

Yes, all the time. It's a very challenging part of my process. I've painted over things that I regret, but I know I have to sometimes in order to move forward.

Question:

DOES THE FINAL PIECE CHANGE FROM YOUR INITIALVISION?

Answer:

I usually have a few rough concepts of what I'm going to do, but it always turns out different. In fact, I intend on it coming out different. My process is so much based on gesture and full body motion that goes into the marks. I never want to limit myself by being forced to stick to a concept drawing. I enjoy the experimentation and spontaneity that happens when I'm painting. For me that's part of the fun.

Question:

WHAT BUILDING IN THE WORLD WOULD YOU MOST LIKE TO PAINT?

Answer:

The Washington Monument.

Question:

WHAT INSPIRES YOU?

Answer:

Color, man-made marks or naturally occurring marks, hardworking Contemporary Artists, work on the streets, Installations, sculptures, public art, screen printing.

Question:

WHAT CAN WE EXPECT TO SEE NEXT FROM YOU?

Answer:

More public art installations,Museum exhibits, installations and sculptures.
All images property of Alex Brewer / Hense