Perfectly formed pop starlet Florrie has me in awe; we are almost exactly the same age give or take a few weeks and she has realised my childhood dreams of becoming a drummer, model, singer, songwriter and all round pop starlet. My foray into music was short lived once I realised I was tone deaf, lacked the necessary requirements to write songs and was far from model material. Sigh. So for Florrie to have become the full package is inspiring to say the least.
Her drumming career began when she first picked up sticks on a family holiday at the tender age of six, this sparked a lifelong obsession that quickly turned into a career beginning with Guy Chambers signing her to a development deal.
Fast forward to today with Girls Aloud tracks, a modelling career, four EPs and a recording deal with Sony under her belt, it's high time we all got to know her a little better. I caught up with Florrie to find out more about her new single, drumming and the nineties…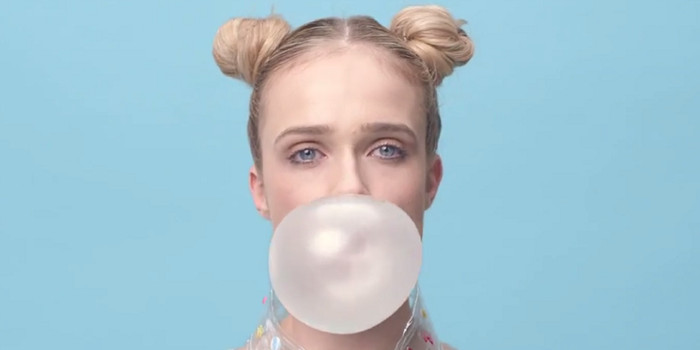 Question:

We're loving the new single 'Too Young to Remember', what is the song about?

Answer:

I think of it as a celebration of the huge crazes of the past that have now disappeared, or evolved into something else. Being too young to remember isn't a bad thing, you can have a lot of fun looking back at what used to be cool. I had a lot of fun writing it.

Question:

How did you and the team come up with the idea for the video, which premiered on H&M?

Answer:

I worked with the directors Mathy and Fran to develop the concept for the video – I wanted to do a fun throwback to the '80s and '90s. I loved all the dressing up. I think I did 10 outfit changes during the one day shoot!

Question:

You are a drummer at heart, what's it like being in front of the drums?

Answer:

It was really strange at first. The first few gigs I did in front of the drum kit were scary! But now I love performing live with my standup drum kit, with my guitar plus singing. Nothing else feels like playing the drums though – it's my therapy!

Question:

If you could bring one craze back from the '90s what would it be?

Answer:

Inflatable furniture – I loved it!

Question:

What do you wish you were old enough to remember?

Answer:

The Beatles – experiencing a live gig in the '60s.

Question:

What did you want to be when you grew up?

Answer:

I've always wanted to be a drummer. I've never thought about being anything else.

Question:

Who is your style icon?

Answer:

I think Jourdan Dunn is really cool and always looks amazing. I also love her cooking programme!

Question:

What music do you love to listen to?

Answer:

At the moment I can't stop listening to Taylor Swift's new album. I think every song on there is a hit!

Question:

What can we expect to see next from you?

Answer:

My single 'Too Young To Remember' is out on 8 March. And my album will be out later this year. I can't wait! I'm really excited for everyone to hear it.

Question:

What advice would you give to budding drummers and musicians?

Answer:

Practice, practice, practice. Practice by yourself, practice with other people, practice doing gigs. Just get yourself out there as much as possible and experience as much of the industry as possible.
Favourite film? Philomena
Favourite song? Blank space – Taylor Swift
Favourite book? The Help
Signature dish? Roast dinner
To find out more about Florrie and to listen to her music, visit her site here.
Words by Clare Potts.