You will have almost definitely heard Eliza and the Bear before, whether you're a fan or have never heard their name before, their music won't be unfamiliar to you. They have been championed by Zane Lowe, supported Paramore, loved by Fearne Cotton, played live for Burberry and their song 'Friends' features on a Bulmers Cider TV advert. The boys are definitely not taking it easy.
The band is made up of James (guitar and lead vocals), Callie (vocals, keyboard), Martin (vocals, guitar), Chris on bass and Paul on drums. Together they create rousing, perpetually joyful indie rock that will please your ears.
The name comes from the poems of Eleanor Rees, full of fairy stories and dream like imagery, sadly there is no Eliza or a bear in the band.
We caught up with lead singer James Kellegher to find out more about their new single, their favourite gigs and what they're listening to right now.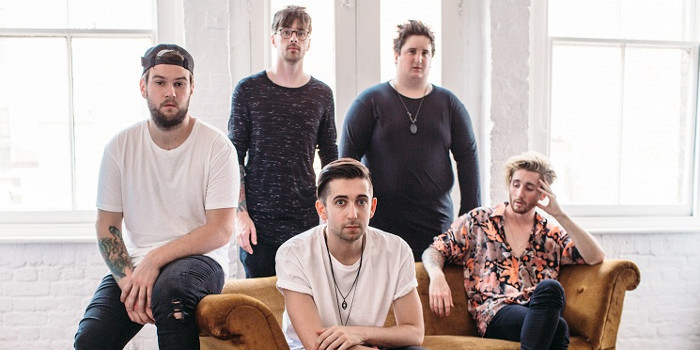 Question:

How did you get together and decide to start Eliza and the Bear?

Answer:

We're all from the same area really, all played with each others' bands and one point in time. We kind of got bored of having nothing to do, so we got together and started writing some tunes. We had no greater plan than just write and have fun, no pressure, but some of our early songs got some traction with labels and smaller radio stations.

Question:

Tell us about your new single 'Light It Up'

Answer:

'Light It Up' is about making the most out of what you got. It's a positive message that I took on board and I hope other people can too.

Question:

Your name comes from a collection of poems by Eleanor Rees, what is it that you loved about these poems?

Answer:

Well originally, when we were looking for a name, we had no grand aspirations so a "name" didn't matter. One of us found 'Eliza and the Bear' in a book shop. We then started to figure out that Eleanor's poems were very similar in theme to what we were writing about at that time, it seemed perfect!

Question:

What has been your favourite gig so far?

Answer:

From recent shows our set at Y-Not festival was unreal, there was an energy inside that tent that was palpable. But I have to mention Wembley arena every time, my family were there, it was just surreal.

Question:

You have played quite a few festivals this summer, but which would you go to as punters?

Answer:

Again Y-Not was great. Belladrum in Inverness this year was great; we had a walk around the site before we played, there were so many different weird and wonderful things happening, we watched a man play a wind instrument with a boar's head that was 2,000 years old. Either that or I was way too tired/drunk!

Question:

Which bands or music inspired you when you were growing up?

Answer:

Coldplay have been a huge influence on me for most of my life, seeing them live solidified that. But we all went through phases of emo didn't we? One of the first bands I saw live was AC/DC (OK, I went to see the Offspring, but…) They had such a huge live show, I knew immediately I wanted to do something like that.

Question:

What can we expect to see next from you?

Answer:

Next on our list is the album, we head to record it before the end of the year and hopefully have it out early next year!