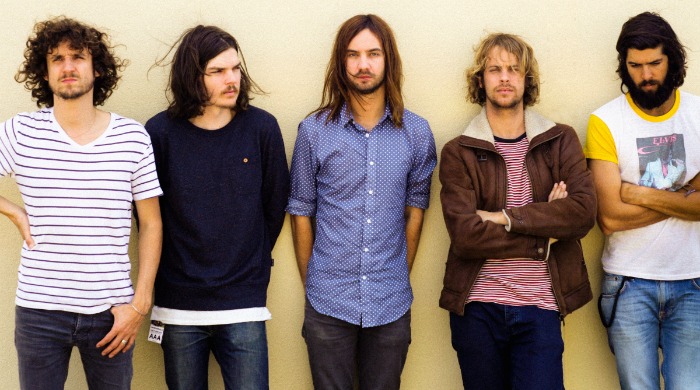 Looking back at the music produced over the past 12 months, it seems fair to say that 2015 has been an exceptional year for music. Industry quaking comebacks from the likes of D'Angelo, Blur and Prince have been joined by precocious albums from newcomers such as Courtney Barnett and Tobias Jesso Jr, artists well able to hold their own amidst such musical royalty. With a mass of albums to sift through and enjoy, the team at Coggles have put their heads together to offer you five albums from the past 12 months that should not be missed out on.
5) Father John Misty – I Love You, Honeybear
Released in February, I Love You, Honeybear is the second album by Joshua Tillman's latest reincarnation Father John Misty. In this accomplished folk/rock record, former Fleet Foxes drummer Tillman offers a scathing vision of his contemporary America over melodic folk songs, scaling towards its satirical pinnacle on its ninth track, "Bored in the USA". Yet it's not all doom and gloom, as Tillman also reflects on his budding relationship with partner-now-wife Emma Tillman, simultaneously expressing his fears, the image of the lover he aspires to be, and celebrating his partner such as in the album's first single release "Chateau Lobby #4 (in C for Two Virgins)". Overriding the album is a tongue-in cheek irony that makes it every bit as much fun as it is intelligent and thoughtful.
4) Courtney Barnett – Sometimes I Sit and Think, and Sometimes I Just Sit
Another album tinged by the sardonic humour of its creator is Courtney Barnett's playfully titled debut. A guitar-driven album featuring up-tempo rock tunes channelling punk and grunge interspersed by the odd reverb-heavy slow single, the record finds its strength in Barnett's wry first person lyrics which have no trouble taking on sensitive subjects and the mundane all in the same verse. In her distinct talk-singing style, Courtney Barnett draws our attention to the banality of life in a non-serious, ironic tone that often leaves you with a smile on your face.
3) Sufjan Stevens – Carrie & Lowell
"I forgive you mother, I can hear you, and I long to be near you, but every road leads to an end" sings American singer-songwriter Sufjan Stevens on the first track of his seventh studio album. Released through Stevens' own independent label, Carrie & Lowell is a dark, highly personal and complex album which centres on the artist's difficult relationship with his late mother and his step-father, who remains a key influence in Stevens' life and music. The stirring lyrics, despite their content matter, are delivered in a soothing, strangely upbeat voice that touches and tingles. Stevens transcends the sad subject of the album into something oddly beautiful and paradoxical at almost every turn: melancholic but uplifting; world-weary but passionate. A moving tribute to a woman he loved.
2) Tame Impala – Currents
Lyrically, Currents is an album about the romantic failure of Tame Impala frontman Kevin Parker. Musically, this is an extraordinary, futuristic album which progresses an entire genre. In the past we have grown used to Tame Impala as our antipodean guitar heroes, known just as much for foot-stomping anthems such as "Elephant" as psychedelic hits such as "Feels Like We Only Go Backwards". Psychedelic rock has long been a genre swamped in '60s nostalgia, with incessant references to that golden age and a reluctance to move forward; even in Tame Impala's previous album, Lonerism, it is impossible not to hear the reincarnation of Sgt. Pepper-era John Lennon on opening track "Be Above It". Yet Currents, driven as it is by Parker's masterful creation of infectious melodies on the synth and drum programming systems, might just bethe album to offer psychedelic rock a veritable future in the 21st century, breaking free from the shackles of the '60s and offering something remarkably modern, original and exciting.
1) Kendrick Lamar – To Pimp a Butterfly
While in many respects 2015 was a year in which we reflected on Compton as the geographical lynchpin of hip hop with the releases of Straight Outta Compton and Dr. Dre's celebratory Compton album, Kendrick Lamar's third studio release To Pimp a Butterfly emphatically proclaims the city to still be the hotbed of innovative, relevant and provocative hip hop. Taking beats and inspiration from an eclectic mix of musical genres, Lamar's album defiantly grapples with contemporary social issues such as racism, fame and police brutality, many of which have been prominent in this year's news stories and heightens the album's prescience.  It is advanced both musically and lyrically, and we have no doubt that Lamar's masterpiece will serve as a cornerstone for future generations looking back at the sentiment, agenda and accomplishments of 2015.