If there is any brand that epitomises the heritage and craftsmanship of British fashion, it is surely Barbour. Starting out with humble beginnings at the turn of the 20th century creating durable garments for fishermen and dockers working on the Tyne and Wear coast, the brand went on to become every motorcyclist's staple jacket maker from 1936 until the early 1970s. But by that point the brand had already established itself as every Englishman's hardwearing jacket of choice, and before heading into war many soldiers, submariners and aviation pilots came to Barbour to create customised jackets tailored towards the demands of warfare. It wouldn't be until several years following the war's end that Barbour would emerge as a leader in country wear.  The brand has always manufactured its iconic waxed jackets in South Shields and the rest, as they say, is history.
But how does a brand such as Barbour, with such a rich and storied heritage, approach fashion in the 21st century? Does the brand's history affect the design process? And is it possible to update or reimagine a jacket as iconic as the famous Barbour waxed jacket? Coggles caught up with senior Barbour designers Gary Janes, Elizabeth Okaroh and Sylvie Hunter to discuss the brand, their design process, and what we can expect from the Barbour Heritage collection for Autumn/Winter '17.
First things first, please can you tell us a little bit about your career path and how you came to be a designer at Barbour?
Gary: For me personally, design has always been what I would call a "vocation". It's something I love doing, something I always have loved doing. When I was younger, I started off wanting to be an architect, so I studied maths and physics at A-level with the aim of becoming an architect. But I wasn't as academic as I thought I was, and by then I had learned about art foundation courses which offered me an alternative route to university. At the time I was more into clothing rather than "fashion", and my personal clothing was more of an expression of my musical taste at any one time—a uniform almost, if you can call it that. My interest in clothing saw me go to university to study a fashion course in 1976 which was really the beginning of my career in the industry.
In 1979 I met Nigel Cabourn through his links with the university where I took my course. His workshop was just down the road from where I was studying, and there weren't too many designers working locally at the time. Nigel one day simply asked me, "Do you want to come and work for me?" That was all he said. And so I replied: "Yeah". And that was my interview, and my first job as a designer. I worked with Nigel for 25 years and his brand gave me a fantastic grounding in the industry. By that point I was already acquainted with Barbour Managing Director Steve Buck who I had worked with briefly during my time at Nigel Cabourn. In 2006 I was looking for a bit of extra work and Mr. Buck asked if I'd be interested to come and work at Barbour. That was my second job interview, and my answer was of course the same as it was during my first "interview" 25 years earlier!
How does designing for a brand with such a longstanding and rich heritage affect your design process?
Liz: In the context of the men's Heritage Collection, one of the things that's unique to Barbour is its vast archive of garments. Over the years, we've accumulated an archive of over 250 historic garments dating as far back as 1910, largely made up of products returned to the brand from owners or family who have inherited older Barbour products from deceased family members. Having access to these garments—each of which has its own individual personality, story and unique details—allows us as designers to reflect on the true core of the brand, its historic identity and its heritage. We see the Heritage Collection as being the flip-side of our core garments, but incorporating more contemporary fits and "fashion" elements for our modern consumer
Can you tell us a little bit about a day in the life of a Barbour designer?
Liz: In the space where we work in the studio, it's a nice small team of five designers working purely on the men's outerwear and there's a cool, relaxed vibe in the office. Typically we'd arrive in the morning, grab a coffee and we chat about what's going on and what we're working on before we jump into the work. We're based between our pattern development team on one side and then our men's technical team on the other, so it means we can still interact with both of those teams while also having an area as an outerwear team where we can focus and brainstorm between ourselves on colour palettes and so on. It works well that way.
Gary: I'd have said that a typical day for Liz and Sylvie would be taken up slogging away on specification sheets, because that's our communication tool in the business. It is using the specification sheets that the technical teams work out bill of materials and other components, which then allows the buying team to bring in what's needed. The pattern team will also then use the sheets  to develop the garments.
Sylvie: For me, a typical day involves a lot of computer work, and a lot of drawing. As Gary says, our job also involves a lot of specifications, so communicating the ideas to other teams in the business so we're able to produce the best products possible.
Gary: Fundamentally, we're all product people and I think that's key. We all love creating new products, but to get there it involves a lot of drawing. These drawings are then disseminated digitally out to the other teams, making computer skills imperative to working in the modern fashion industry. I'd say that being able to use drawing packages is today even paramount.
When you're designing, what kind of person do you have in mind as wearing your designs?
Sylvie: At the beginning of each season we create a mood board and within that mood board we try to culminate the ethos of the collection: the way we see it being worn, where our influences are coming from, and the type of customer who might buy it. From that, we have an image in our heads so that when we design, the type of product is very clear to us and that idea influences nuances such as how edgy the product can be, how far we can go with the garment, how modern or classic it should be, and so on. We design for many different kinds of genre, so it has to be very clear to us.
Gary: You've sometimes used a muse too, for instance.
Sylvie: Definitely, whether it be a modern muse or an older muse from the '50s or '60s. In the past we've used figures such as Audrey Hepburn, Alexa Chung, Francoise Hardy…these figures help us capture the image of a particular collection and give us a clear idea and direction with where we're taking it.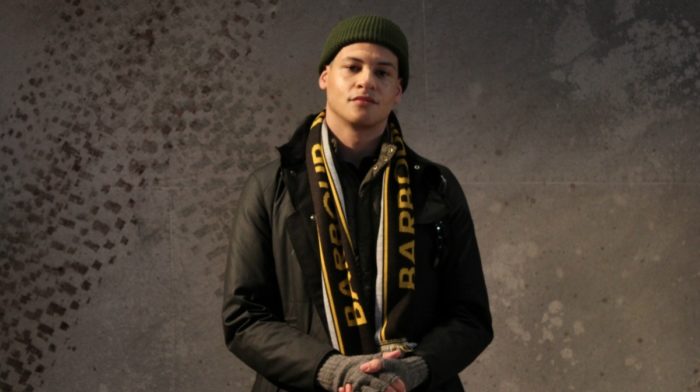 When a brand becomes entrenched in fashion history it can be difficult to look forward, but that's what Barbour International did for its AW17 collection.
Looking back through the Barbour archives, which designs do you look back on as standout examples that epitomise the brand and its values?
Liz: We often do collaborations, and when we invite any collaborators in to go through the archive it's always the Captain Cotton's jacket that makes a lasting impression. The jacket was used in the Falklands War and it has such unique a history behind that individual garment that is so impressive. As soon as you begin telling the story of the jacket, people are encapsulated by it and want to reimagine it with their own vision. It is one which we often reference as designers, whether it be pulling little details from the shoulder or focusing on the silhouette as a whole. But that being said, the whole archive here at Barbour is pretty incredible and never fails to set my imagination off with new ideas for shapes and details.
Sylvie: For me it's always the Bedale. It is the iconic piece that everybody recognises, a go-to that can be worn in so many different contexts whether it be at festivals, in the countryside or casually in the city.
And of your own designs, are there any that you are particularly proud of or that really challenged you as a designer?
Gary: Funnily enough I was speaking to Liz and Sylvie earlier about a style called Beau Diddley, and for me it would be that product. It didn't sell well, but I still liked it! It was released for Spring '17, and what I liked about it was the fabric we used. We use wax all the time here, and we'll be using it for the next 100 years. But we also have a side to the business which uses waterproof and breathable technical fabrics, based around what's called a three-layered fabric. On this particular style, we cut it using laser and we sewed it using sound, and I enjoyed using that process. For me, an interesting part of being a designer is that we have occasions where we can use something which is slightly out of our remit but interesting and creative.
Sylvie: It's always nice to see people out wearing your product, it's always quite satisfying. And it's always really nice designing products that I want to wear as well, so it's been really nice designing the women's Heritage Collection as it's also allowed me to have some nice garments!
Liz: There have been a few favourites in the past, but I've now seen them too many times that they've fallen out of favour! In more recent Heritage Collections it would have to be the Reelin. When I was designing it, I was thinking about how I could take something as iconic as the Bedale and just strip it right back so that it becomes more like a shacket, but while still retaining that same identity as what Barbour's known for. And since then it's been taken to wax, to casuals, and evolved with its own story.
What has inspired your designs for the new ladies Heritage Collection? What can we expect from this season's collection?
Sylvie: For me, it was looking at heritage pieces taken from our archive but I wanted to play with proportion. I re-envisioned them on a more modern woman by looking at the trends coming through at the minute and what women are currently wearing. It was all about volume because when I was looking at the catwalks, there was a lot of more length and volume going on. I was taking pieces such as the Bedale and reimagining how I could cut that to play with proportions and make it more a modern, contemporary garment but while still keeping the heritage and authenticity that people look for in Barbour.
Within the collection you'll find a lot more longer garments, oversized pieces, a feeling of cocooning to keep yourself warm. All these garments are practical too, they will protect you from the elements and they will keep you warm, but at the same time they have a modern, vintage aesthetic to them.
Barbour is associated with clothing that is hardwearing, quintessentially British and timeless. As a designer, do you take into consideration fluctuating seasonal trends or do you think that are such trends more irrelevant to a brand like Barbour?
Sylvie: I think it's really important that we don't chase fashion because we are a heritage brand. So for me what's important is knowing what's going on in the fashion world and interpreting that into Barbour. So rather than identifying a trend and using that as the starting point for a new piece, what we are able to do is incorporate details into the pieces that we design for Barbour. It's being aware, but not chasing or being a slave to fashion.
Gary: I agree. For me awareness is really important. However I'll never say never! I think you've got to bring fashion trends into your work to give the products a modern, contemporary feel. But there's also an expectation as a brand that people understand what you're about, your legacy and identity, and enough of that heritage has to be present before you interpret in new details and trends so that the product is at its core a Barbour product. Even if it challenges what a Barbour product is, takes it to its limits, but you can't just do something that we couldn't talk about as having evolved from the brand.