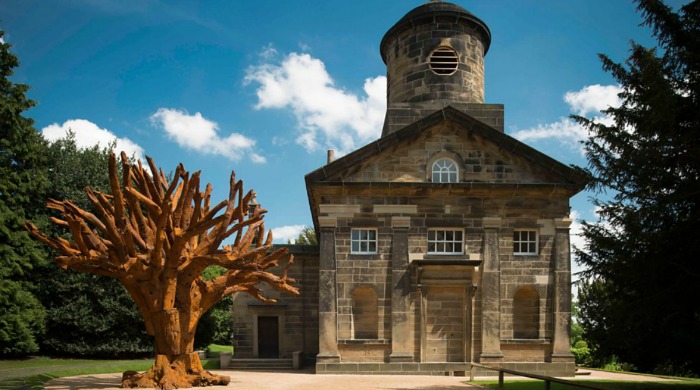 'The art always wins. Anything can happen to me, but the art will stay.'
-Ai Weiwei
The artist Ai Weiwei has grabbed headlines for a number of reasons, his political predicament in China and subsequent house arrest making him a role model for activists and artists alike. Unable to travel to Yorkshire and working from plans and photographs of Yorkshire Sculpture Park's Chapel, the Park is proud to announce an exhibition of Weiwei's work will now be open to the public until the 2nd November. Taking place within the Park's newly refurbished 18th century chapel following a £500,000 restoration, the installations 'Iron Tree' and 'Fairytale – 1001 chairs' will be on display.
Iron Tree, 2013, is a majestic six metre high structure – the largest and most complex of the artist's tree series which he began in 2009. Constructed from branches, roots and trunks from different trees, the Iron Tree comprises 99 elements cast in iron and interlocked using a classic – and here exaggerated – Chinese method of joining. A combination of both the natural and the crafted, the sculpture will rust over time and serve as a reminder of the powerful cycles of nature within the chapel courtyard.
The second part of the exhibition, Fairytale -1001 chairs extends Weiwei's major project for Documenta 12 in Kassel in 2007, for which he brought 1,001 Chinese citizens to Kassel for 20 days, representing each person with a antique chair. The chairs date from the Qing Dynasty (1644 – 1912) and in this context challenge the class and ritual functions of such furniture, originally the preserve of privilege.
Images courtesy of Yorkshire Sculpture Park, photographs by Jonty Wilde.