Ted James is awesome. His workshop has the most amazing machines. His milling machine dates back to 1915 and his two lathes are also pretty old bits of kit. We start by talking about machines because as well as being a great frame builder, Ted also makes as many parts and fittings for his bikes as he can. His portfolio includes head tubes, bottom brackets and even complete hubs. Not to mention the amount of mounts and braze-ons. Ted has some funny stories of moving his machinery into his workshop. Like when he was pulling his 1.5 ton milling machine down Brick Lane on a pallet truck when it got a 'wobble on' and having to remove bricks from the walls of the Truman Brewery in order to fit his big lathe through the door.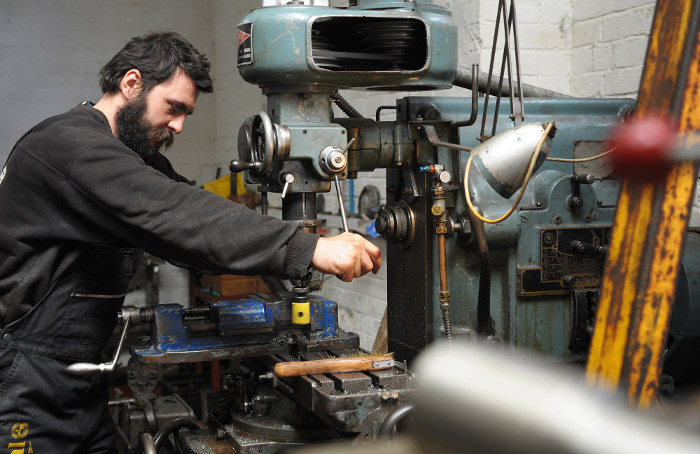 Ted James, Brick Lane, London
Anyway, better talk bikes. Ted's frames are generally designed with unique ideas. We would say that many of Ted's frames are engineered as much as they are handmade. If he can machine a part for your frame, chances are, he will. Our first awareness of Ted's design skill was when he brought to the world the successful ESB fixed gear freestyle frame, also known as the Extra Strong Beast. Since the first batch there have been many improvements and experiments with the frame. He has pretty much brought along the shortest rear triangle in fixed gear freestyle frames and the closed ended dropouts to prevent the slot closing from grinds. As much as Ted loves to design and build bikes, he loves to ride them. He rides a selection of different bikes and as a result he has great understanding of how they work.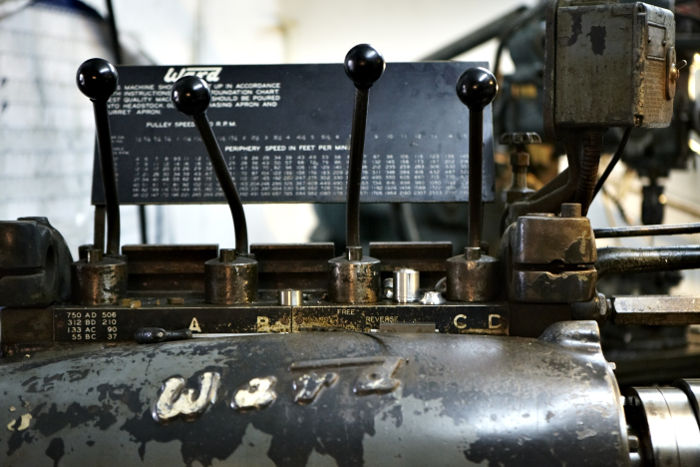 Who has had the biggest influence over the frames you make?
I draw a lot of influence from Standard Bike Company. They did a bike with a pierced top tube called the STA which stands for 'Stronger Than All'. I've made a bike called the ESB (Extra Strong Beast) with a similar design. I also take a lot of influence from BMXs for my trick bikes. I make my own head tubes and bottom brackets which I have picked up from the evolution of BMX and introduced into the fixed gear trick bikes which I ride and build. What is really great with the steerer tubes I have designed is that you don't need a crown race on the fork as it goes straight into the headset and this makes it a stronger and better fit. You also don't get the 90 degree edge so all you have to buy are 2 bearings and a cap. This is cheap and it's easy to service. It can also handle massive wall rides and 20ft drops. The guys go full speed and then straight into a wall ride and so the bearings take a massive beating, but this design can withstand it.
What gives you the most pleasure about what you do?
Riding a bike that I have built, or watching someone else riding it. The feeling of making it from start to finish. Being able to choose exactly how you want it to handle and then riding it, is an amazing feeling, but it's equally satisfying watching somebody else experience this.
Extract from Matthew Sowter & Ricky Feather's book, Made In England, to find out more about Ted James, visit his site here.