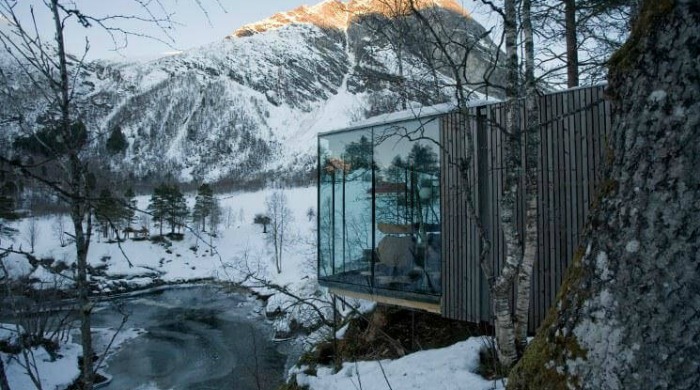 Europe's first landscape hotel, the Juvet is built into its surroundings; a farmstead in rural Norway that dates back to the 16th century, surrounded by birch, aspen and pine trees. Located near the West Norwegian Fjords, it serves as the perfect gateway for Norway's famous heritage site, as well as the Gudbrandsjuvet gorge.
The hotel itself is equally as impressive as the nature that engulfs it. Built to complement the landscape rather than intrude upon it, the architecture is both simple and striking, and no changes were made to the terrain in accommodating the hotel. There are just nine rooms that are detached from each other; all designed slightly differently depending on how the surrounding trees are positioned. With at least one wall made entirely of glass, each room has a unique view of the landscape, whilst they're far enough away from each other to be completely private.
A few steps away from the hotel is the spa area, a completely hidden escape built right by the river. With a steam room, hot tub, open log fire and views across the whole of the farmstead, this spa provides relaxation like nothing else.