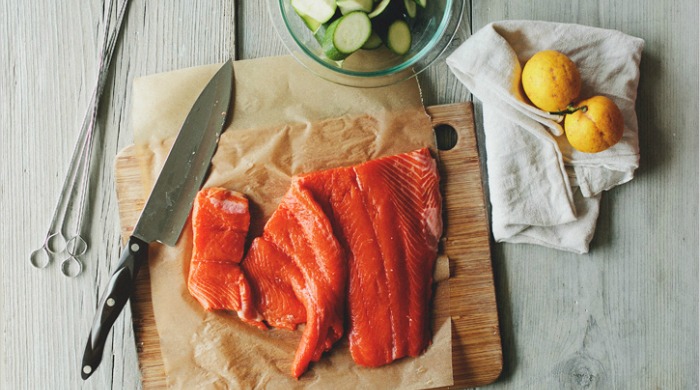 We love getting inspiration from our favourite food bloggers, we spend hours exploring the web to find the best recipes and tips to share with you.
Sprouted Kitchen is one of our favourites; dedicated to whole food and clean eating, food blogger Sara Forte and her photographer husband Hugh take us on an adventure through healthy, delicious and nutritious meals.
Even though the weather is a bit grim outside in jolly old England, we're still longing for Summer meals and healthy alternatives. Sprouted Kitchen's Salmon Skewers with Cucumber Yogurt Sauce are the epitome of a quick Summer dish, we can't wait for the sun to come out so we can whip out the barbecue and make these our new favourite meal.
You can visit their blog Sprouted Kitchen here and they have also recently released a book which can be purchased online here. We can't get enough!
SALMON SKEWERS WITH CUCUMBER YOGHURT SAUCE // SERVES 4
I served these with a bit of quinoa that I mixed with a splash of oil, vinegar, a few chopped scallions and a basic green salad. Didn't feel a recipe was needed for those. Some rice would be nice, or even some warm toasty pita. For the sake of time, I put these under the broiler. They would be excellent on the grill, but I would just suggest using one of those top grates and oil it well as fish seems to stick to the BBQ annoyingly easily. 
I am still getting Meyer lemons from my mom's tree. If you can find them, use them here. The pith is much more pleasant to eat and they are sweeter in general. Add more vegetables or change them up according to your taste. 
8 skewers
1 1/2 lbs. Wild Alaskan Salmon, skinned and de-boned
2 zucchini
2 lemons, sliced very thin and seeded
2 Tbsp. extra virgin olive oil
1 Tbsp. fresh lemon juice
1 Tbsp. maple syrup
1/2 tsp. sea salt 
1/4 tsp. paprika
1/2 tsp. Italian seasoning
1/4 – 1/2 tsp. red pepper flakes 
// YOGHURT SAUCE //

2 garlic cloves
1/2 tsp. each salt and pepper
1/2 of a large English cucumber, roughly chopped (about 1 1/2 cups)
zest of one lemon
3 Tbsp. fresh dill
2 Tbsp. fresh mint leaves
1 cup full fat Greek yoghurt
SARA FORTE
HUGH FORTE