From New York to London, Milan to Paris, Coggles has watched, admired and reported on the various emerging trends new to Spring / Summer 2019. From popular colours and themed looks to textures and trending garments, many commonalities appeared.
Prepare your wardrobe for SS19 and check out the main highlights below…
The Colour Palette
In direct contrast to a dreary global political landscape, designers chose to send an array of bright hues down the runway for SS19. Embracing a flush of positivity; yellow, a shade symbolising optimism and energy, took centre stage at all main catwalks…
Not to be outshone, mint green, lime hues and bold and burnt oranges were also shining antitheses to the muted pastels of yesteryear. Neutrals, as ever, remain a strong player in our Spring/Summer wardrobes. Perfectly complementing those vivid citric shades, camel and beige can be found in top-to-toe colours or mixed in to give those brighter shades a well-needed pop.
Yellow
Leading the vibrant colour trend for SS19, yellow of all shades from lemon to primrose, canary to corn has appeared amongst the collections from Max Mara, Givenchy, Chanel, See By Chloe and more…
Mint
Muted and neon; mint green is a top shade amongst designers such as Stella McCartney and Jacquemus.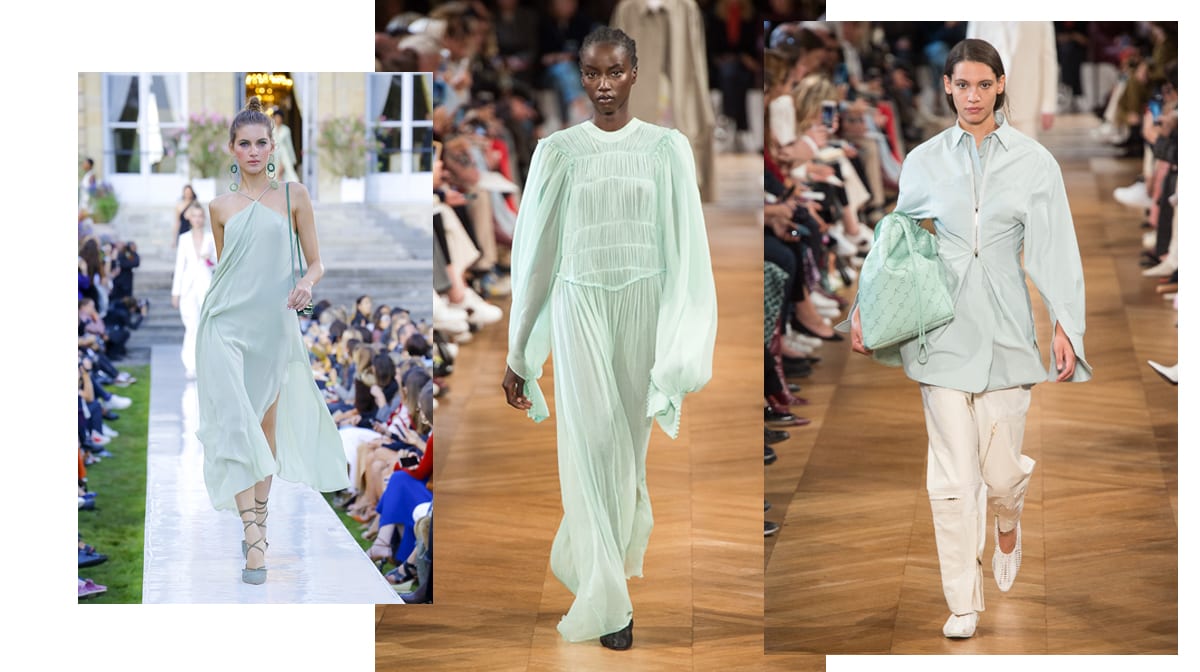 Orange
Vivid oranges worn with both contrasting and complementary shades of beige graced the runways …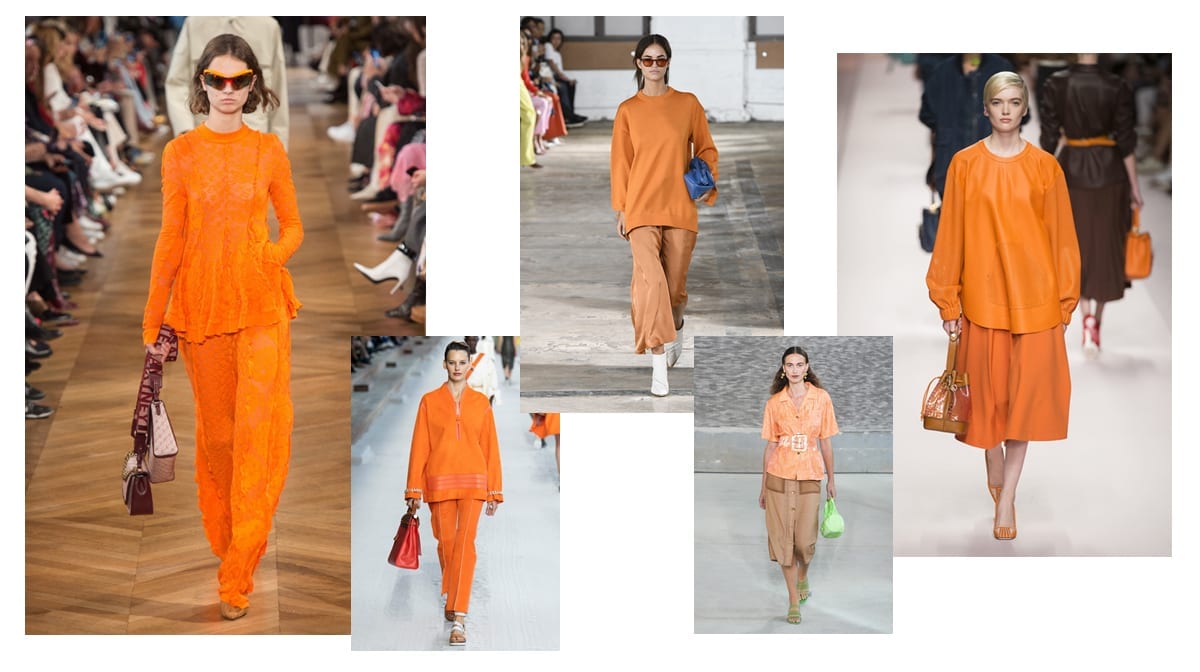 Beige is the New Black
Taking over the usual go-to colour, beige has taken residence on the catwalk worn both in singularity and as a complete outfit. See Burberry, Tibi, Stella McCartney and Balmain for style inspiration.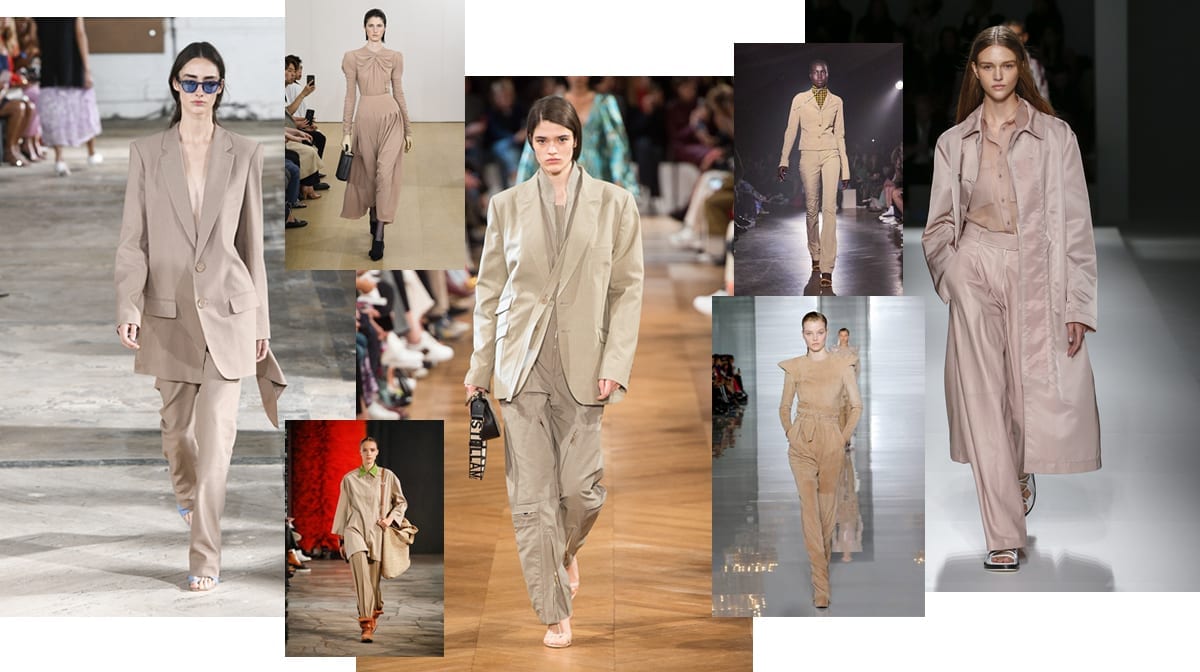 Top To Tonal
Balearic beauty still reigns supreme and the top to toe bright white styling, so synonymous with those island holidays, won't be going anywhere for SS19. Take inspiration from BOSS's bold tailoring or the fluid lines of Philip Lim.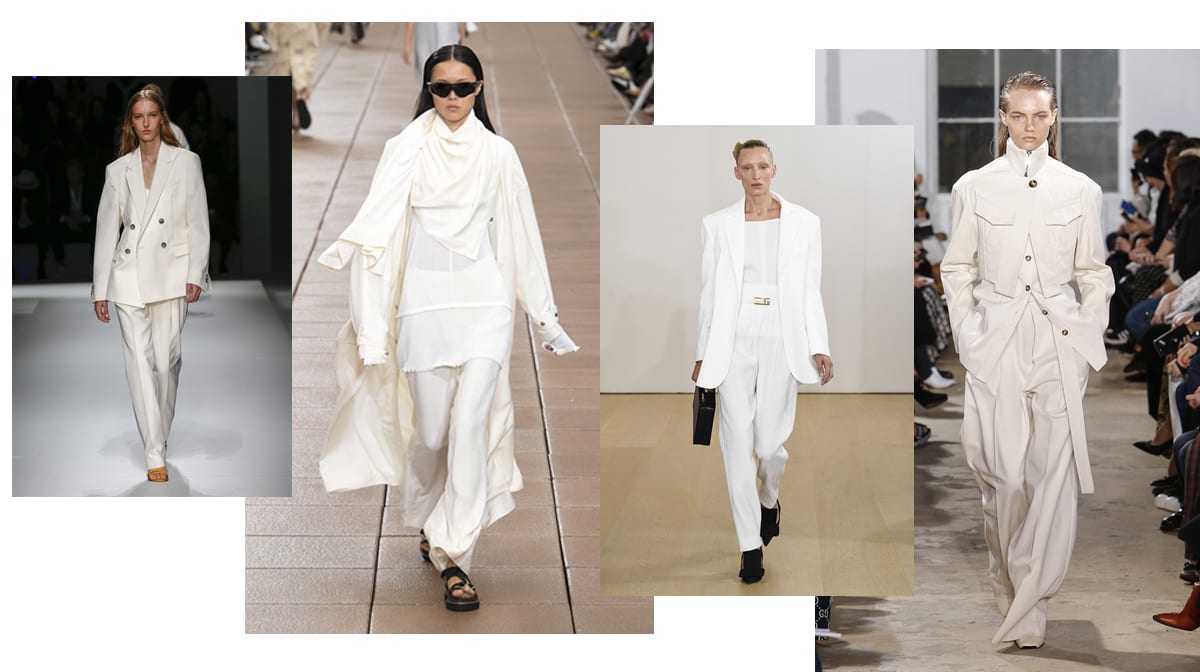 Themes
Creating spectacle upon spectacle, designers took it to the next level for SS19 investing in experiential catwalks and themed runways. Maria Grazia Chiuri, Creative Director of Christian Dior sought choreographer Sharon Eyal to compose a prelude dance to showcase alongside the collection in Paris; at Gucci, the runway reenacted a theatre experience; Chanel, on the other hand, whisked their audience to a blissful seaside, motioned by a wave machine and graced with haute couture.
Summer Escapism
Hedonism in its finest form, designers have been taking influence from those effervescent moments of summer. Youth, free spirit, and the pursuit of pleasure shine through with notable references to Ibiza rave culture, Cali surf style, and the mismatched prints of the urban traveller. Embracing fun and flirty prints, contrasting textures, and new lengths, there's no right or wrong way to wear this trend.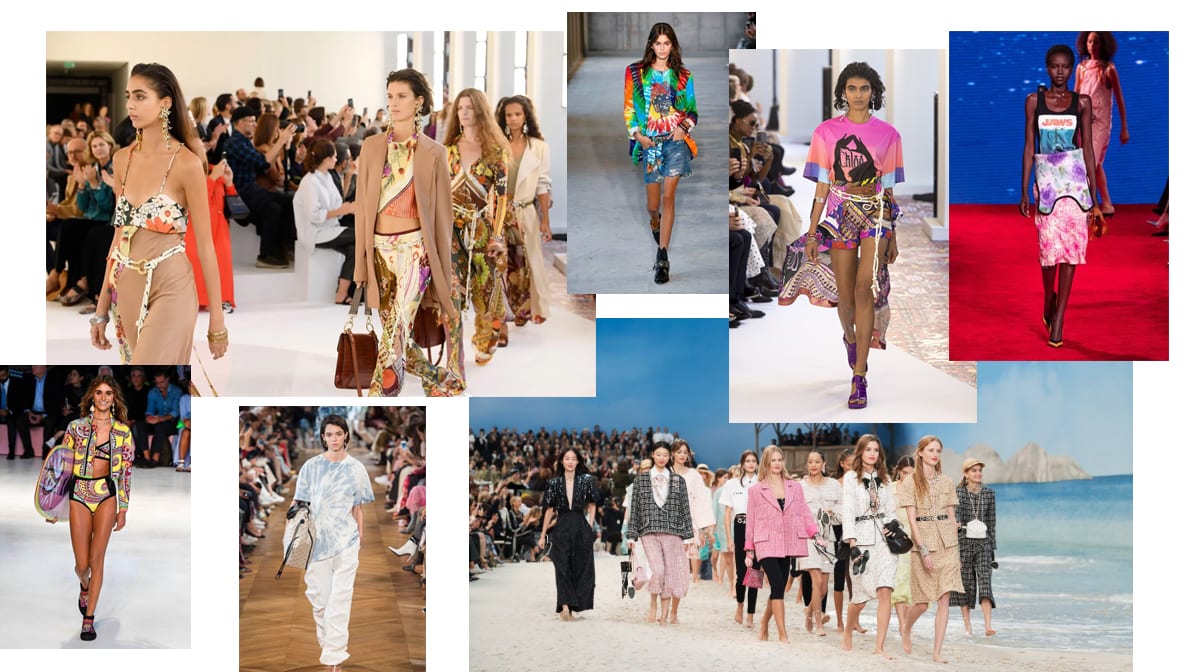 Woven Wonder
Nodding at New York's texture trend, designers nodded to crochet, woven fabrics and fringe detailing for their SS19 collections. Designed with cutouts, uneven lengths and tasselled hems, the woven theme takes on a tribal aspect utilising monochrome palettes with splashes of colour.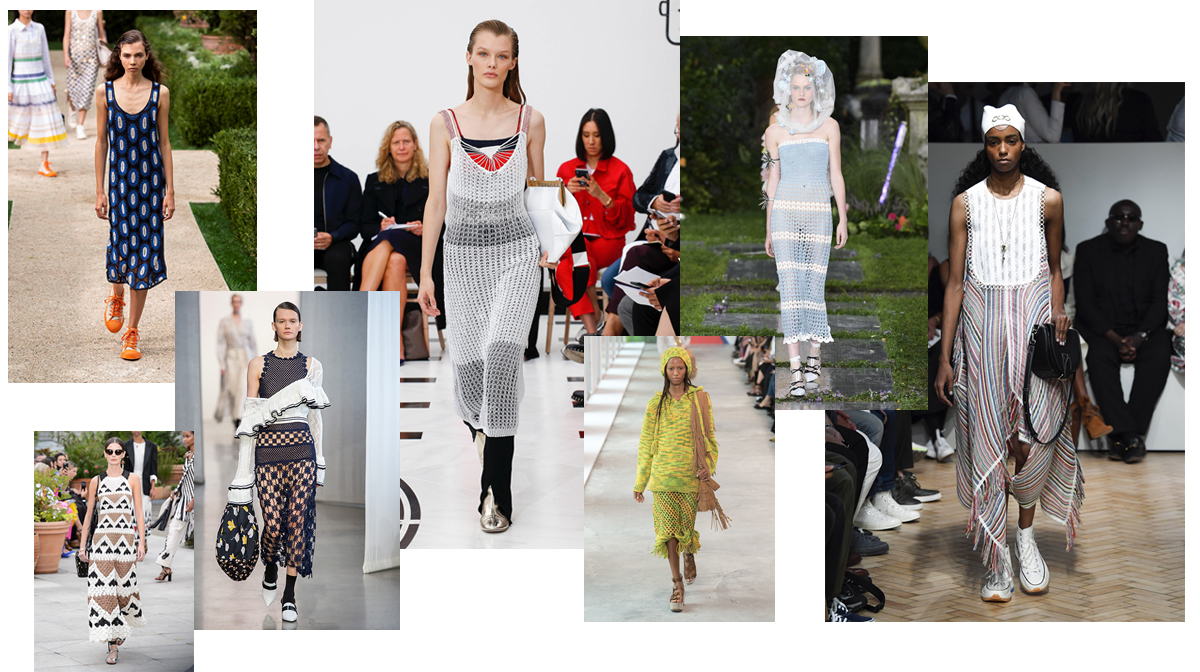 Utility Dressing
Spotted in khaki shades and murky beiges, utility dressing has been noted amongst designer collections such as Fendi, Ganni, JW Anderson and more; predominantly styled with bow and belt detailing.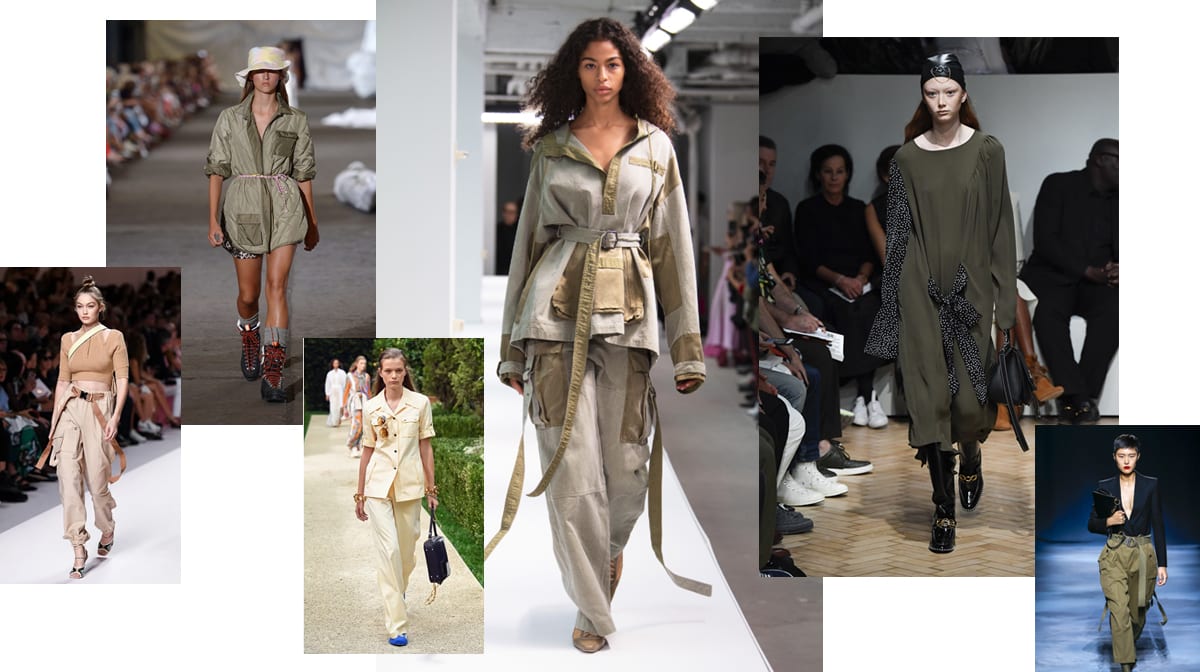 Evening Updates
Evening wear has become increasingly versatile since the mid-1900s, adopting suits, shorter hemlines and two pieces; in comparison to the traditional ballgowns and long formal dresses society was most accustomed to.
SS19 sees the development of last year's trends, including advancements on the sculptured puff sleeve, lace detailing and sequin embellishments. Not forgetting the step out from minimalism we have seen on the runway from key players such as Rochas, Gucci and Marc Jacobs. Recommending that 'more is more', SS19 sees the rise of feathers, fringing and all that jazz.
Metallic and Sequin
Metallics for SS19 cannot be ignored, and nor can the sequin detailling applied to many blazers, shoulder pads and dresses this season. Noted predominantly in monochrome shades and darker hues, metallics were present across the global catwalks in pink, gold, green and more.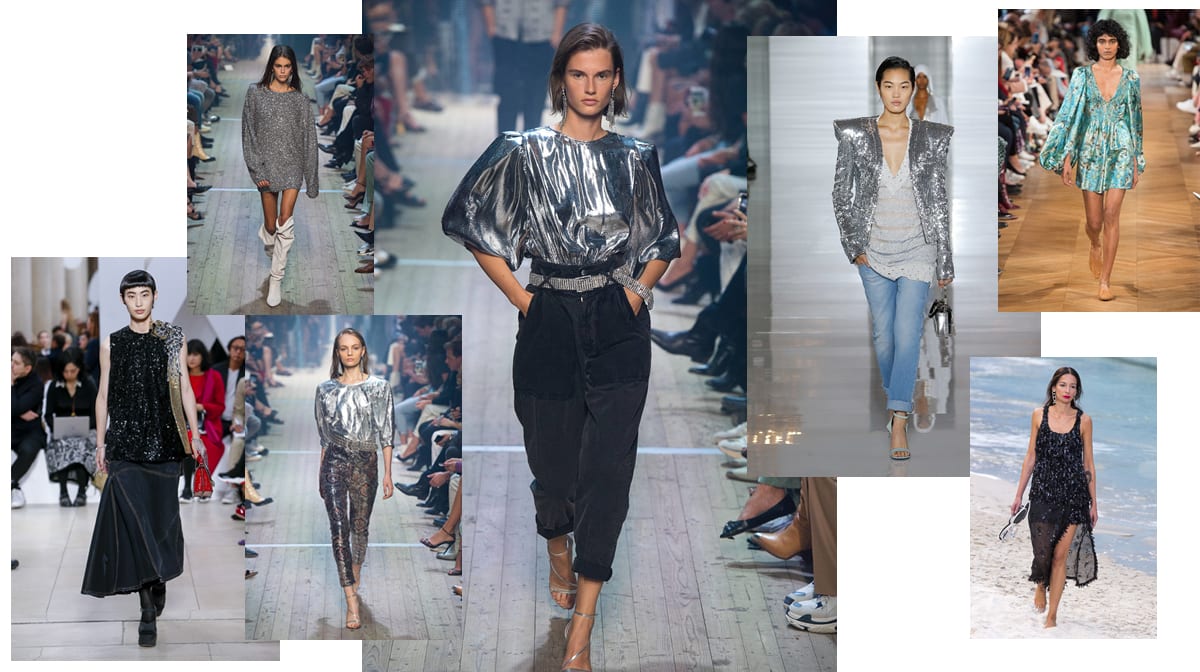 Layered Lace
Shaking off all girlhood connotations, this season lace loses all affinity with the saccharin sweet housewife and takes on a more grungy appeal. Brocade, broderie, and dentelle, worn oversized and teamed with chunky boots and sandals throwback to the 90s style that sent Marc Jacobs soaring into fashion history.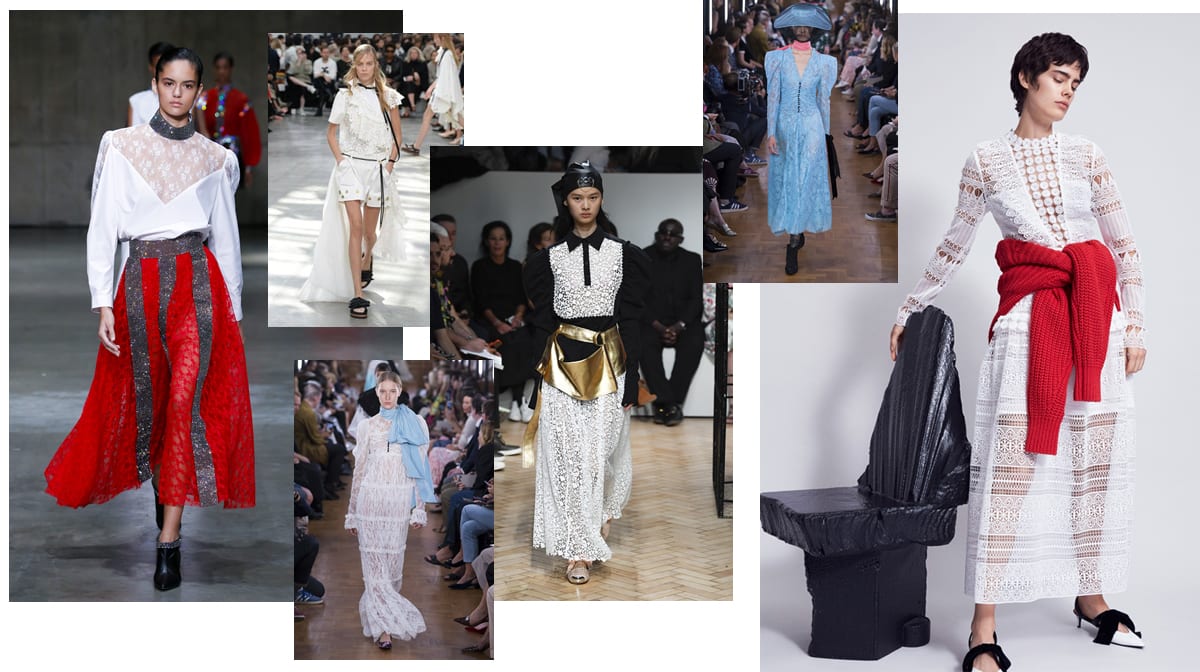 All The Trimmings
Feather, sequins and tassel galore. From Marc Jacobs, Gucci, Chanel, Celine, Valentino and more, feathered hems, collars, headpieces and shoulder pads were an obvious style update. Using tasselled illusions and frayed hems, elegance and sophistication was drawn upon…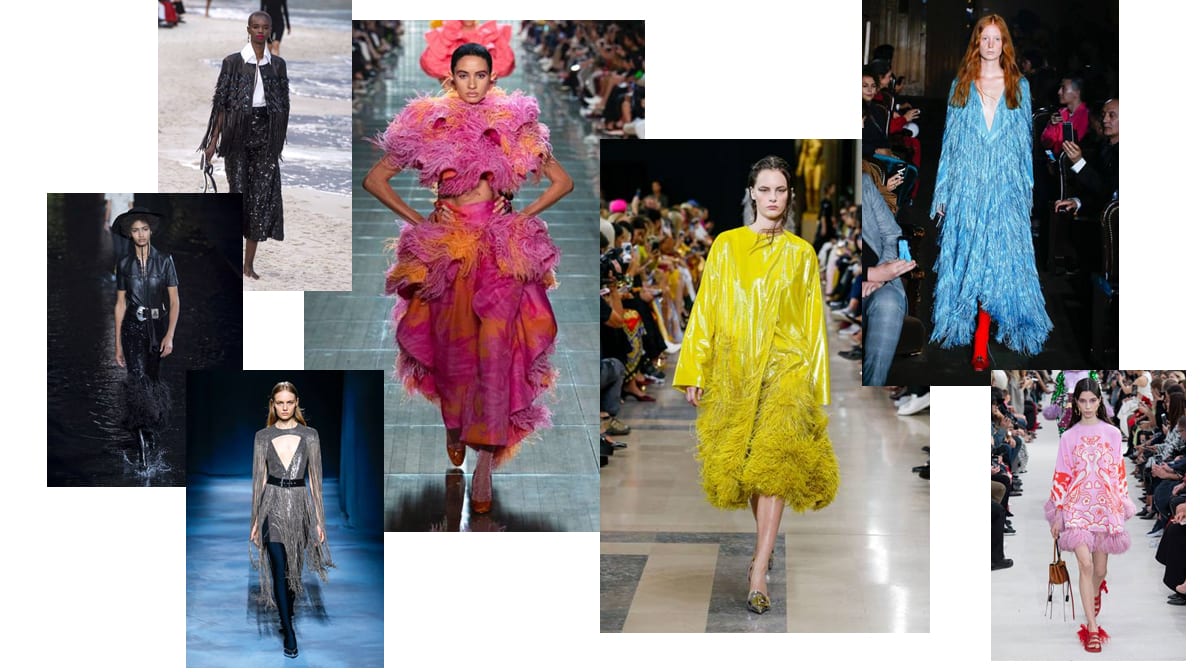 Hide and Seek
No, it's not a 'peekaboo' trend. SS19 saw the rise of daring necklines, midriff slits and flashes of flesh – albeit through the sheer gauzy material of an otherwise 'modest' dress.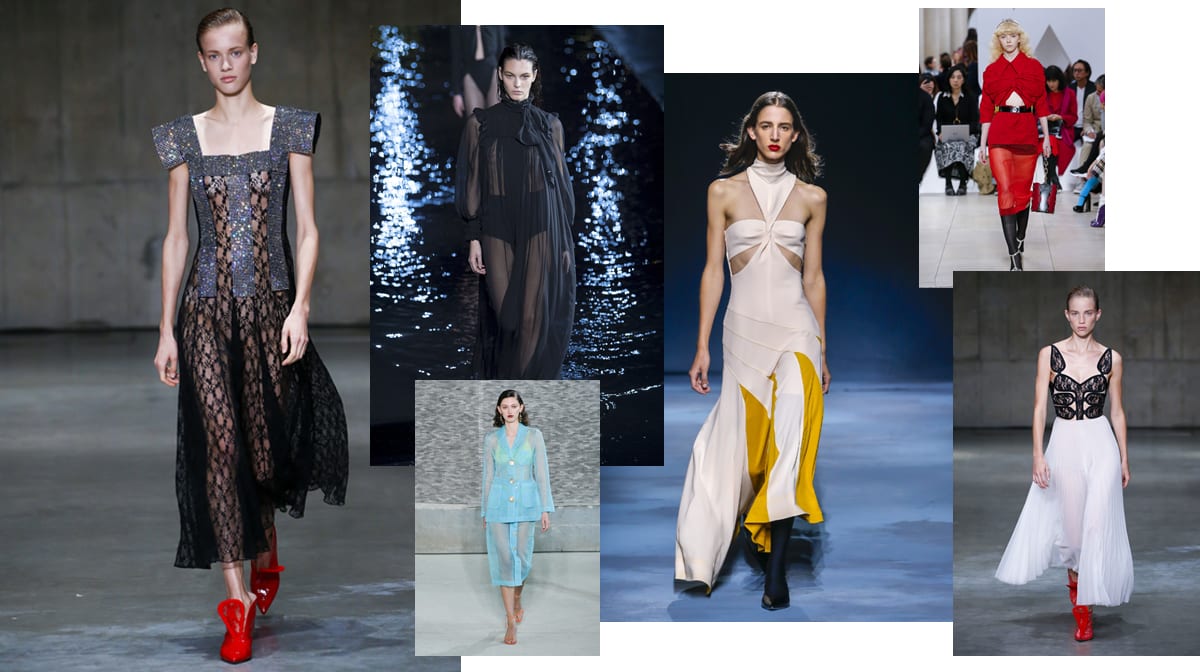 Super Short
Showcasing shorter hemlines and deeper v-plunges, short dresses are back and detailed with floral prints, metallics and sequins.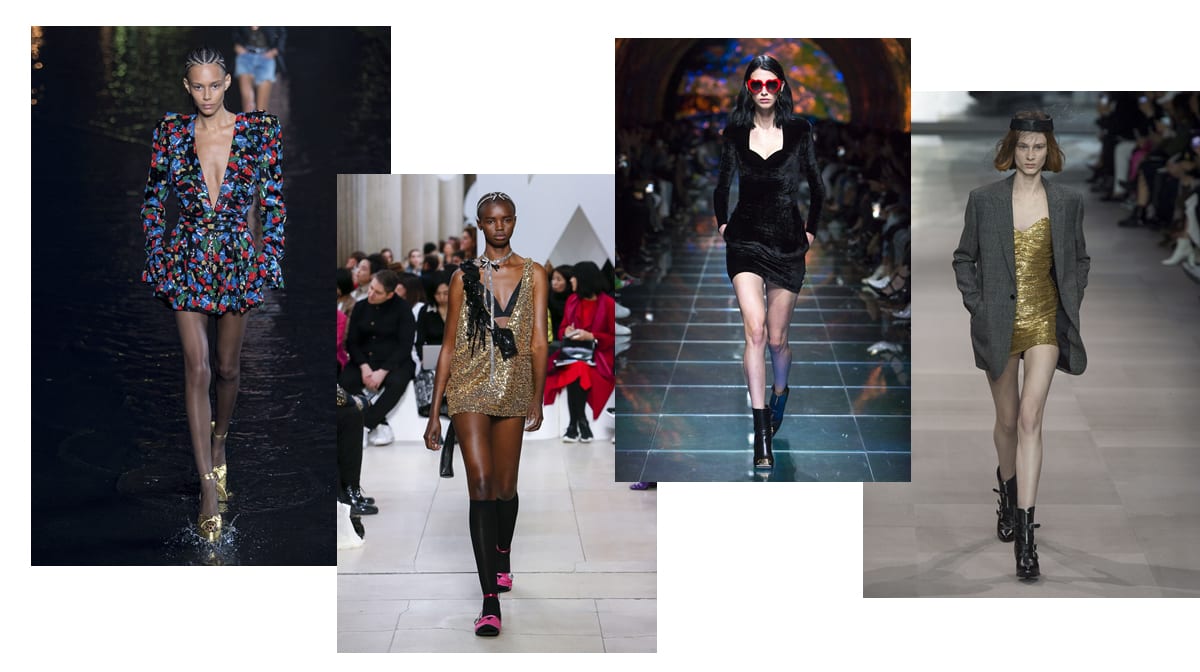 Puffed Sleeves
Shaped from an 80s influence the puffed sleeve makes a return. Whilst some are styled with structured cocoon shapes, others are ruched and embellished with pattern and detail.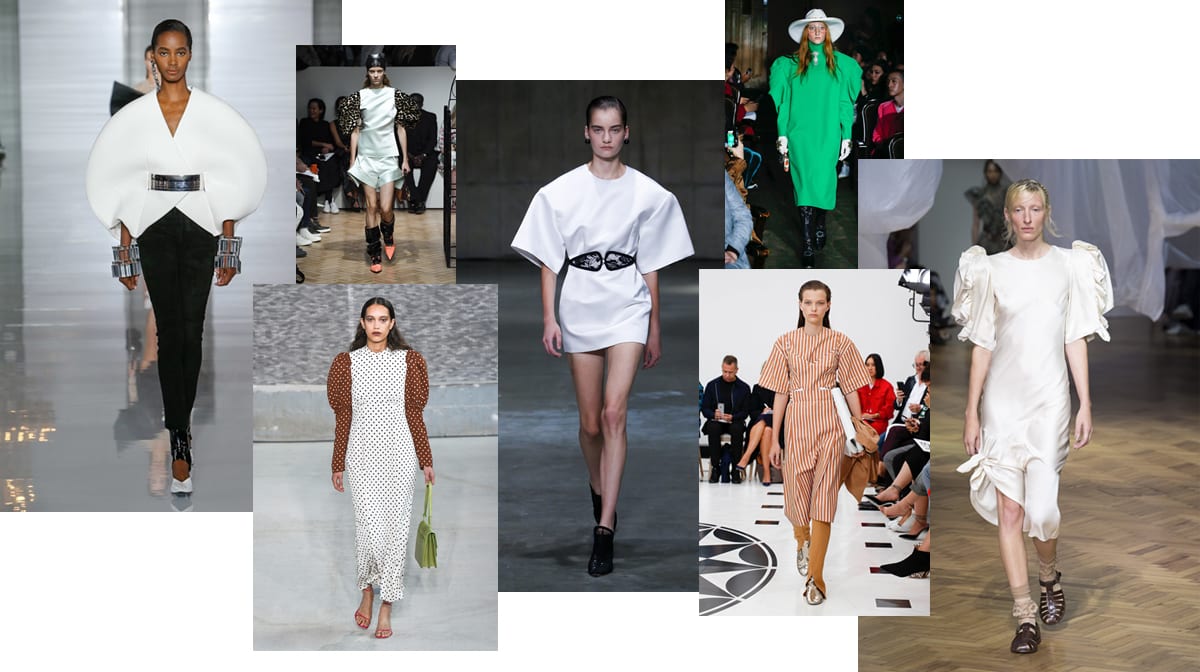 Prints and Textures
From the catwalks of London, Paris, New York and Milan, prints, fabrics, and textures are consistently adapting on the runway. When you think of print there are a handful of designers that instantly spring to mind, such as Mary Katrantzou, who cornered the market in hyper-real and digital print back in 2009 and continues to enlighten her audience with new print contrasts and silhouettes. Emerging trends from Hermes, Gucci, Saint Laurent and more include classic leather fabrics and animal instinct prints.
Summer Leather
Typically attributed to winter and the cooler climates, leather makes an appearance for SS19, sported in such forms as skirts, culottes, and breasted coats with waist ties. Hermes, BOSS, Solace and Loewe comfortably leading this trend…
Pale & Acid Wash Denim
From the likes of Off White, Isabel Marant, Balmain and Alexander Wang, pale blue and acid wash denim was tailored into much more than just jeans. SS19 sees sculptured dresses, fold over knee-high boots, drop waist designs and oversized jackets.

Press Print
Solace, GANNI, Self Portrait and Stine Goya all have the same ideas when it comes to pressed prints for SS19. Contracting florals with animal print, abstract detailing with block panelling and cutouts, SS19 is set to be a vibrant mix up of fabrics and design…

Animal Print
Can we ever imagine waving a final farewell to the animal print trend? No. Still a wardrobe staple, this season sees an update to the trend with bold colours, graphic prints and the introduction of giraffe, zebra, and snakeskin patterns.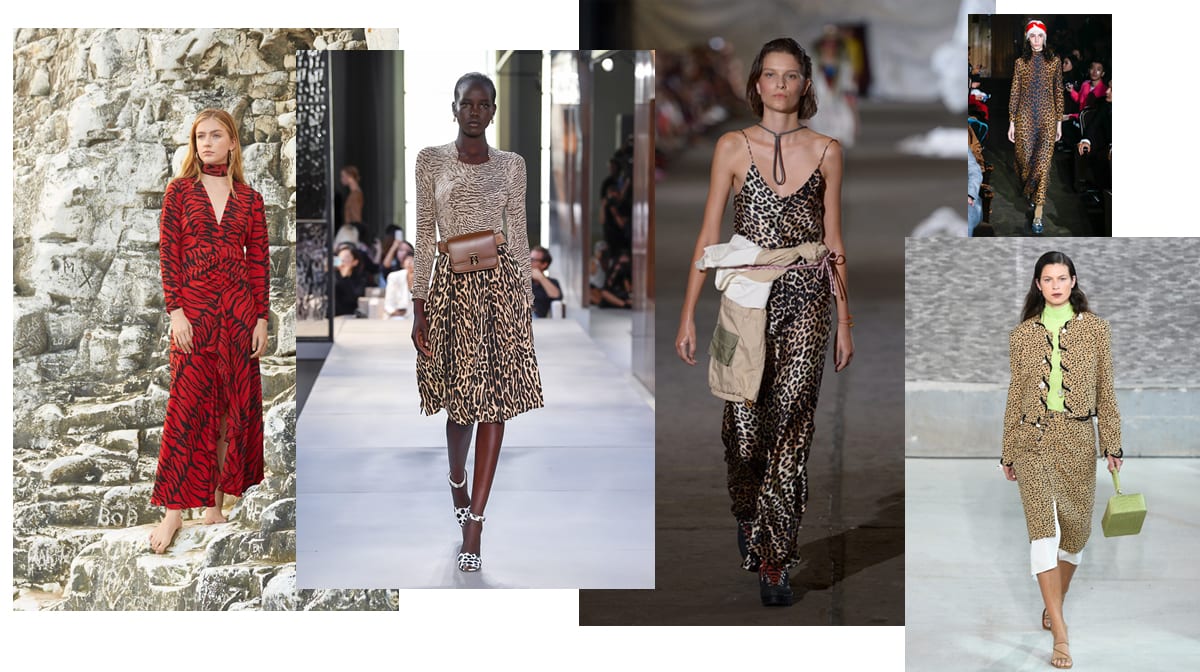 Trending Garments
Trending garments this season include wide-leg boiler suits, long line trench coats, silk slip dresses, logo prints and utilitarian shirt dresses. It seems that SS19 is taking on a whole new level when it comes to embracing the relaxed silhouette, offering looser fits and more functional approached to fashion.
The Boilersuit
Originally thought of as a 'worker' attire, boiler suits have made a comeback into mainstream fashion, doting on their traditional navy and khaki colours. Cousin to the jumpsuit, the boilersuit embraces easy tailoring, relaxed aesthetics and ability to be dressed up, or down…

The Logo Tee
Designers such as Coach 1941 and Christopher Kane sported the logo trend during the global fashion weeks designed on oversized hoodies and tucked in T-shirts. These garments are normally paired with a mini skirt and sandals or trainers. A versatile staple for SS19.

The Shirt Dress
The utilitarian theme crossed borders during fashion weeks, noting the functional shirt dress designs with patch pocket detailing that has been previously seen on suits and boilersuits alike. These relaxed silhouettes were usually paired with calf length boots, flat mules and sandals.

The Trench
Getting a makeover for the upcoming season, trench coats for SS19 offer a loser fit in lightweight materials and softer, tonal colours. Shaping a fit and flare effect, the trench was seen to be worn as an outfit alone or loosely draped over shoulders and ruched in at the waist with a D belt.

The Slip
Slinking out in a lingerie-inspired look calls for a healthy dose of confidence, with a streamlined aesthetic and satin trim. Easily transformed into a casual day outfit, to a daring nightgown, this silhouette is one to look out for this season. Seen during fashion weeks from brands such as Maison Margiela, Stella McCartney and Marc Jacobs.