Our last show of the season was Christopher Raeburn, and what a show it was. Since his first show in 2009, we've always looked forward to seeing what he has to offer, and his AW15 collection was no disappointment.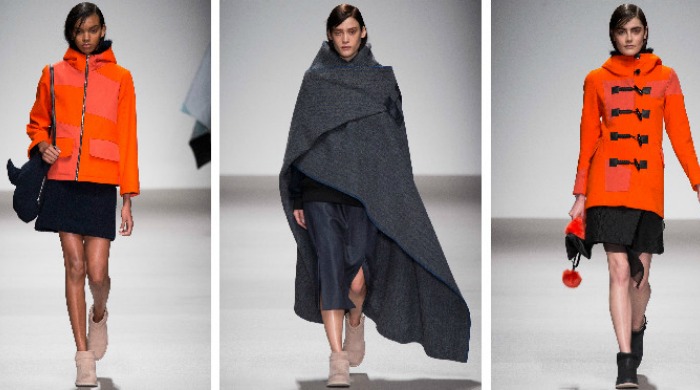 Building on his menswear collection, the theme was water, life at sea, and everything that comes with it. Bubble print adorned silk shirtdresses, oversized bomber jackets, jumpsuits and sweatshirts. Fishermen became an unexpected style icon, with dungarees made in a unique Japanese wool denim, while knitted beanies in collaboration with Wool and the Gang topped models' heads.
Reference was made to life boats and jackets, with reflective stripes on padded fluorescent orange coats creating styles that really stood out. Sharks were the animal of the season, featured in playful mittens and bags, forming the core of Christopher Raeburn's accessories offering.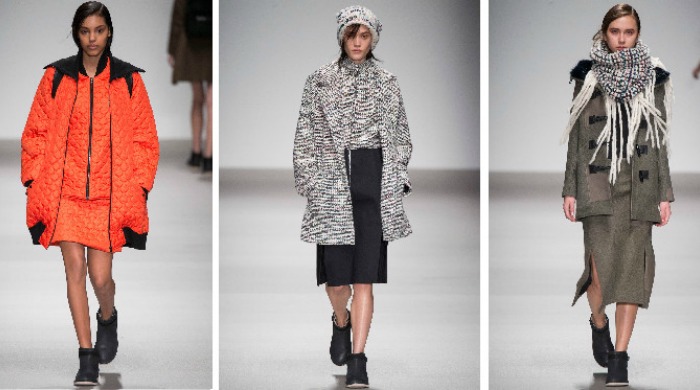 Capes, puffer jackets, jumper dresses, raincoats and pea coats appeared in sea-blues, while denim was used in signature bomber jackets, knee length skirts and a pinafore dress.
This was a collection of casual elegance, which Raeburn is fast becoming known for. With a tomboy aesthetic, Christopher Raeburn's collection was a refreshing change to a lot of the tailoring and femininity we've seen from other designers for Autumn/Winter.