London-based Turkish designer Bora Aksu is a firm favourite of the fashion set. Since his first collection in 2003, his designs have developed, becoming known for dark romantic pieces that are elegant and intriguing.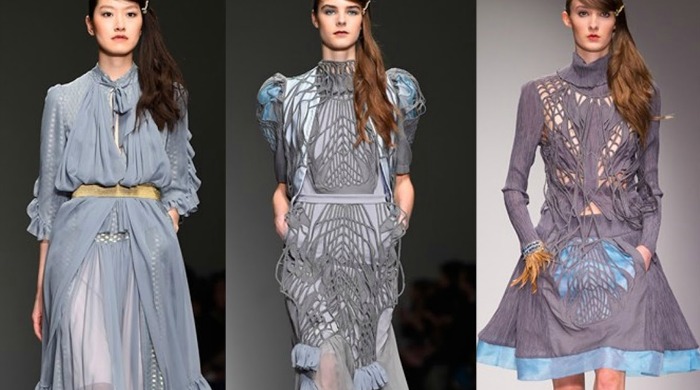 Bora Aksu stuck to his successful formula with his AW15 collection, showing at Somerset House on Friday morning. Taking inspiration from the songbird in Oscar Wilde's The Nightingale and the Rose, who sacrifices her life for true love, feathers, embroidery and leather were prevalent throughout.
The show began with silk structured pieces in deep blues before moving on to fun feminine looks in pale blue and dusty gold, with beautifully cut cropped and longline blazers paired with tailored shorts and voluminous, sheer skirts. Like Bora Aksu's SS15 collection, delicate dresses with intricate embroidery and laser-cuts featured throughout. This time they were seen in pale blues, pinks and different shades of lilac, giving a soft yet striking and sophisticated addition to the collection.
The show had a dramatic ending, with strong black dresses featuring that same complex embroidery to signify the bitter end of the songbird's tale. The collection showed that with femininity comes strength, love, beauty and elegance, and was one that showcased Bora Aksu's extremely talented designs in the most effortless way.
Words by Angharad Jones. Images property of Vogue.