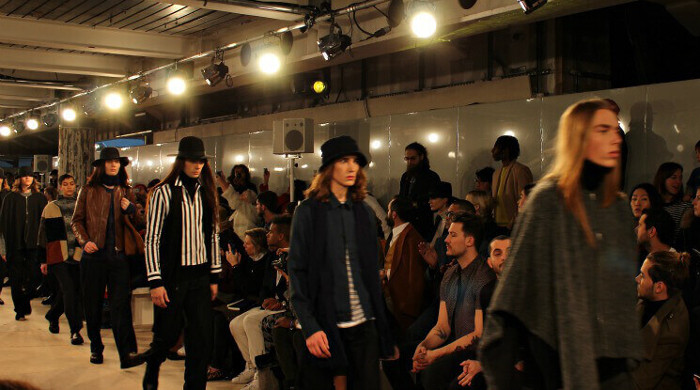 The Autumn/Winter '16 You Must Create collection was like a glorious mash-up of 1960s psychedelia and looks from a less-intimidating character in Quentin Tarantino's latest release, The Hateful Eight. This was Fraser Moss and Jimmy Collins' 20th anniversary of YMC, and they continued with their counter-culture agenda and music-inspired approach to this collection.
For AW16, said inspiration came from the transatlantic underground scene of the 1960s – specifically Can's Damo Suzuki and The Incredible String Band. As with previous YMC shows, the spectacle began with a live band playing Middle Eastern psych music (of course), as models made their way down the runway.
Wool ponchos and wide-brimmed hats topping long free-flowing hair made up the signature looks during the show, while the most interesting trouser shape came in the form of a cropped wide skater – worn with loose-fit shirts, chunky cardigans and skinny scarves. Other stand-out pieces included the fringed donkey jacket, 90s-favourite the bucket hat, and shearling-lined boxy jackets in tan and black.
The colour palette was dark and neutral; black leather, navy cotton and nylon, and heavy-duty charcoal wool pieces were the staples – while white and grey zebra-print scarves, and tonal indigo jumpers and undershirts provided a necessary flash of colour.
Quite possibly the most daring of style concepts in the looks presented at YMC though, was not the ponchos, the floral jacquard shirting, tasselled wool or iconic 60s Backlight poster-inspired graphics, but the wedged clogs that adorned thick sock-covered feet. Comeback anyone?
SHOP THE YMC MEN'S COLLECTION ON COGGLES >>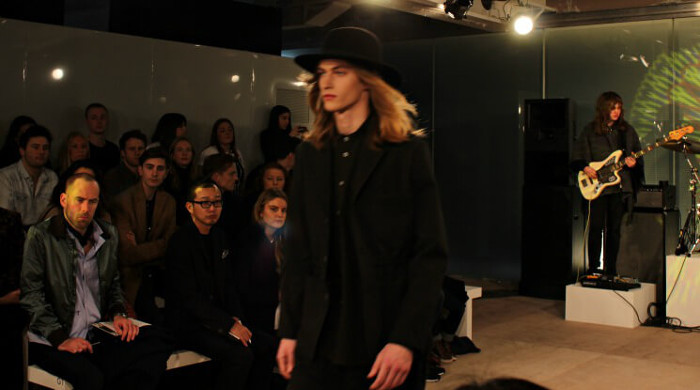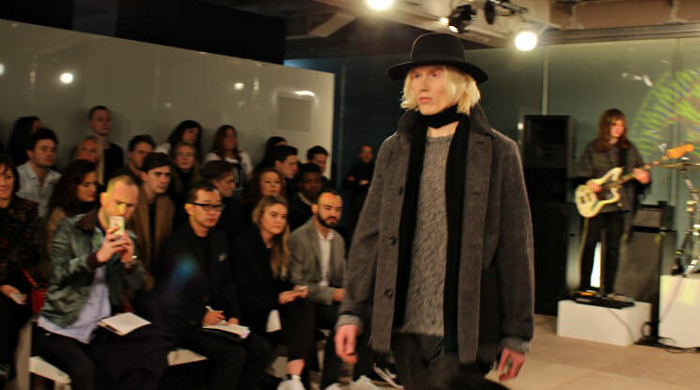 Words and images by Angharad Jones